Bestia was widely considered as the top new restaurant in LA in 2013. Reservations were extremely difficult to nab for a prime weekend slot. However, I was able to nab something two months in advance.
You're guaranteed to get lost on your first visit to Bestia. Located in a small nondescript alley in downtown LA, the hidden aspect only adds to the charm.
Walkway to heaven.
Like almost all restaurants in DTLA, Bestia rocks the industrial loft-like look.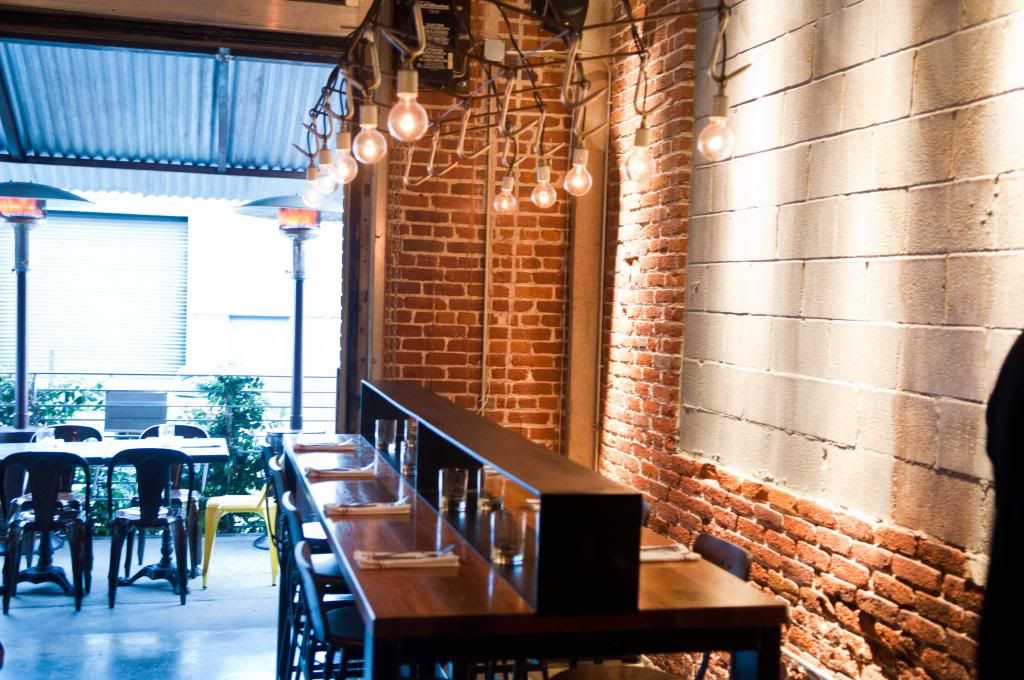 But they do it well.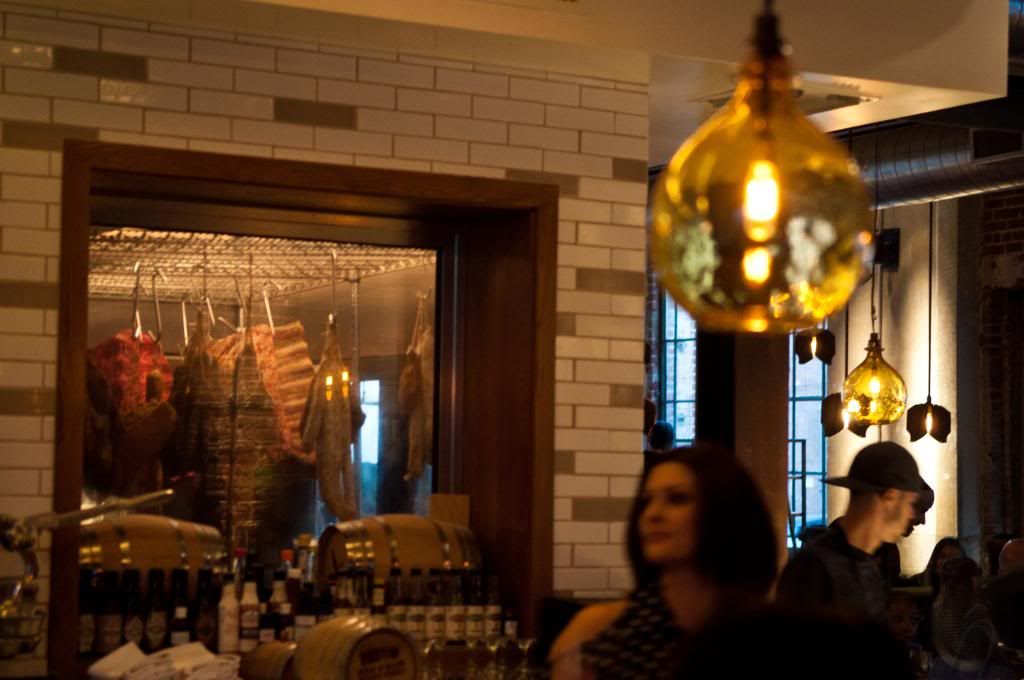 I spy a meat locker!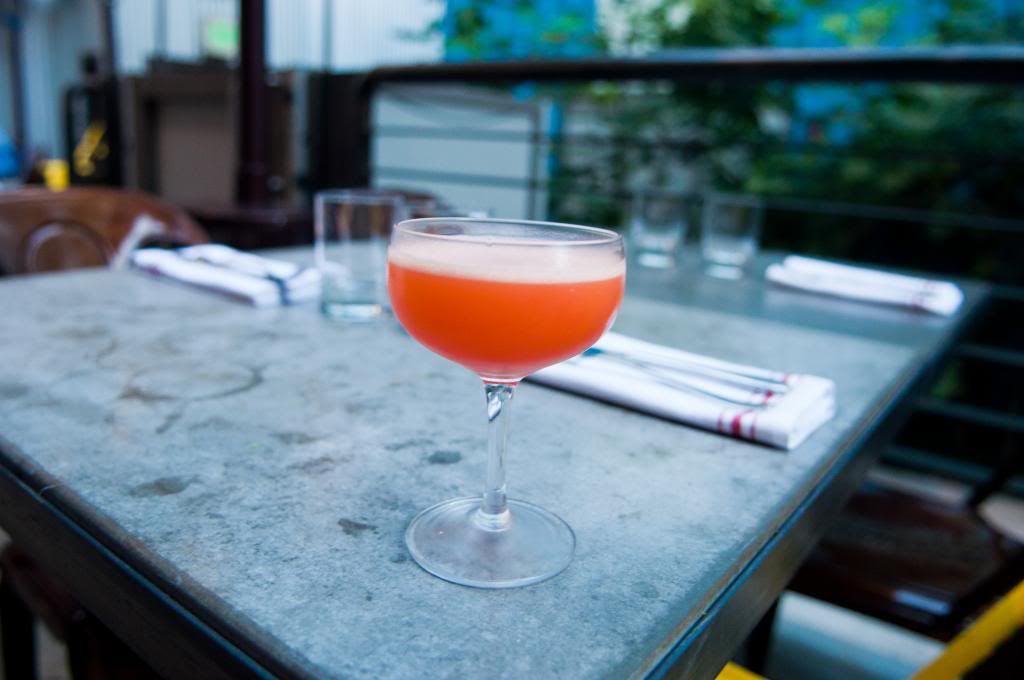 Bespoke! Essentially you tell your mixologist a few cocktail likes and dislikes, and they'll craft up something to your liking. 
Quick peek into the dining room. For you bloggers out there.. Bestia is incredibly dark and dimlit. Plan ahead as it's extremely hard to snap pics without flash. Enough restaurant pics, let's get started with the food…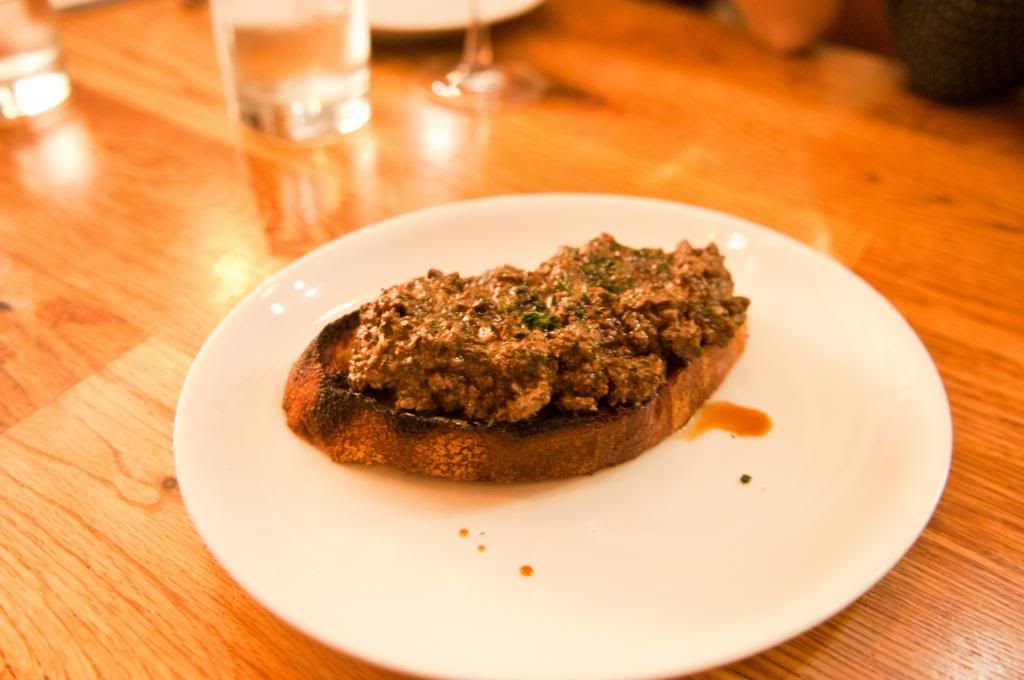 Chicken Liver Crostino with Aged Balsamic and Sea Salt. At $8, it's a bit pricey for what it is. Maybe I'm just spoiled with the amazing chicken liver toast at Animal. You know what? Just get this at Animal..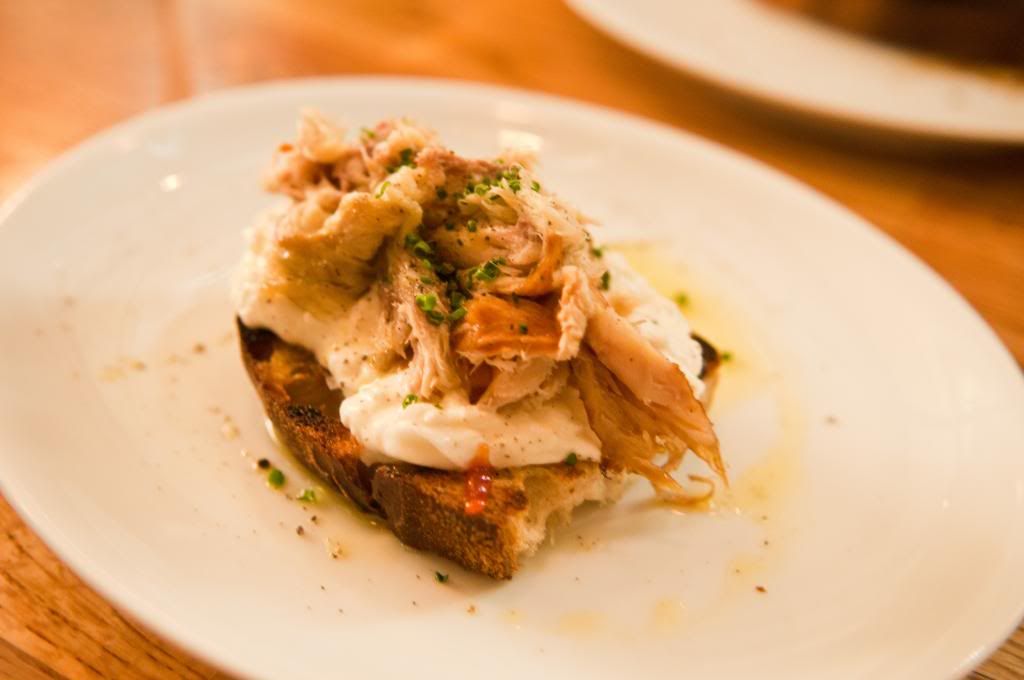 Next up on our crostino list, Smoked Mackerel Crostino with Burrata, Tomato Jam and Sea Salt. A brilliant idea which I had high hopes for. But it felt like an over embellished tuna sandwich.
A quick intermezzo of leafy greens. Bloomsdale Spinach with Shaved Beets, English and Sugar Snap Peas, Sieved Egg, Brignate, Lemon-Oregano Citronette. A very unmemorable dish. It sounds more sophisticated than it actually was. 
Wine break!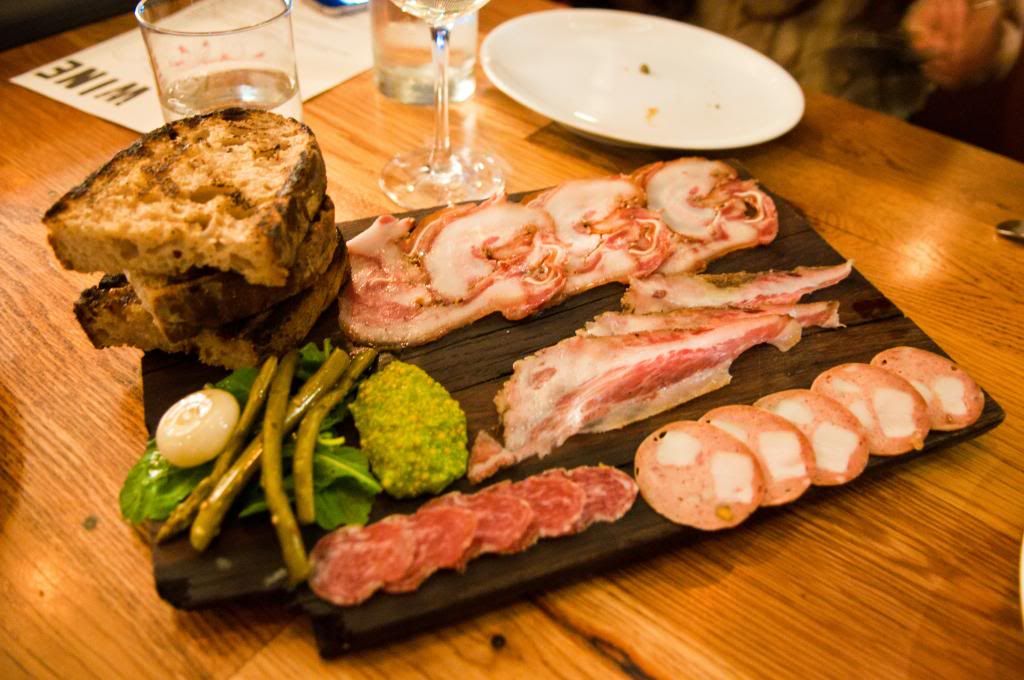 Bestia's famous Salumi platter. The amazing charcuterie is served with perfectly grilled bread and an amazing mostarda and pickled vegetables. Some amazing capicola, headcheese and pig jowl. Yum!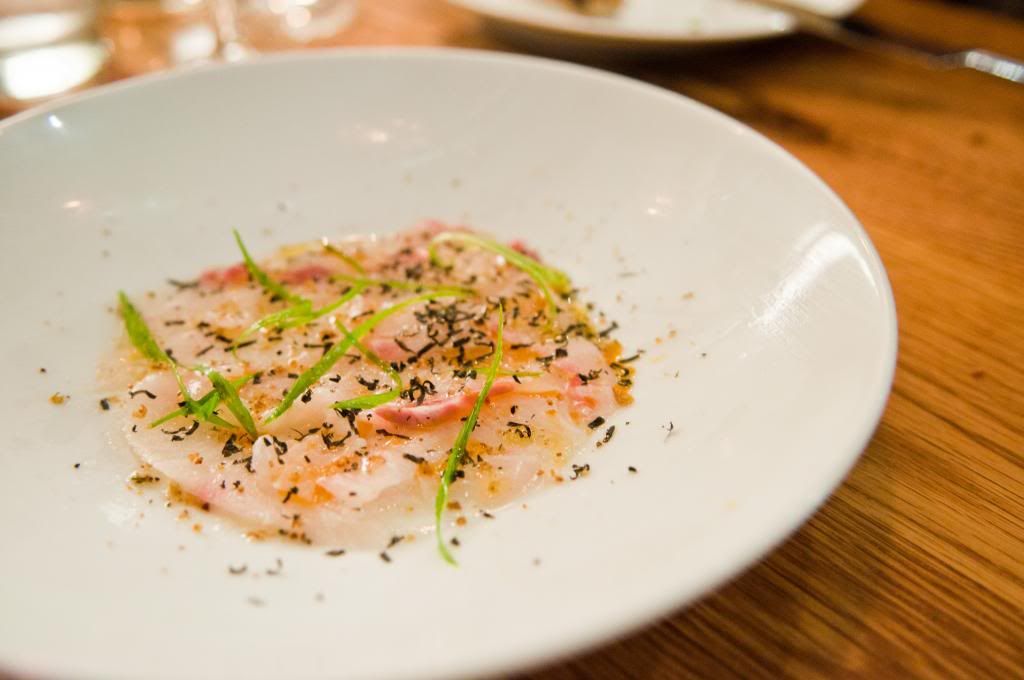 Kanpachi Crudo with Squid Ink Bottarga, Bread Crumbs, Chili Oil, Lemon and Scallion. Quite possibly my favorite dish of the night. Just an amazing demonstration of fresh ingredients done right. 
Roasted Market Vegetables. Excuse the ugly picture, but the small cast iron pot was filled with simply roasted Brussel Sprouts, Cauliflower, Broccoli and Carrots.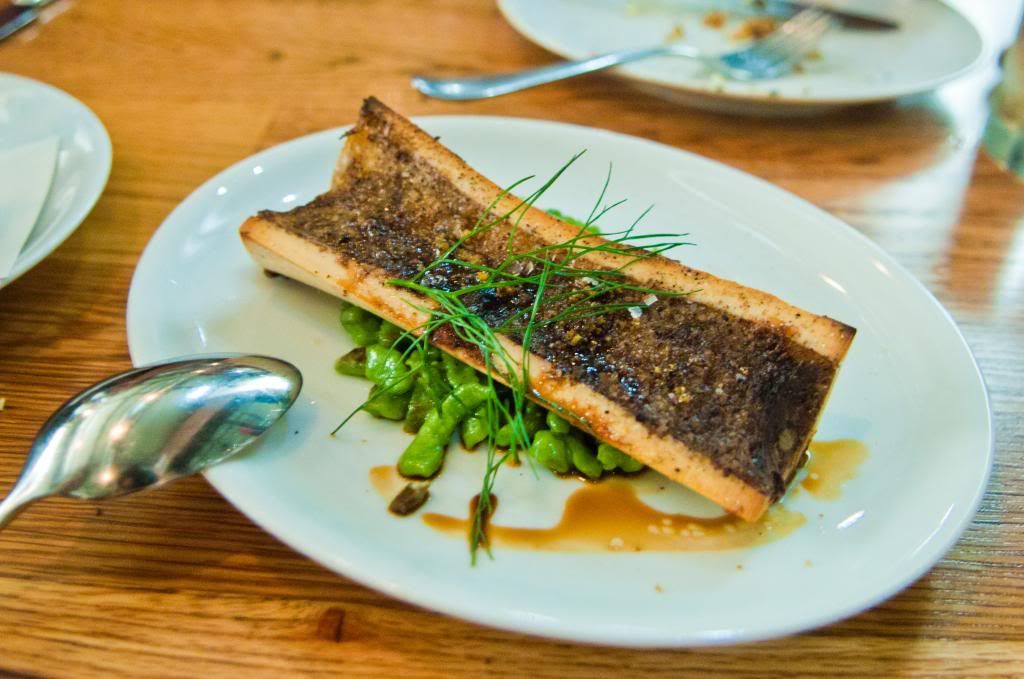 Roasted Bone Marrow with Spinach Gnochetti, Crispy Breadcrumbs and Aged Balsamic. It wasn't until we finished the bone marrow that we soon discovered (because of the darkness) that underneath was edible gnochetti. Maybe I've just eaten too much marrow in my lifetime, but Bestia's was underwhelming.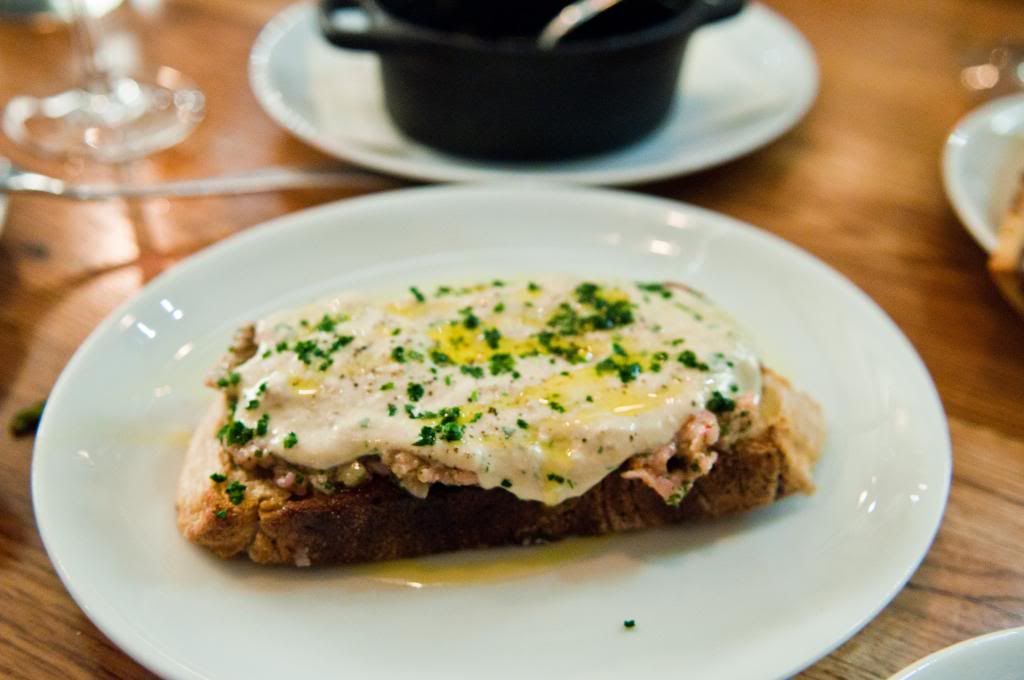 Our last antipasti and crostino, Veal Tartare Crostino with Shallot, Parsley, Lemon, Capers and Tonnato Sauce. My favorite crostino out of the lot. The tonnato (mayo-like) sauce pairs perfectly with the sweet veal.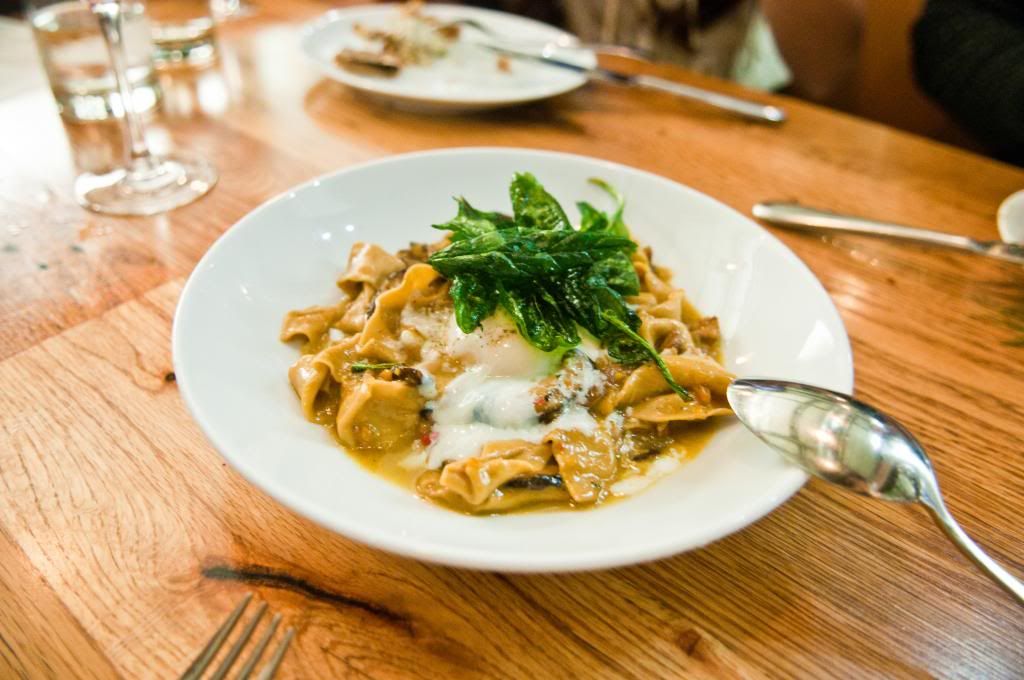 Our first pasta arrives. Porcini Pappardelle with Hand-Cut Mushrooms Pasta, Mushroom and Artichoke Ragu, Poached Farm Egg, and Fried Spinach. Simply Umami. Topping the pasta with a perfectly poached egg was also an amazing touch. Touche!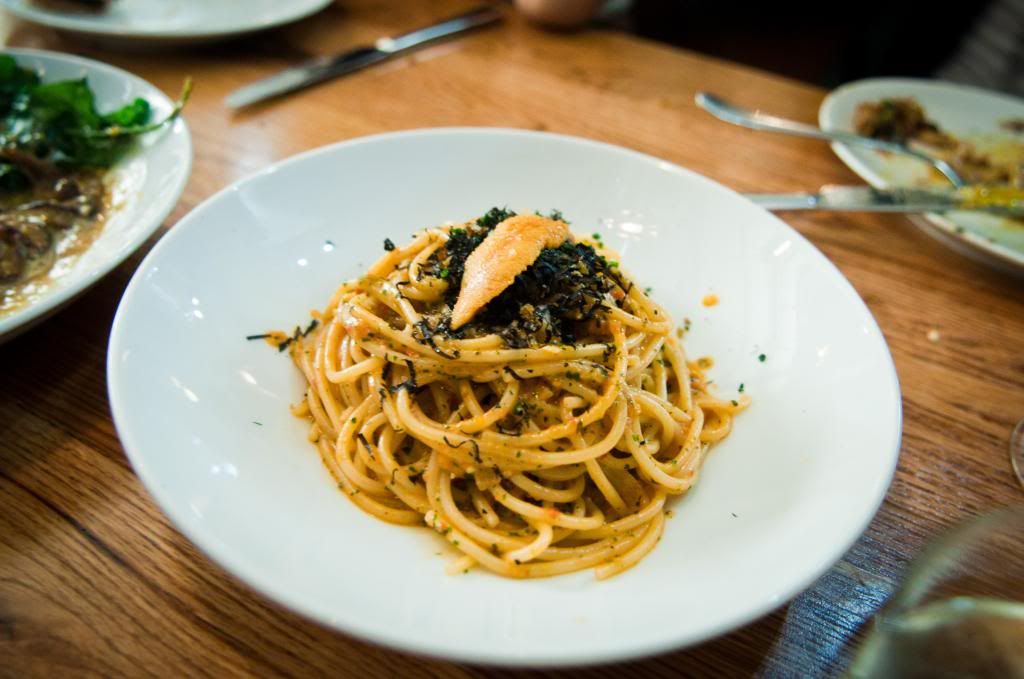 Second, a Spaghetti Rustichella with Sea Urchin, Squid Ink Bottarga, Garlic, Calabrian Chile, and Breadcrumbs. Your classic uni pasta with an incredibly rich, buttery flavor. 
By this time, my party and I were already incredibly full and quite possibly a bit buzzed from all the wine. But guess what? Here come's the Secondi! A Roasted Half Duck with Sugar Snap Peas and Cippolini Agridolce. When this dish came, I just snacked on the sugar snap peas and the super tender cippolini's. My kind of dessert.
What!? More food!? A Pizze Tartufo e Porcini, Black Truffles, Porcini Mushroom, Fior di Latte, and Grana Padano. I understand the high price of fresh black truffles, but at $25, this pizza's a bit steep. And you know what? Being ridiculously full quite possibly made me dislike this incredibly rich pizza.
Excuse the ugliest picture ever! But the final dish of the night was the one I was looking most forward to, but I was too full to enjoy. Roasted Suckling Pig with Anson Mills Polenta, Spinach, Kale Chips, and Fruta di Speziate. I was able to fit in a small sliver, and boy was it delightful! The pig was well seasoned and had a butter-like tenderness.
On an extremely negative note, because our bill was comprised primarily of wine, we tipped accordingly (leaving a generous amount on food). However, upon leaving, we were given an ugly scowl/snarl by our server because she was dissatisfied with the amount. I tried to alleviate the situation by explaining to her the reasoning, but was only met with a lecture.
Bestia Scores:   
Food: 6/10 - I came in expecting the world (maybe it was because of the 2 month wait). But most of the dishes came up short.
Restaurant Environment: 9/10 - Maybe this is being nit picky, but the restaurant was just too dark for food photographers like myself. But other than that, a perfect place to eat.
Service: 2/10 - Well done until the very end. Would've also liked if she suggested that we were ordering too much food, but that's a moot point.
Value: 6/10 - Spending ~$30 per entree dish (that I wasn't even able to eat), probably wasn't the best budgeting.
Overall: 5/10
Don't you hate it when you have a wonderful dinner and your camera is no where to be found? Wait.. what?? What is this?? (Reaching in my pocket..) An iPhone?! And gasp! It has a camera?! This will actually be my first post using pictures from my phone. We'll see how it goes..
My friend and I came to Nana San in Newport Beach for my birthday dinner. (Thanks Again!!) After work, we came and waited in the parking lot for a few minutes before they opened their doors. Soon after, we were promptly seated at the sushi bar.
Our Omakase started off with Monkfish Liver and Halibut. The Monkfish liver was delicate and the jalapeños on the Halibut were a sweet touch and not overpowering at all.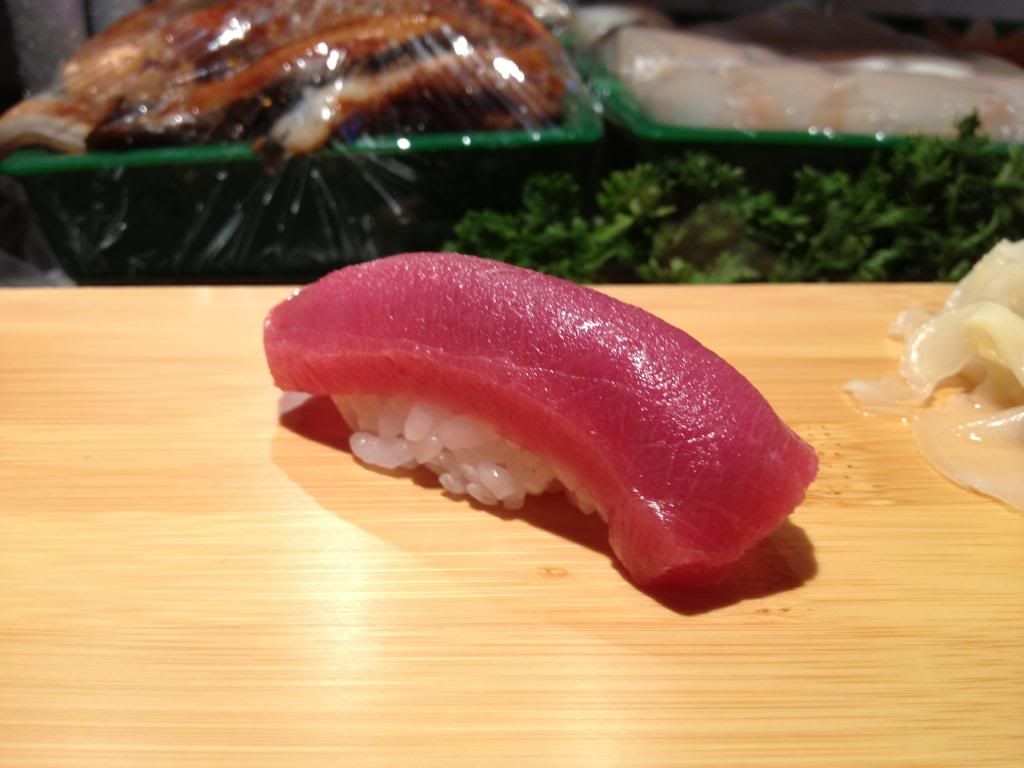 Lets just dive into the good stuff. A ruby red piece of Bluefin Tuna. Clean and refreshing.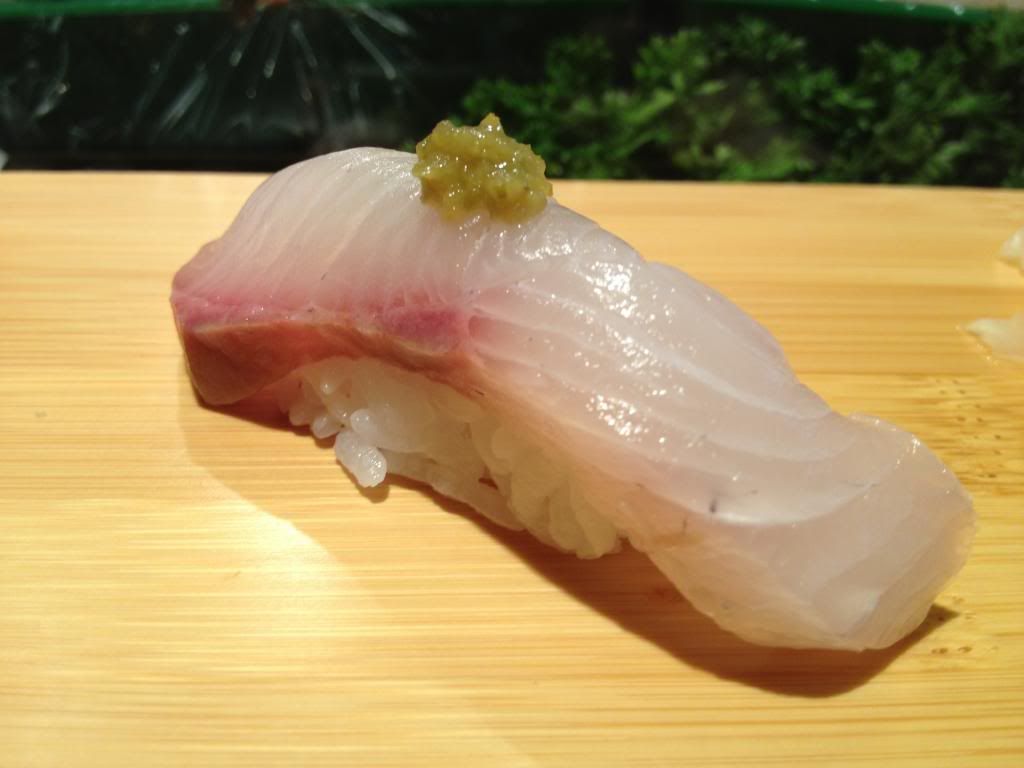 The Kanpachi was topped with a bit of Yuzu and Chili's to give it at the citrusy note.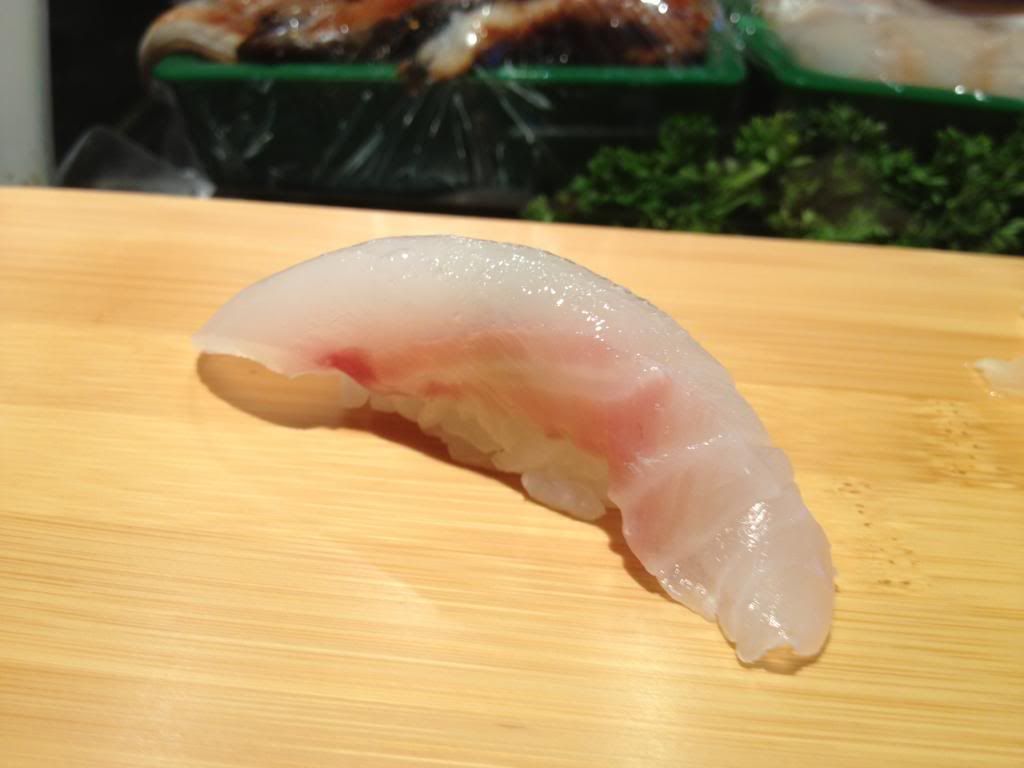 Red Snapper is usually not my favorite. But a little bit of citrusy yuzu helped liven it up.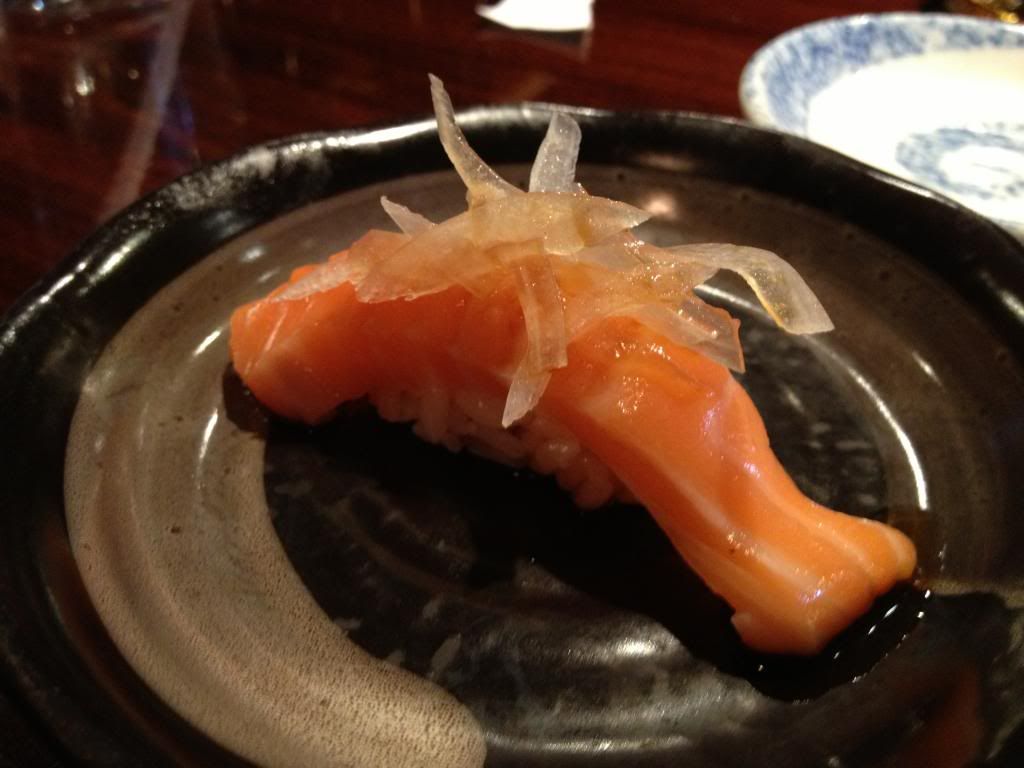 King Salmon with a bit of Ponzu Onions. Can you just give me 20 of these please?!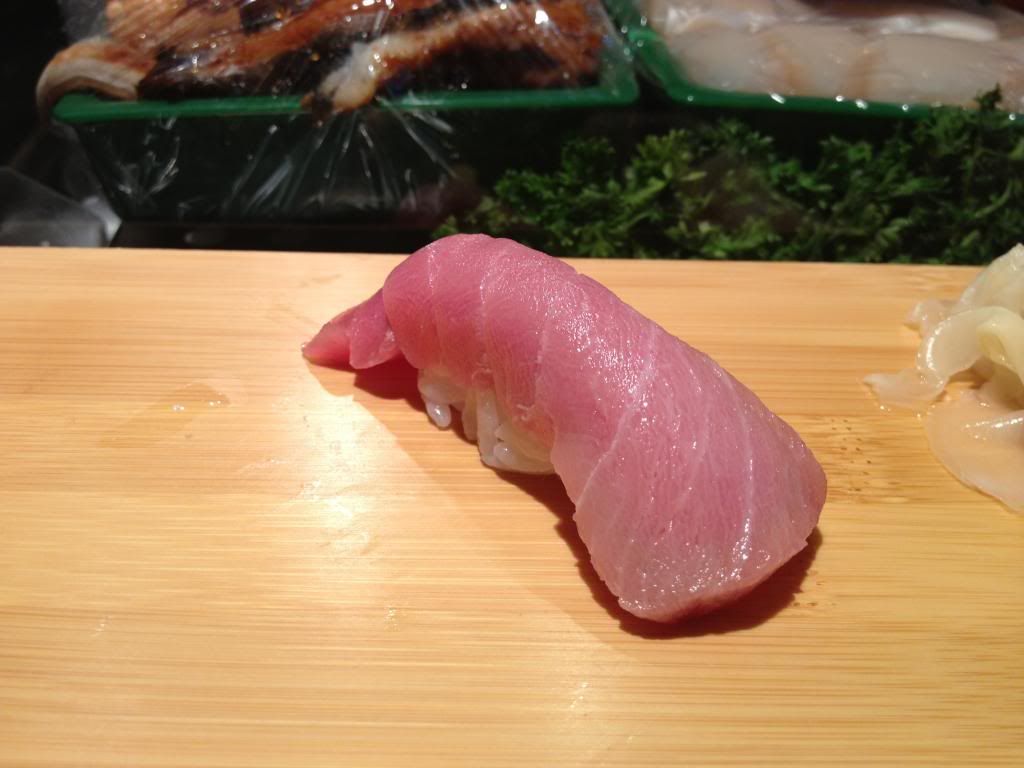 Dayammmm son. Look at dat pink! Oh-Toro… The picture speaks for itself.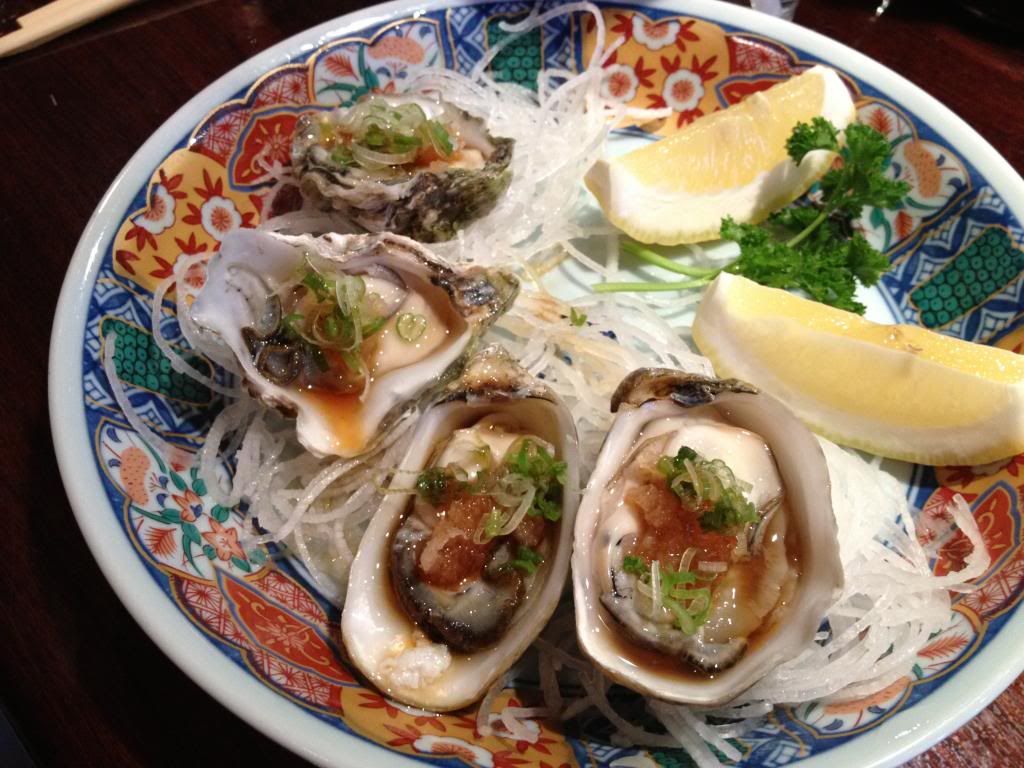 Next we were served a mini plate of oysters.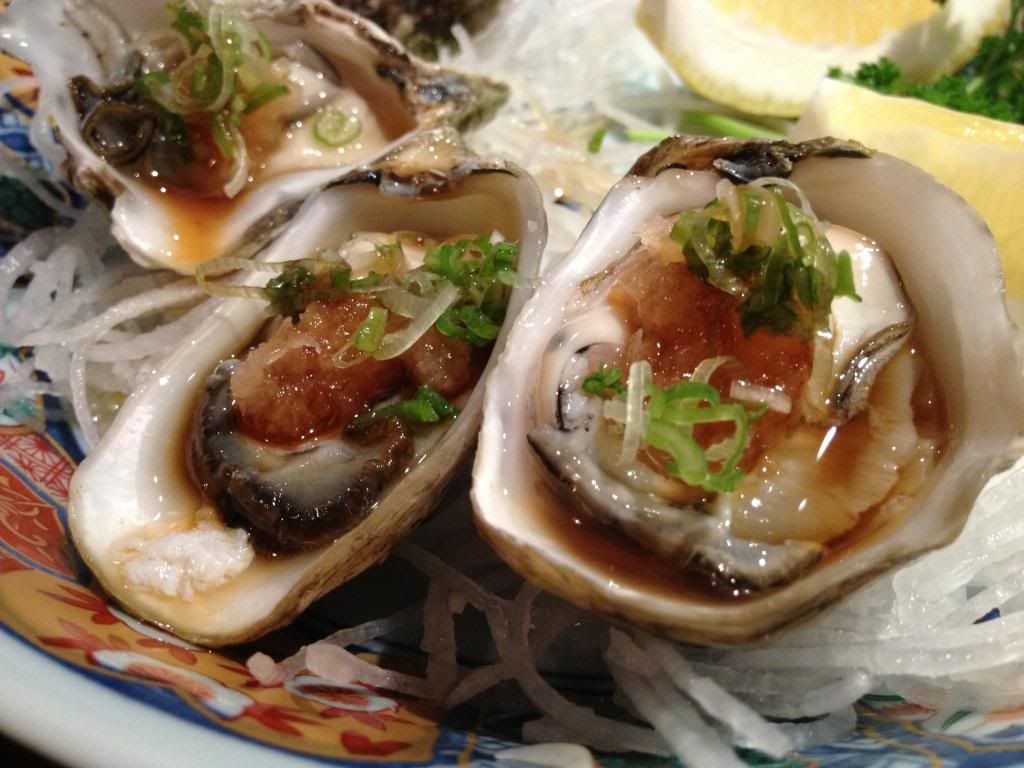 Some beautiful Shigoku oysters with Daikon, Scallions and a touch of Ponzu.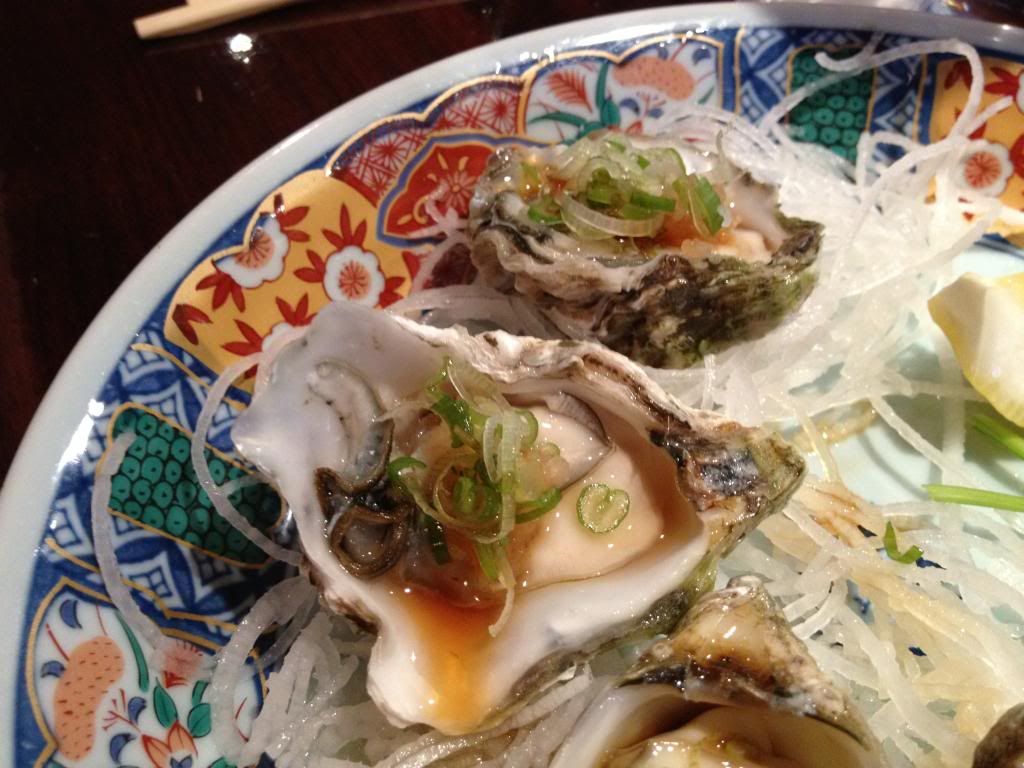 A few sweet Kumamoto's getting the luxury treatment too. Shit.. now I want some.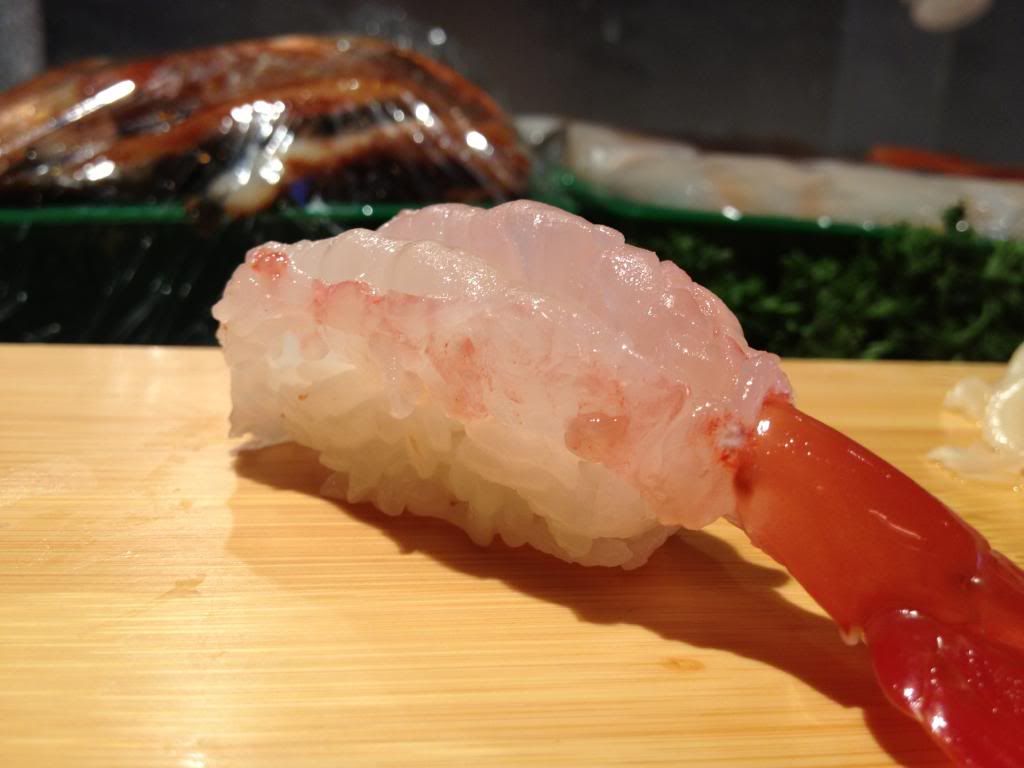 Ahh you beautiful piece of tail, you! Sweet Shrimp aka Amaebi. You get that clean ocean brine taste followed by a sweet finish. Ama-ezing!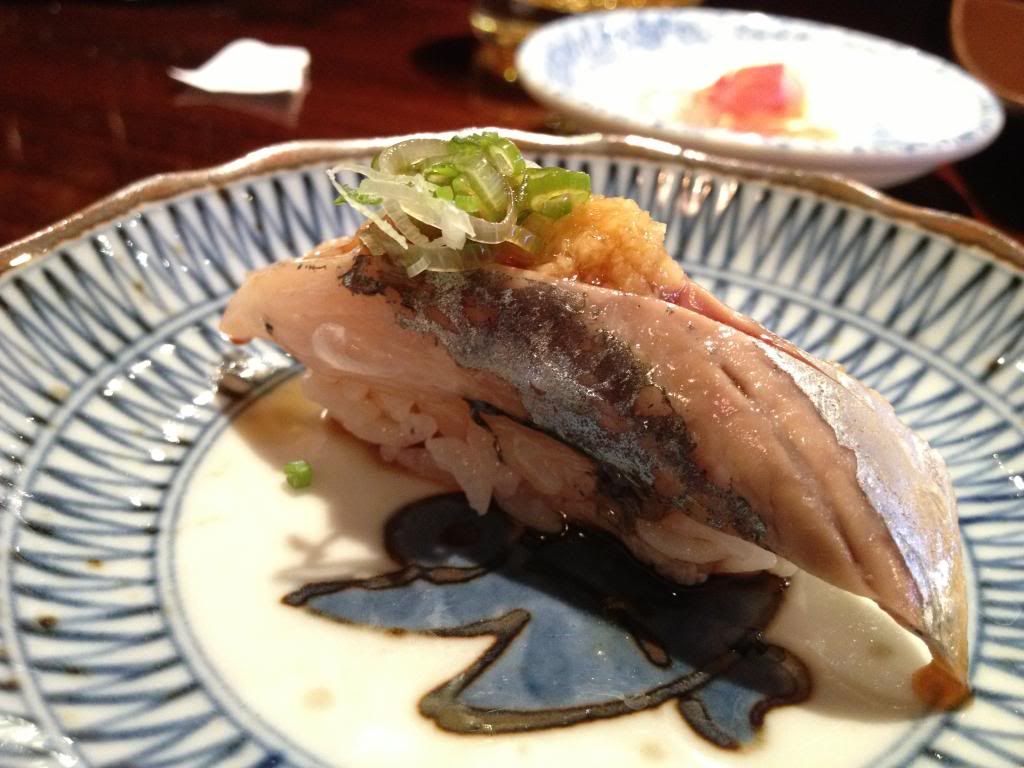 Aji/Spanish Mackerel - This baby is packed with flavor. Some grated ginger, scallions, ponzu transforms this dish into something I love.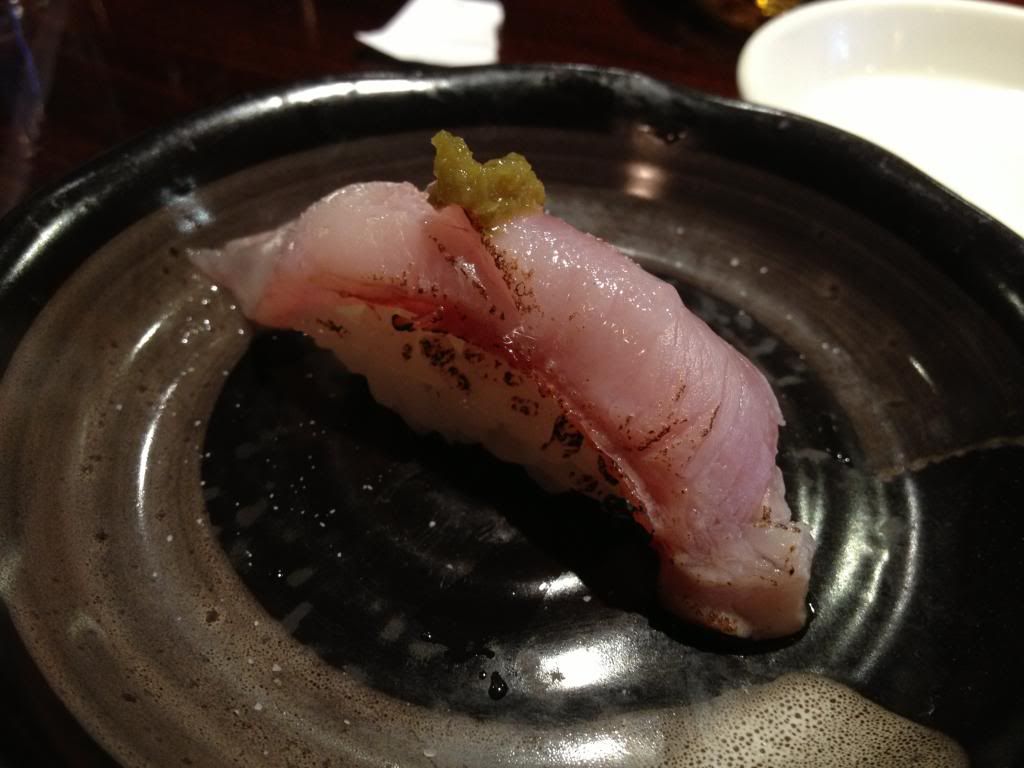 Golden Eye Snapper - Seared and topped with more yuzukosho. I'm a suckered for seared fish.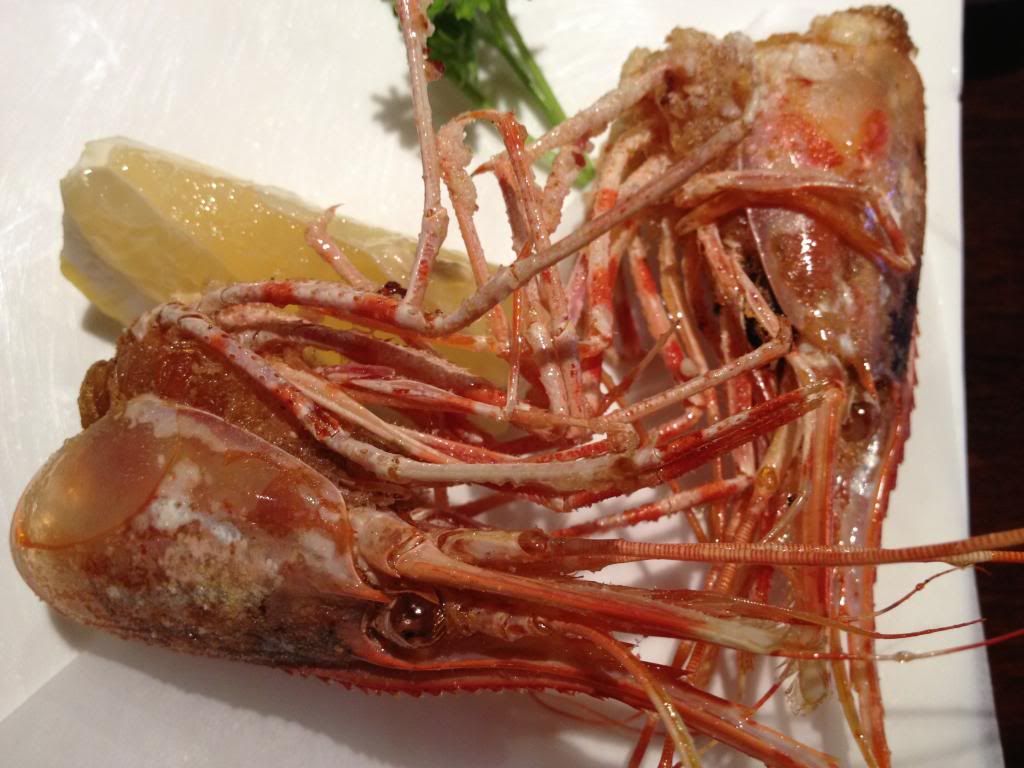 Yeahhh Buddy. Eat the head!!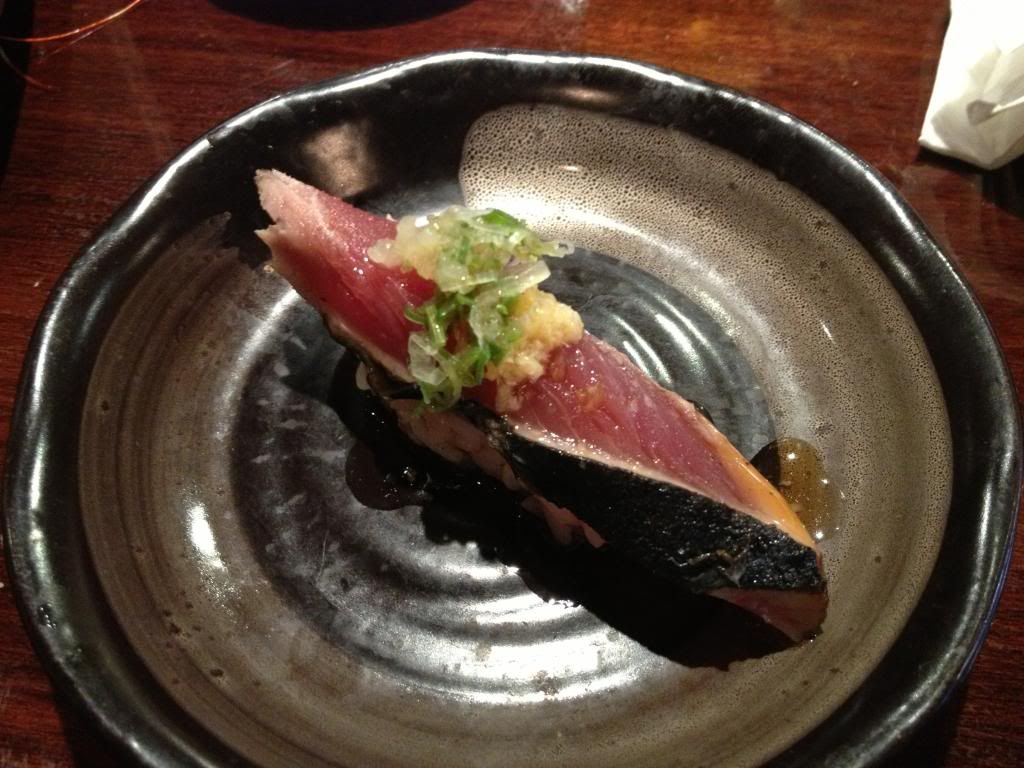 Bonito - Not something I normally get at a sushi restaurant. But this piece was seared and topped with more ginger and scallions. A bit tougher than I'd like, but flavor-wise, it's there.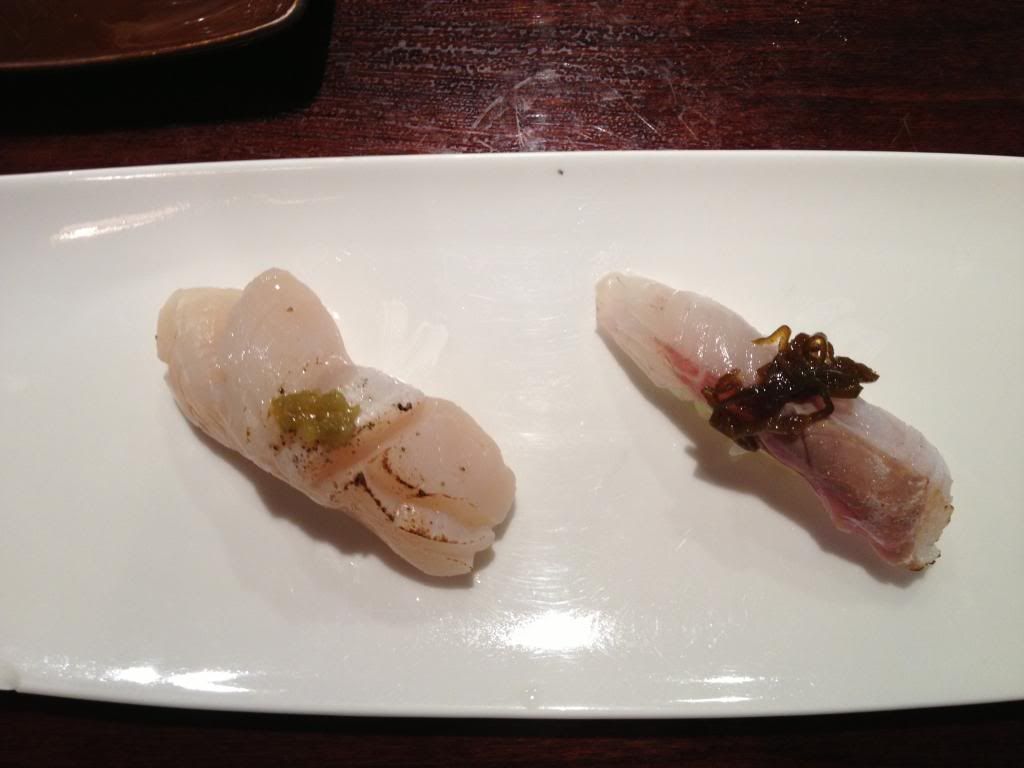 Seared Scallop/Hotate - Dat Fatty Piece Doe. And you sear it!? This isn't even a fair game anymore. To the right we have something I have yet to try at a sushi restaurant - European Sea Bass. The Sea Bass is topped with marinated shishito peppers which pairs perfectly with the delicate fish.
Now hear we have a treat and a delight to have amidst all these pieces of sushi. Spicy Tuna on top of a Tempura Lotus Root. I liked this. I liked this a lot. What a genius way to serve Spicy Tuna.. I'm sick of tortilla chips.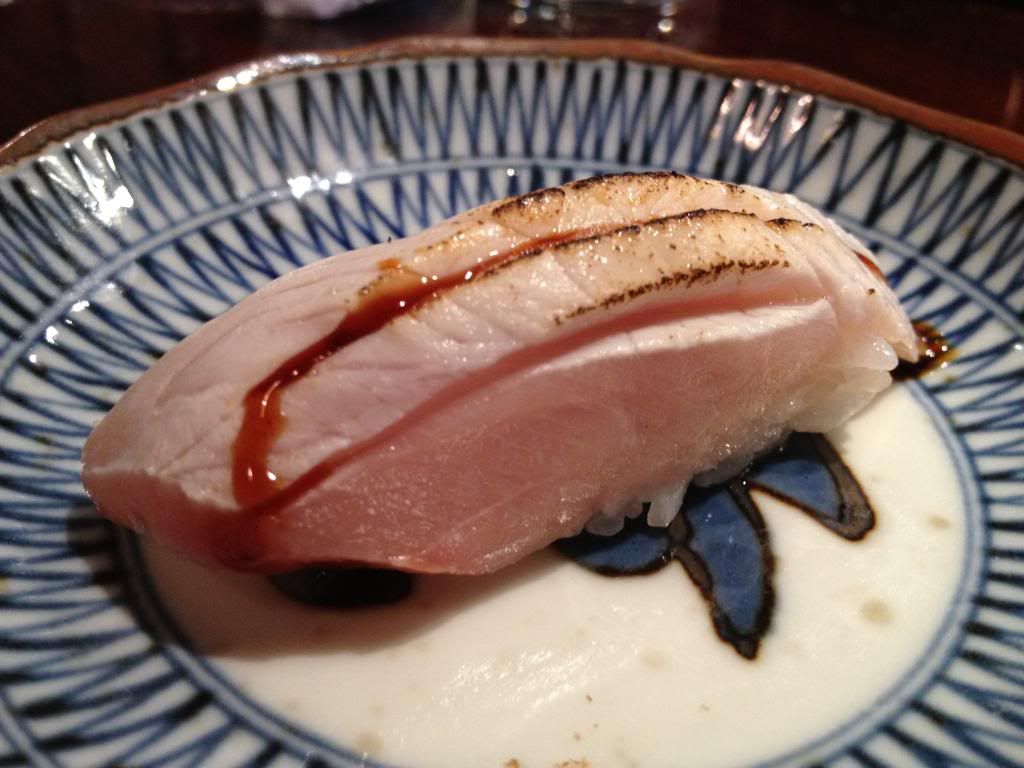 "Would you like anything else?" Why yes, yes I would. Some Yellowtail please! Arigato! Seared Yellowtail with a dab of Ponzu. My life is complete..
Finishing the meal is a Mandarin Orange Gelee. A perfect way to cleanse the palate and end the night.
Nana San Scores: 
Food: 9/10 - Amazing dishes, but not sure how it differentiates itself from the rest of the memorable spots in the OC.
Restaurant Environment: 8/10 - Luckily I didn't have to wait too long because we were seated at 5:30PM exactly. But the decor is your average sushi restaurant.
Service: 9/10 - If I'm sitting at the sushi bar, I expect the constant attention.
Value: 7.5/10 - Lucky me again, I have some amazing friends. But from what I've seen, it's not Urasawa level.
Overall: 8.5/10
Hours before my chiropractor appointment, my friend (who also happens to be my chiropractor) and I decide to grab an early dinner. But then comes the age old question, "where would you like to go for dinner?" Being in Downtown LA, there was only one restaurant on my mind.. Baco Mercat
After reading about Baco Mercat being one of Bon Appetite Magazine's Best New Restaurants in 2012, I've been dying to try it. And with the constant flow of friends asking, "Hey, have you been to Baco Mercat…. OMG, Baco Mercat is so amazing.. you have to go." I can finally say, yes.. I've been.
Luckily for me, I was able to score an early weekday dinner reservation. Want to try coming here on a weekend? No way, Jose.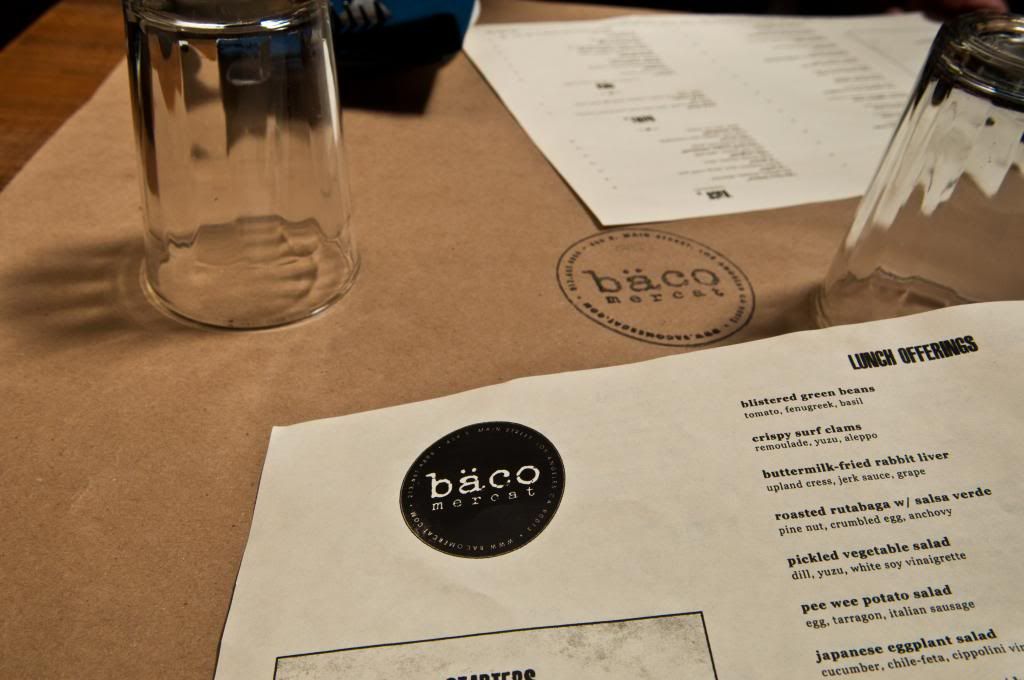 The restaurant is tiny, an almost New York-esque size. But what I loved, was the variety of diners - from teen hipsters to classy elders; you know the food is going to be good.
We started with a fresh plate of Hamachi Crudo with Abkhazian Chile Spice, Avocado and Hash Browns. Ok, I'm not going to lie, I have no idea what Abkhazian Chile Spice is, but my goodness, this dish is delicious. I rarely have yellowtail outside of Japanese restaurants, but Baco.. they got it right. The freshness of the fish is well represented and that hash brown, although out of place was more like a croquette.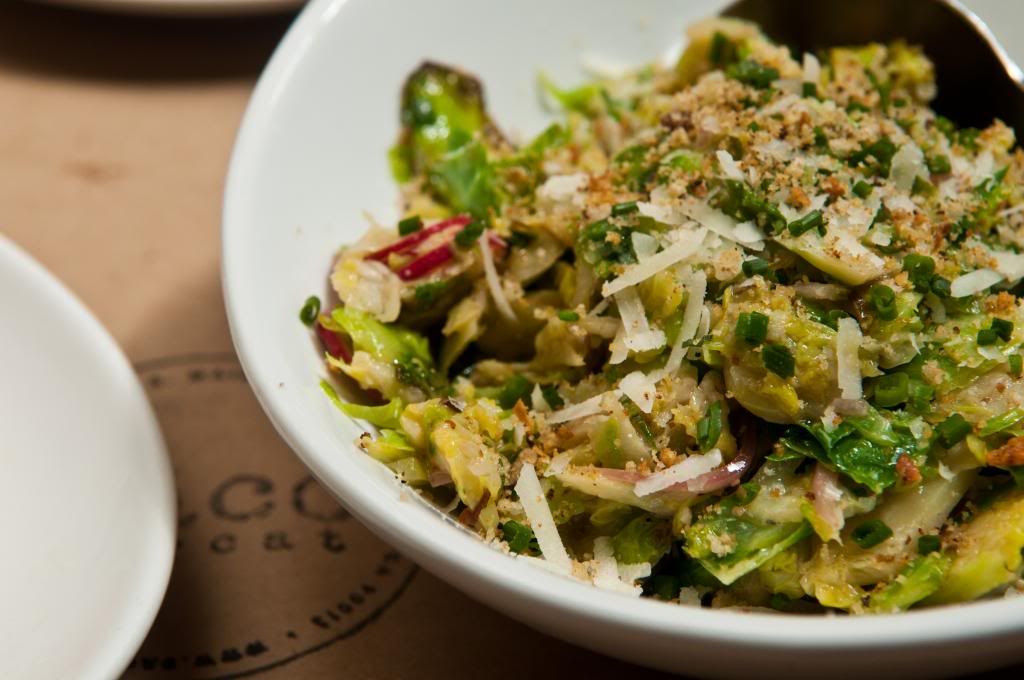 "Caesar" Brussels Sprouts with Pecorino, Anchovy, and Garlic - an absolutely ingenious way to use a stigmatized ingredient. I actually love brussels sprouts and eat it quite regularly. I never would have thought to prepare it as a warm Caesar salad. 2 for 2, Baco; keep up the good work.
Finally, we have the Bacos. What is a baco? Chinese people will find it eerily similar to their buns and "pancakes." But basically it's a flatbread that's converted to a sandwich.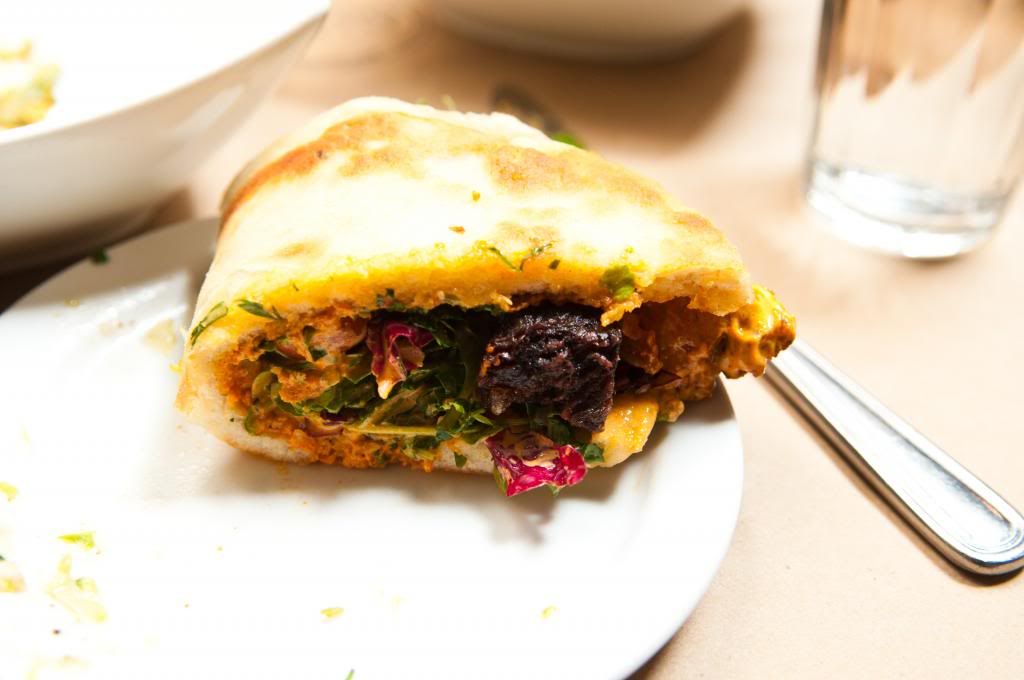 A beautiful cross section of the Original.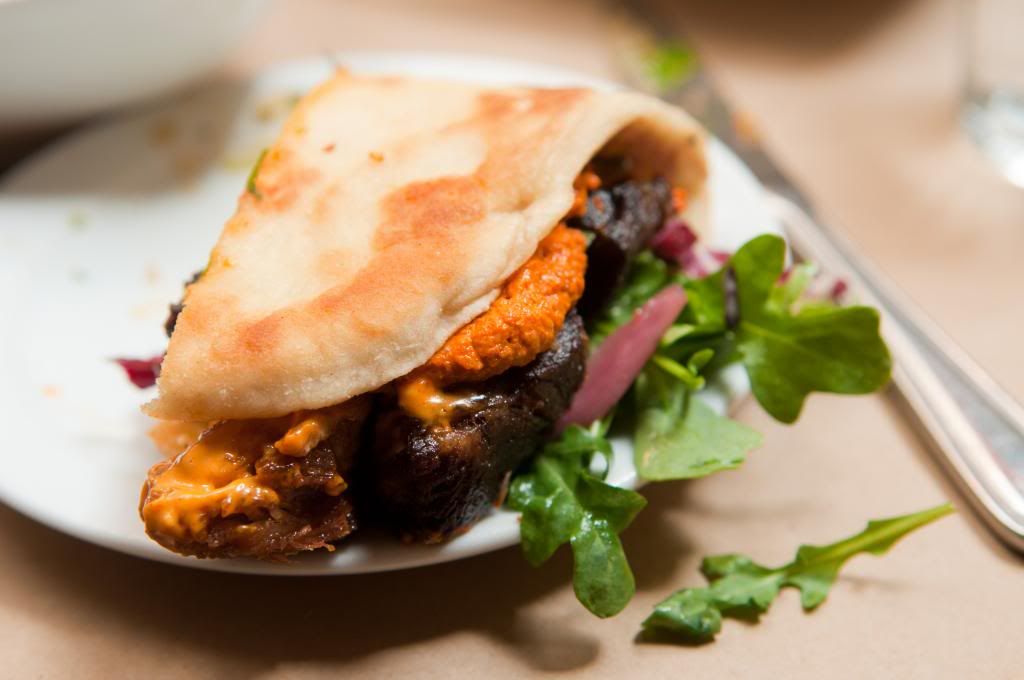 Let's start with the first. "The Original" is stuffed with Pork, Beef Carnitas, and covered in a Salbitxada sauce. Rich is probably the first word that pops in your mind. If you can get past the oiliness, you'll soon discover an unctuous bite of pork belly. The salbitxada is a tomato and almond sauce that pairs perfectly with the meats.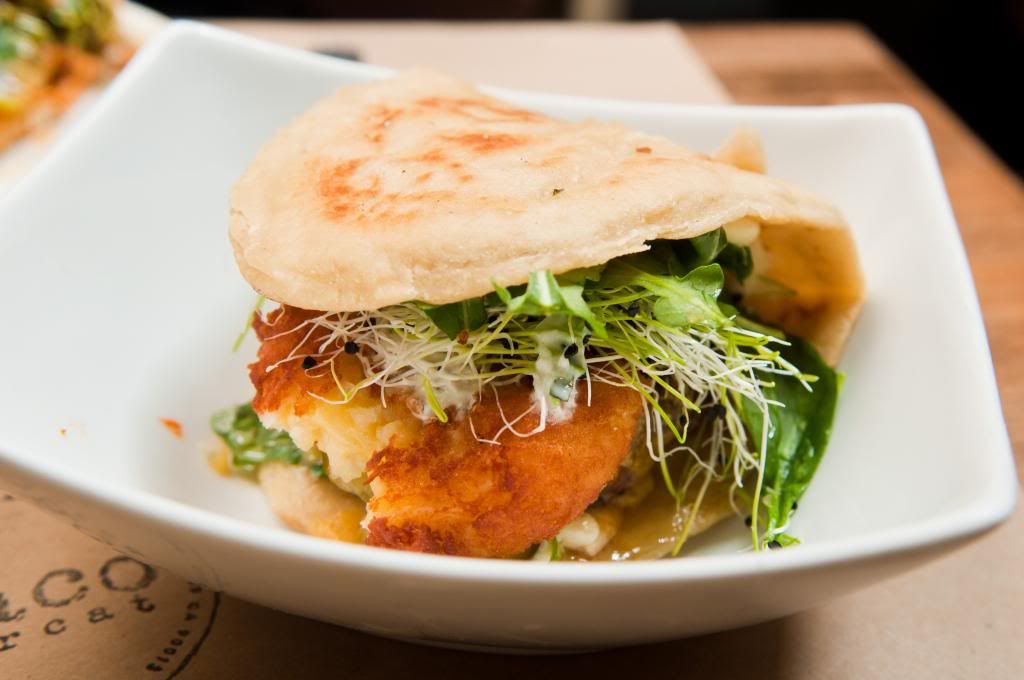 Next up, "The Toron" has Oxtail Hash, Cheddar Tater, and Horseradish. I love stuffing fried potatoes in a sandwich, but this Baco is on a whole other level. A giant croquette with tender oxtail.. I can't understand why fast food can't be more like this.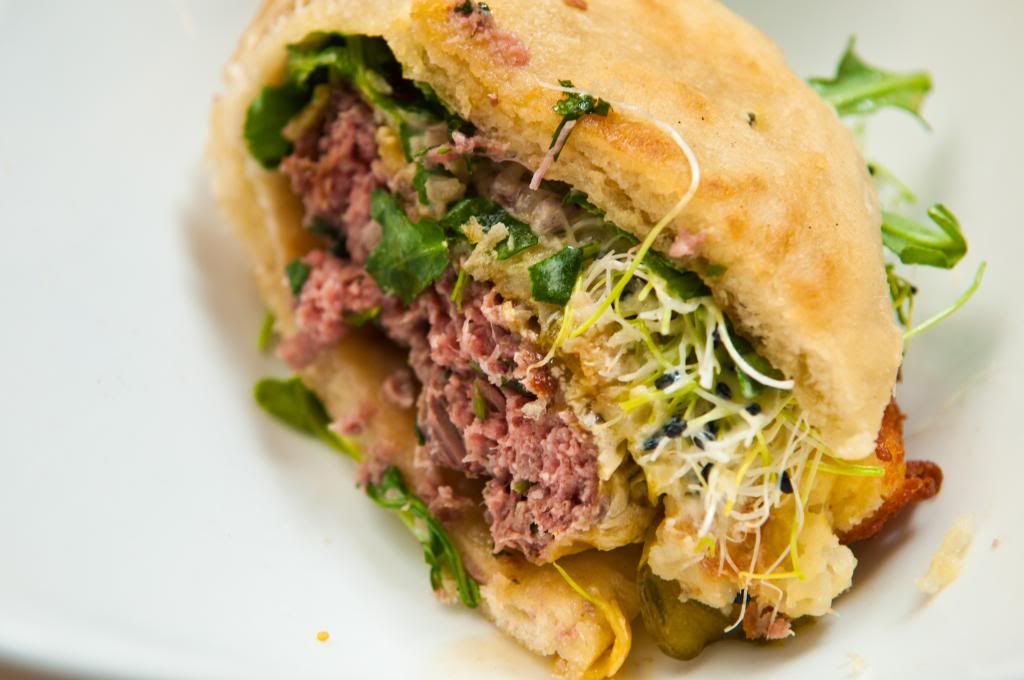 Look at that bad boy.. seriously.. All these fast food sandwich spots need to step up their game.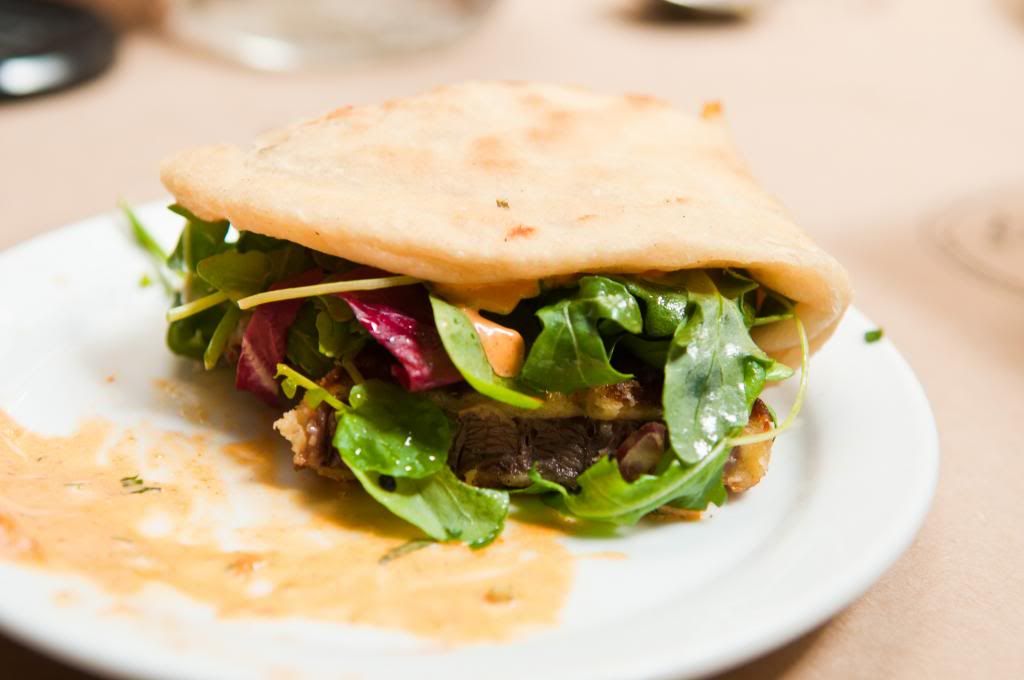 Schinitzel? Is that Schnitzel!? Why yes, that's actually a Beef Tongue Schnitzel with Harissa, Smoked Aioli, and Pickle. Again, the sandwich is very rich, but the beef tongue is somewhat downplayed. In my opinion, the weaker of the three, but superb nonetheless. But if you're asking me, I probably wouldn't order it again - only because the other two were much better.
Baco Mercat Scores:
Food: 8/10 - Innovative and well executed sandwiches. Let's not forget that they also offer a full dinner menu.
Restaurant Environment: 9/10 - You know what? Despite being a small restaurant, I felt as though there was ample room. The restaurant does get a splash of DTLA's art scene.
Service: 8/10 - Servers were there when you needed, and water was always filled. What more can I ask?
Value: 10/10 - Dishes at lunch are all roughly $10. A complete steal in my mind.
Overall: 8.5/10