After a few grueling runs around the Silverlake Reservoir, my friends and I headed off to Sunset Blvd to celebrate with some much needed carbs. Our stop? The highly touted gastropub, Black Hogg.
We were given the option to wait a few minutes for a table to open or a spot immediately at the bar. I'm fat, hungry and just ran.. bar please.
Ample seating? I think not!
You know an amazing meal is about to take place when you start with oysters. More specifically East Beach Blonde Oysters with a Spicy Pickle Juice Mignonette and House Cocktail Sauce. The oysters were light and briny, yet surprisingly sweet. The mignonette cut the flavors perfectly.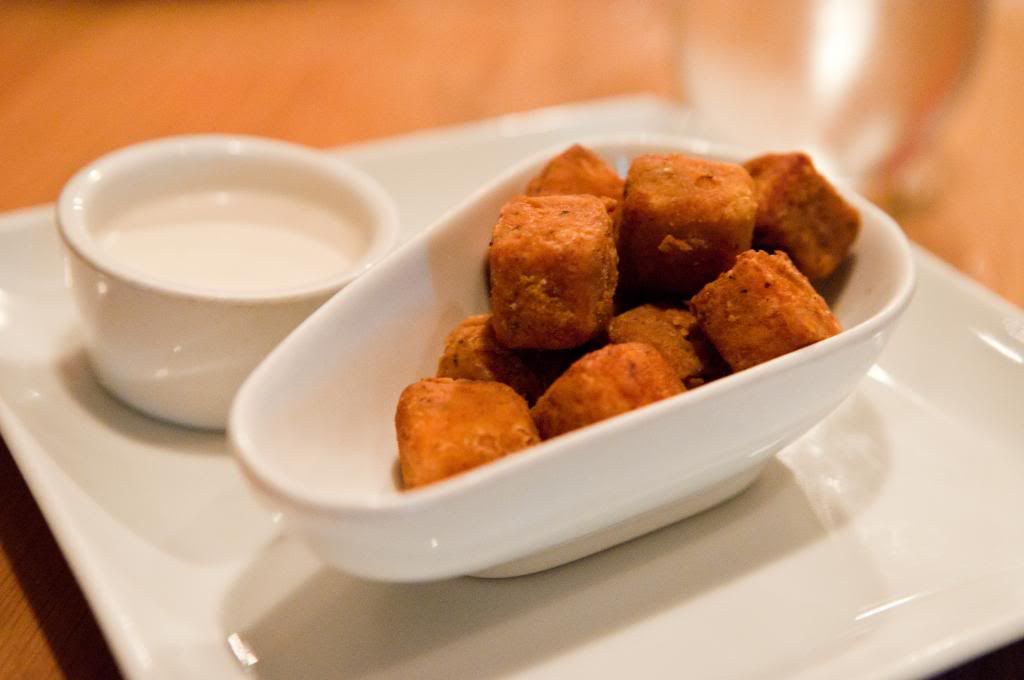 Here we have Black Hogg's infamous Popcorn Bacon. They are fried Bite-Sized House Bacon Morsels with a Maple Crema. Slap me please, I must be in heaven. There's nothing more perfect than deep frying cubes of bacon. Oh wait! There is! Serving those same Deep Fried Cubes of Bacon WITH a Maple Crema sauce.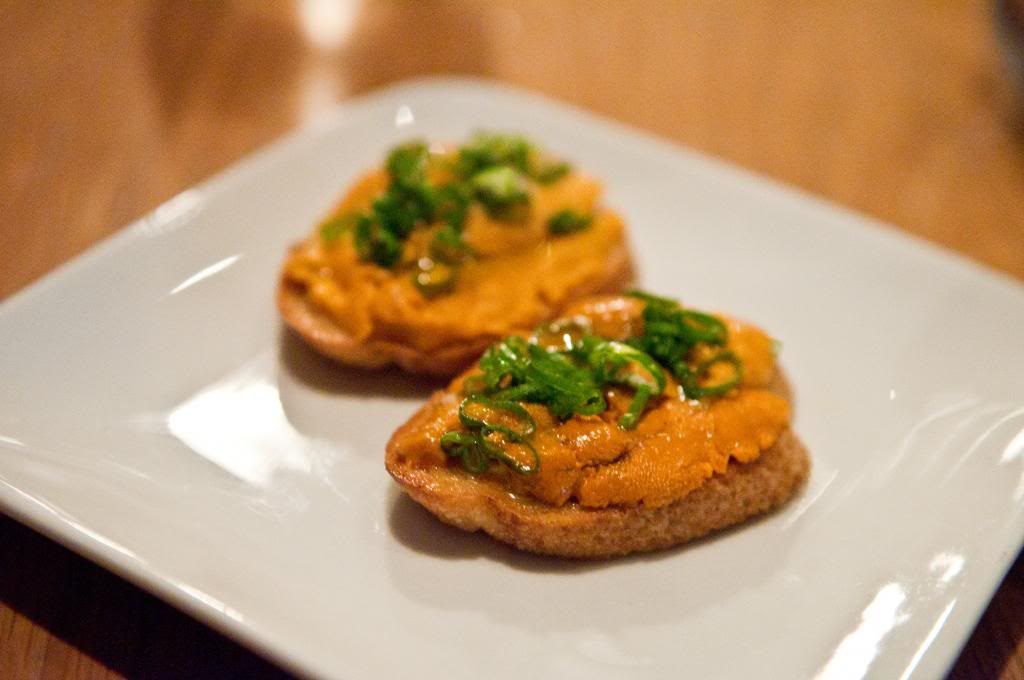 Continuing on this cholesterol skyrocketing tour, a pair of Uni Toast - Santa Barbara Uni, Plugra Butter, Scallions and Maldon Salt. Sweet, sweet Uni.. you are the love of my life. This is the way toast should be served around the world. Not that over buttered soggy mess you find in our discount breakfast, but lined with luxuriously rich strips of sea urchin gonads. Did I just really say gonads in a food blog?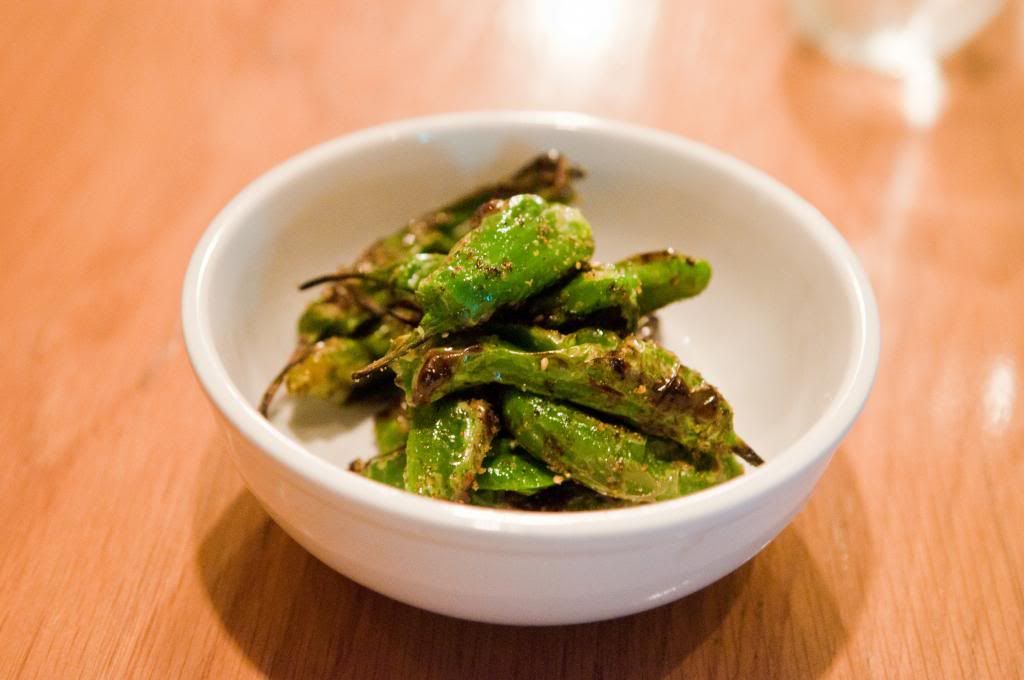 If you've followed me in the past, you know my love for these beautiful Fire-Blistered Shishito Peppers with a Housemade Togarashi. Light bulb! I should start making these at home..
I now understand why the restaurant is called Black Hogg. The dimly lit restaurant makes you gorge like a pig… on dishes with pig! Who can say no to Pork Belly Tacos? Ok.. vegetarians, vegans, Jews, Muslims.. put your hands down. You're already missing out. But these bad boys are made with House Cured Roast Salmon Creek Farms Pork Belly with House-Made Tortillas, Apple Slaw and Jalapeño Relish. Whew! That's a mouthful.. of delicious pork belly I mean.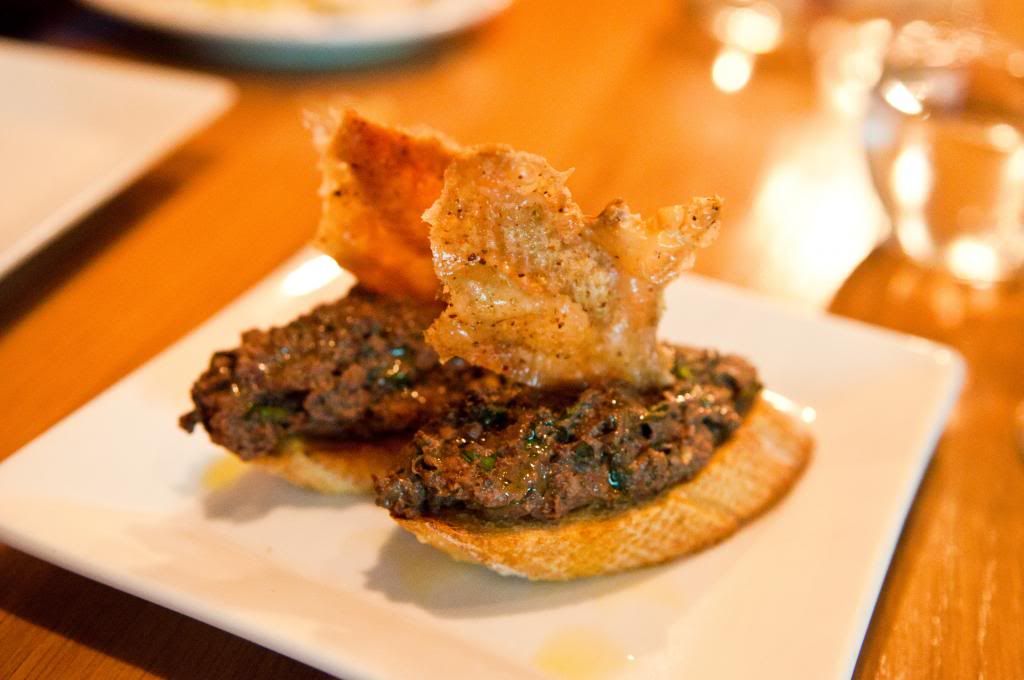 After the amazing Chicken Liver Toasts at Animal, I felt compelled to order it at Black Hogg. You're served Sauteed Chicken Livers, Caramelized Serranos, with a piece of Chicken Skin Cracklin. Want my advice? Don't order it. The flavors just don't come together and the dish is definitely out of sync.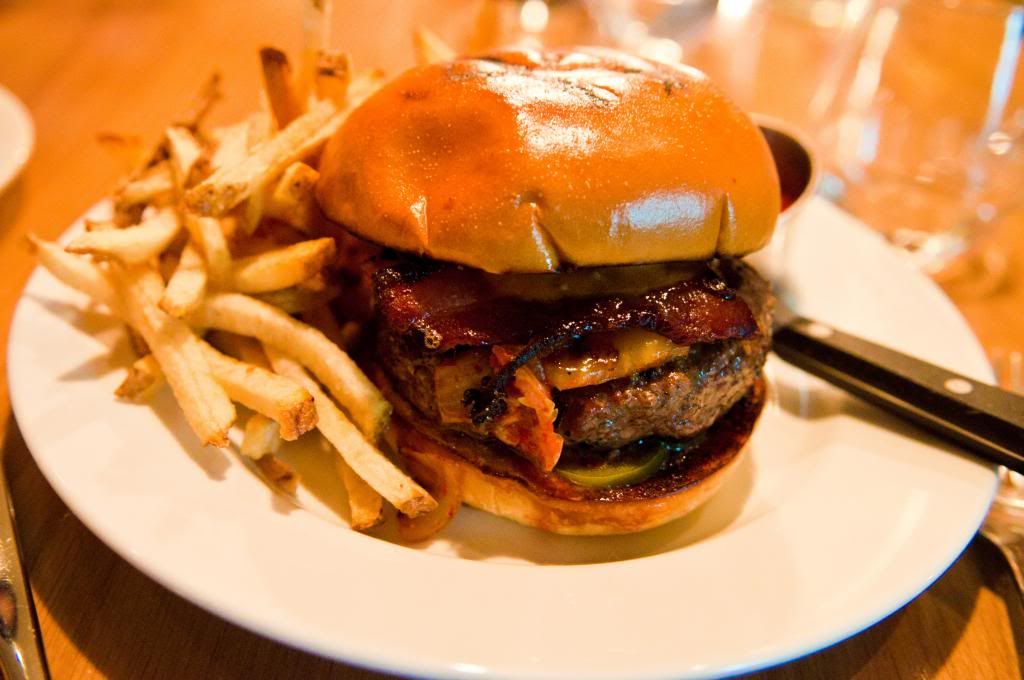 Why hello there beautiful.. what's yo name? Bacon 'Chi Burger? Nice to meet you. Your kimchi is showing…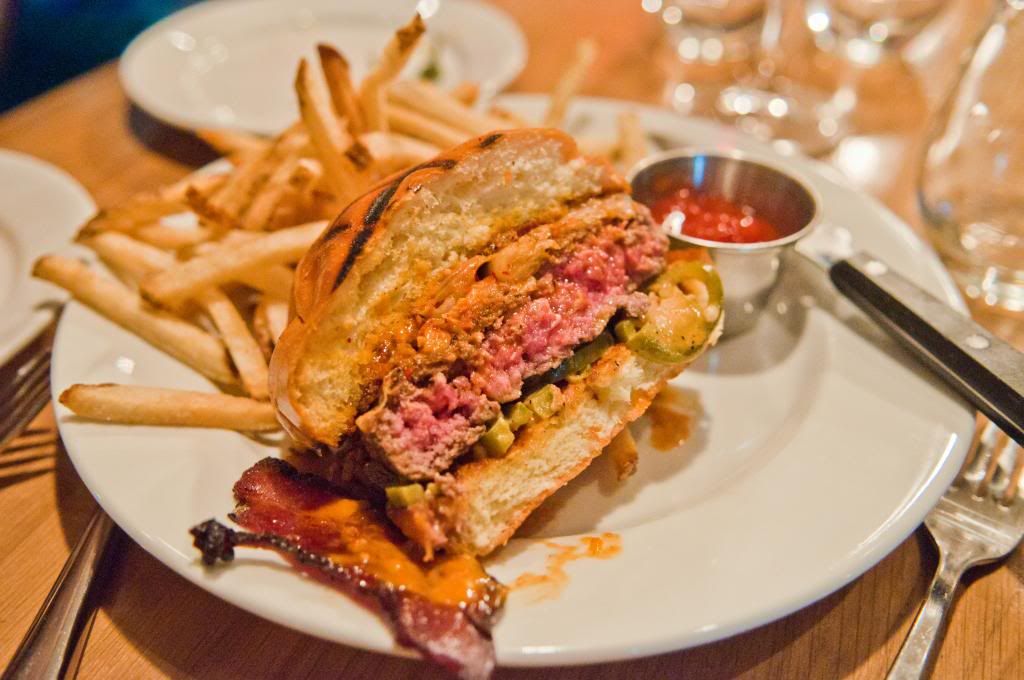 Woah! Not on the first date! But let me take a look.. is that CAB Natural Beef, House-made Kimchi, House Bacon, Jalapeño, Ssamjang Mayo, and Fries? Honestly though, burger aficionados.. this is it. An amazing novelty burger packed with huge flavors. How ironic, the Jack in the Box "Hot Mess Burger" just came on. But we all know who the real hot mess is..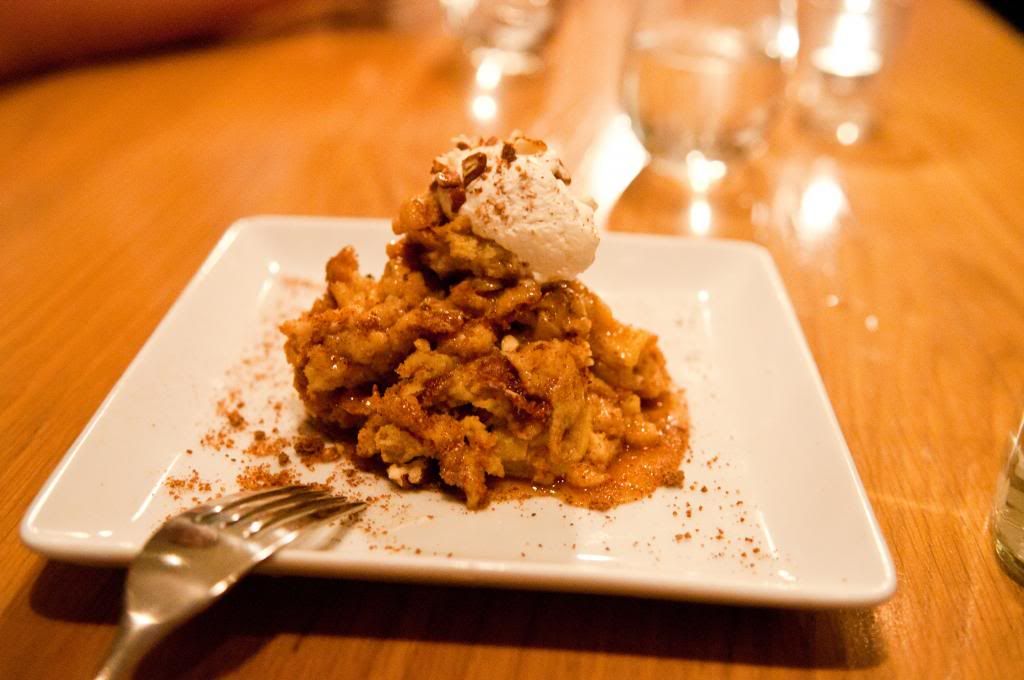 Let's finish dinner with a dessert. Five Milks Bread Budding made with Brioche, Brown Butter, Apples, and Toasted Pecans. The flavors are nostalgically familiar, but it's not the prettiest of dishes. It looks like what would be produced if an Oompa Loompa had a case of the runs. And yes, I'm saying it looks like sugary poop. 
Black Hogg Scores:
Food: 9/10 - Not quite perfect, but pretty damn close. Creative dishes and powerful flavors. 
Restaurant Environment: 7.5/10 - Spaces are cramped and I'm not sure about the Ikea minimalist furniture. But a clean eating space is a happy eating space.
Service: 8/10 - You better get somewhat decent service sitting up at the bar..
Value: 8/10 - Apps were all a shade under $10, and the burger was $17. Not too shabby.
Overall: 8.5/10 
After watching Jiro Dreams of Sushi, I made it an item on my bucket list. But due to the ridiculous barriers of entry, I amended that goal to just "Have life-changing sushi in Japan." And you know what? It happened.. at Sushi Dai (寿司大).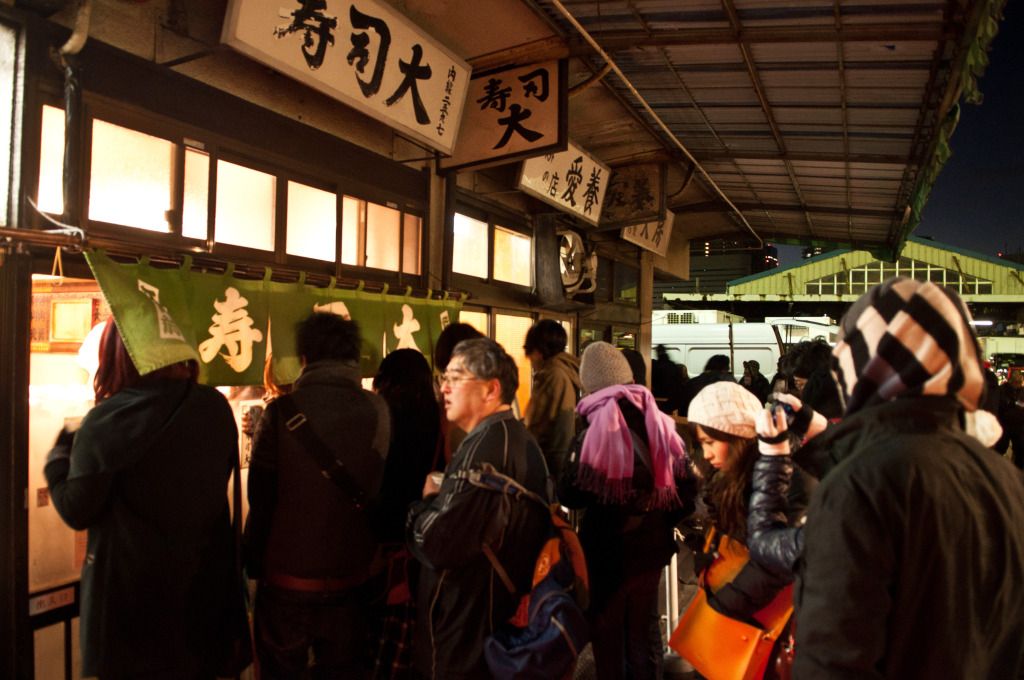 Sushi Dai is located in Tokyo's famous Tsukiji Market and is often regarded as the best sushi spot inside. My friend's and I got to the market bright and early (like 5:00AM early..). We waited roughly 1.5 hours in the freezing cold. Lucky for us, the nice lady of Sushi Dai brought us warm matcha green tea as she gave us our options. Either the cheaper (¥2,500) or more expensive option (¥3,900). We went with the ¥3,900 omakase (~$42) which includes 10 pieces of nigiri sushi + 1 bonus piece of whatever you want.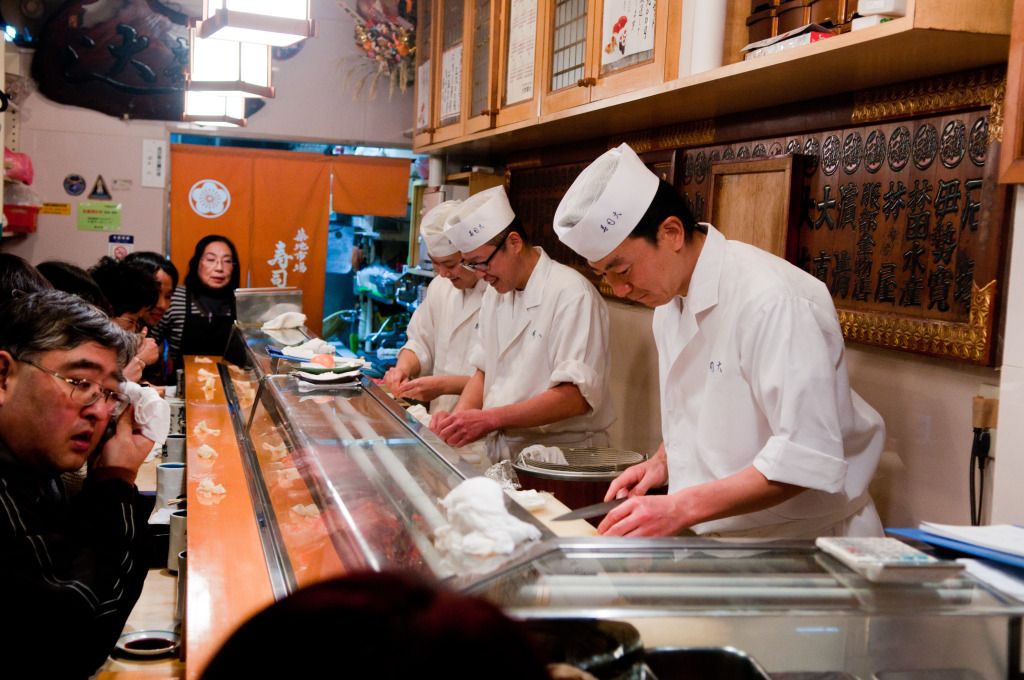 The restaurant only seats around 12-15 people and is armed with 3 sushi chefs.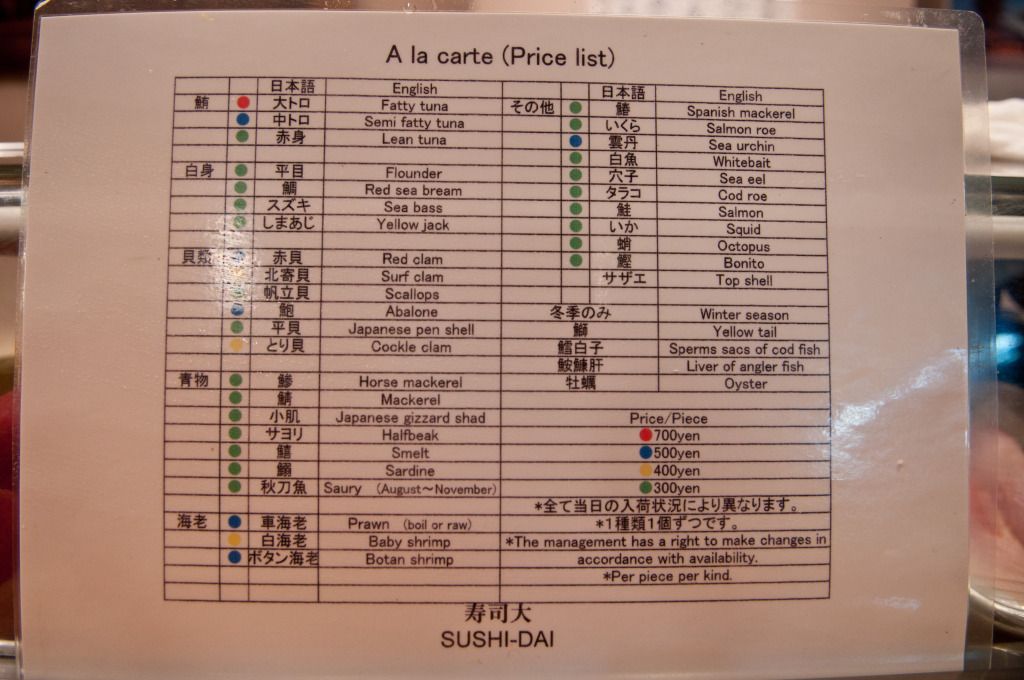 The a la carte menu which you'll select your bonus piece from. Next time, I may just do a la carte.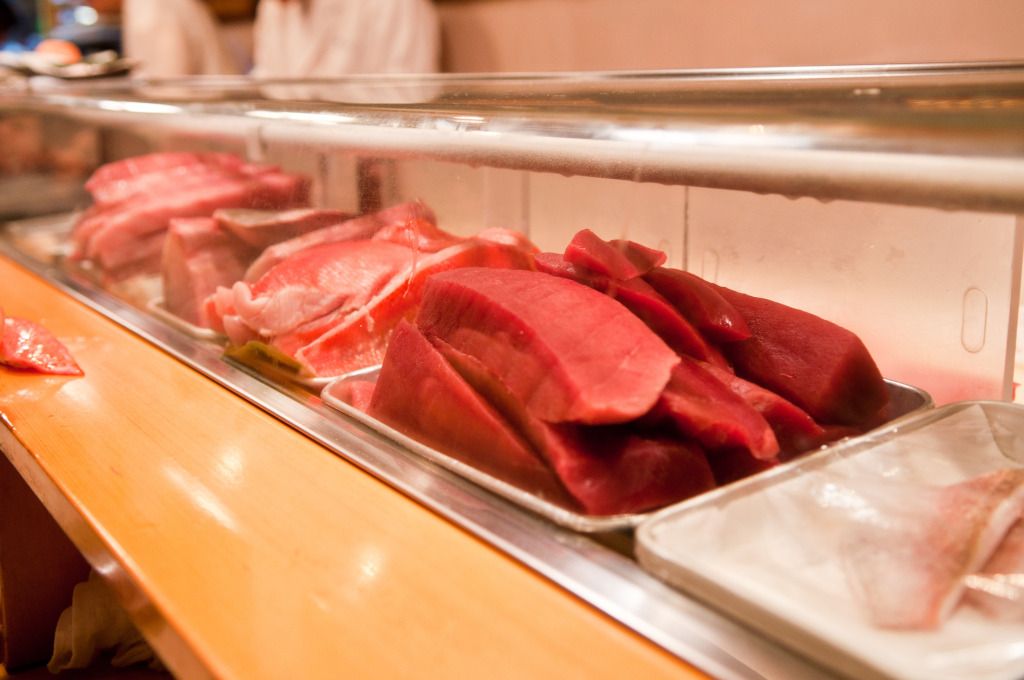 Tuna Everywhere!!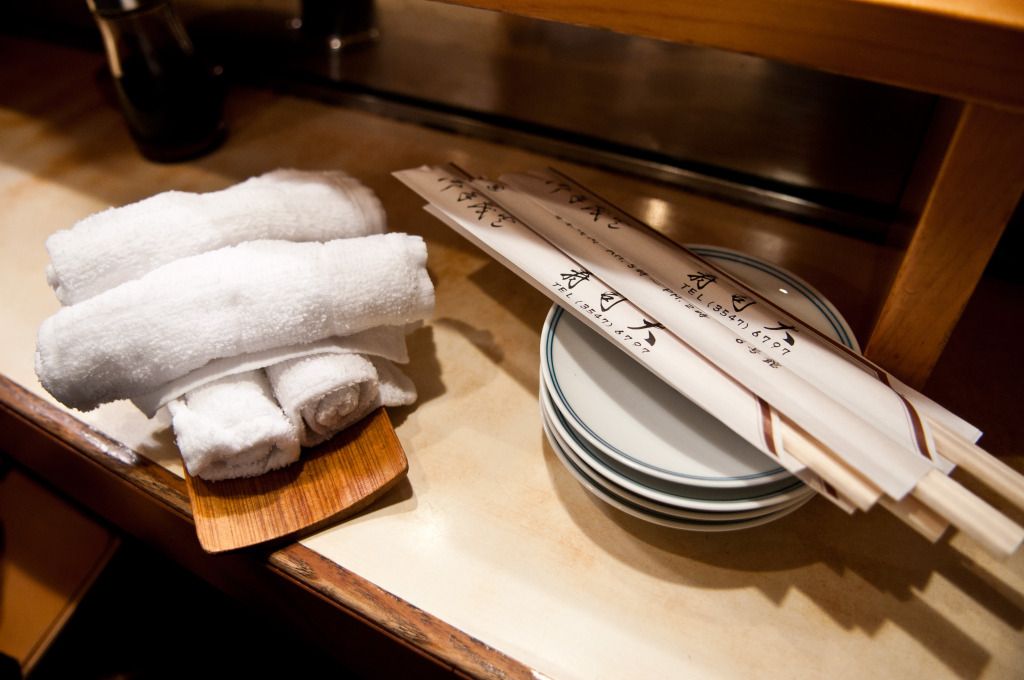 You'll enter and get seated in a cramped spot with a small counter space to eat.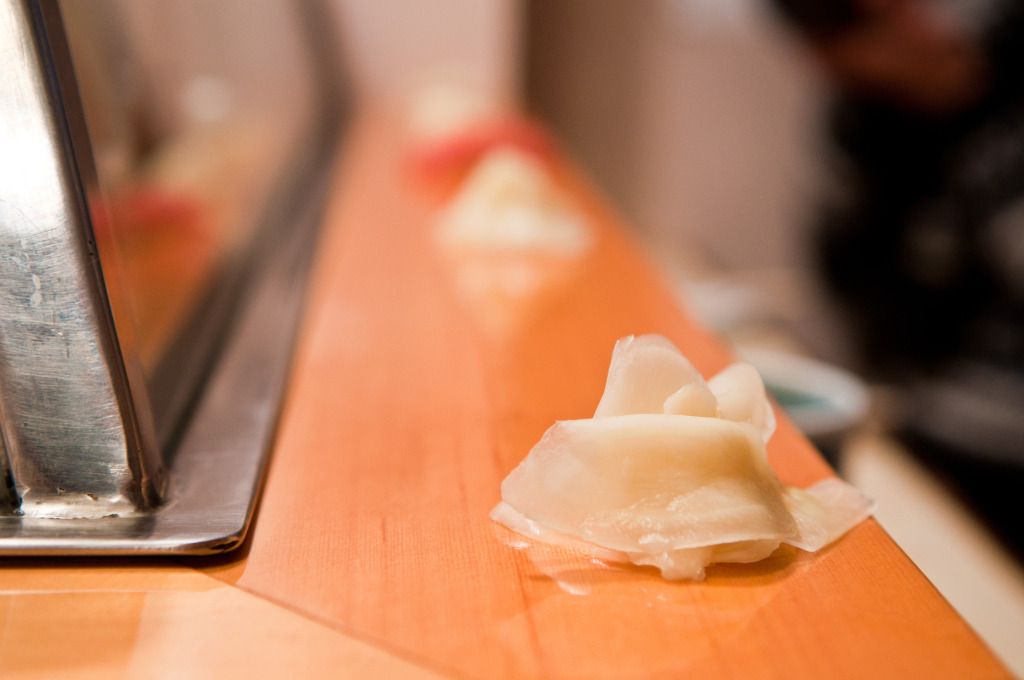 Ready for the ride..
Oh-Toro (Fatty Tuna) - This sushi breakfast started with a bang! Only the best! Fresh, Clean, Sweet, Buttery Soft Tuna… Just look at that marbling!
Tamago (Egg Omelette) - A complimentary starter. The egg was delicate and sweet and perfectly constructed. It's difficult to find a restaurant in the states that puts in the effort for such a basic dish. I now understand why it took Daisuke years to learn the Tamagoyaki at Jiro.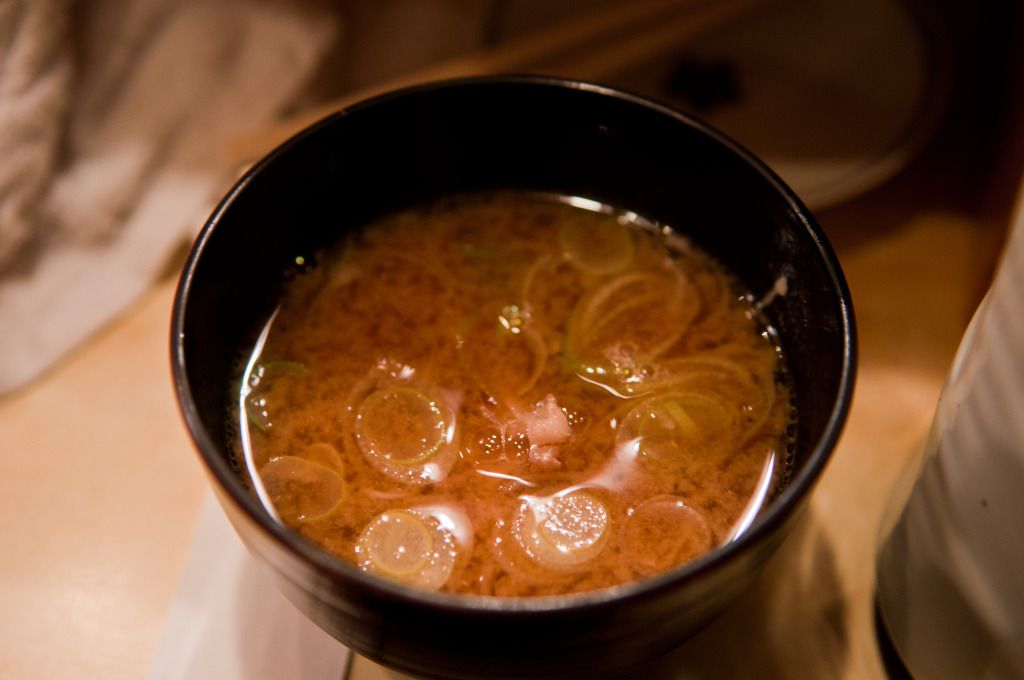 Miso Soup - Holy Moly! Best Miso Soup of my life!!! Forget all of the prepackaged powdery crap you get and your local roll sushi joint. The miso soup at Sushi Dai is created with an amazing seafood broth. You also get bonus chunks of fish that has been slowly marrying with the soup. And it's complimentary!? I'm packing my bags as we speak..
My hero.. <3
Suzuki (Sea Bass) - Usually sea bass is served seared/cooked in the states. But the raw version has a soft and delicate flavor. This piece actually perfectly demonstrated the amazing execution of the sushi rice and its wonderful flavor.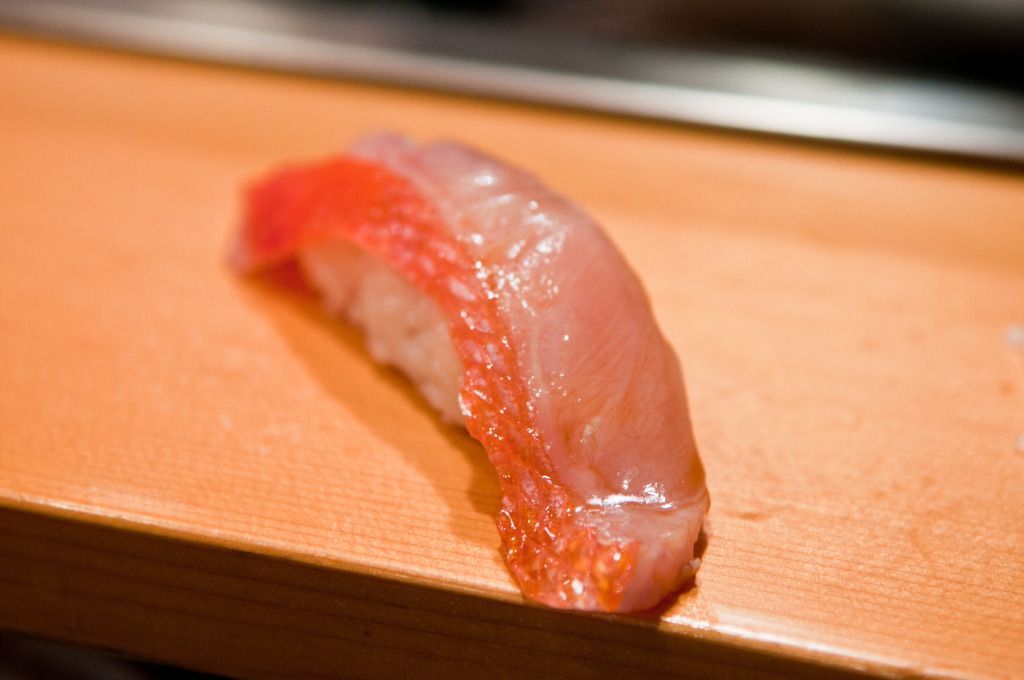 Tai (Snapper) - I'm usually not a huge fan of snapper because of it's usual fishy taste and tougher texture. But boy, did Sushi Dai change everything. The snapper had a beautiful ruby sheen and was surprisingly tender in texture.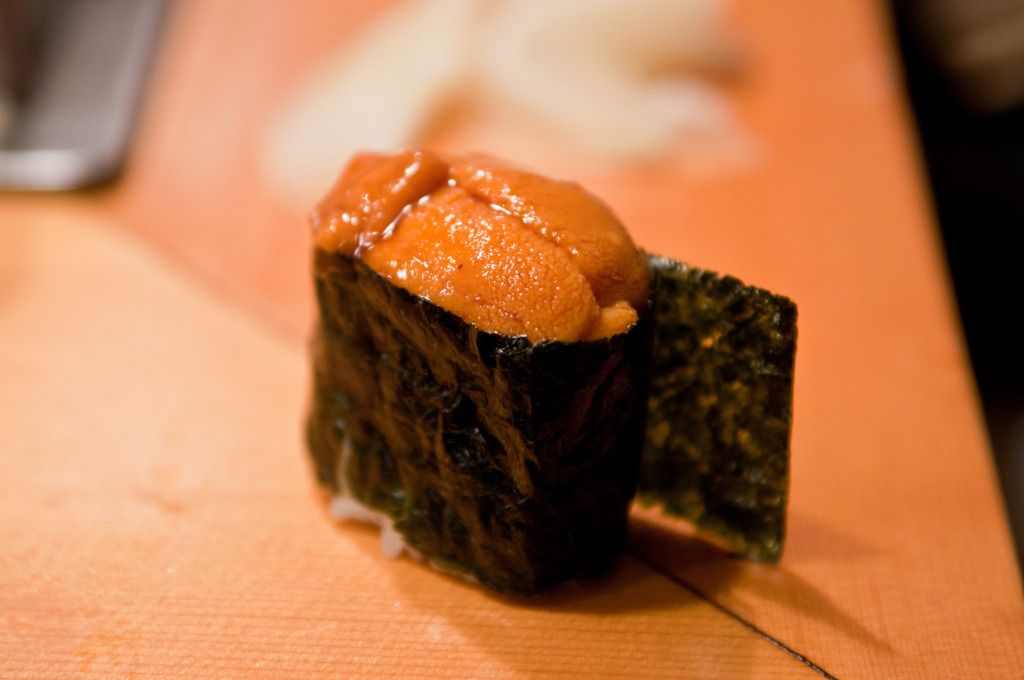 Uni (Sea Urchin Roe) - At this point of the meal, I was having a total sushi-gasm. And when the piece of Uni was placed in front of me, I almost died smiling. The Uni at Sushi Dai has a more East Coast, darker orange hue when compared to the golden West Coast version. I picked up my chop sticks, grabbed the sushi, closed my eyes, tasted the sweetness, and before I knew it.. the feeling was gone. But I knew what I had just experienced was pure euphoria.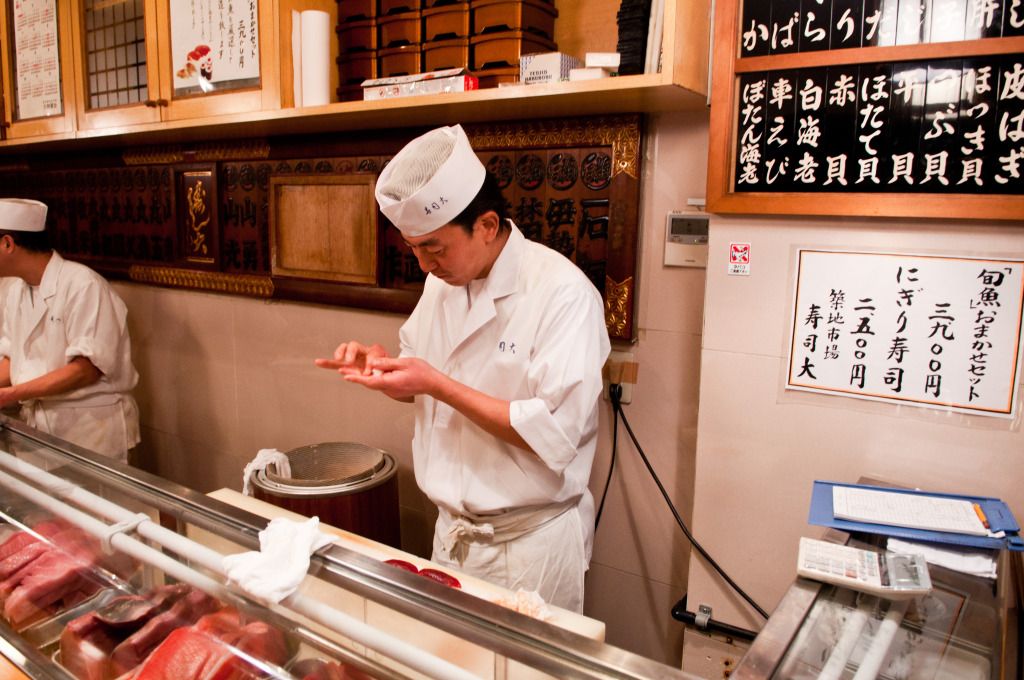 Carefully constructing our next pieces.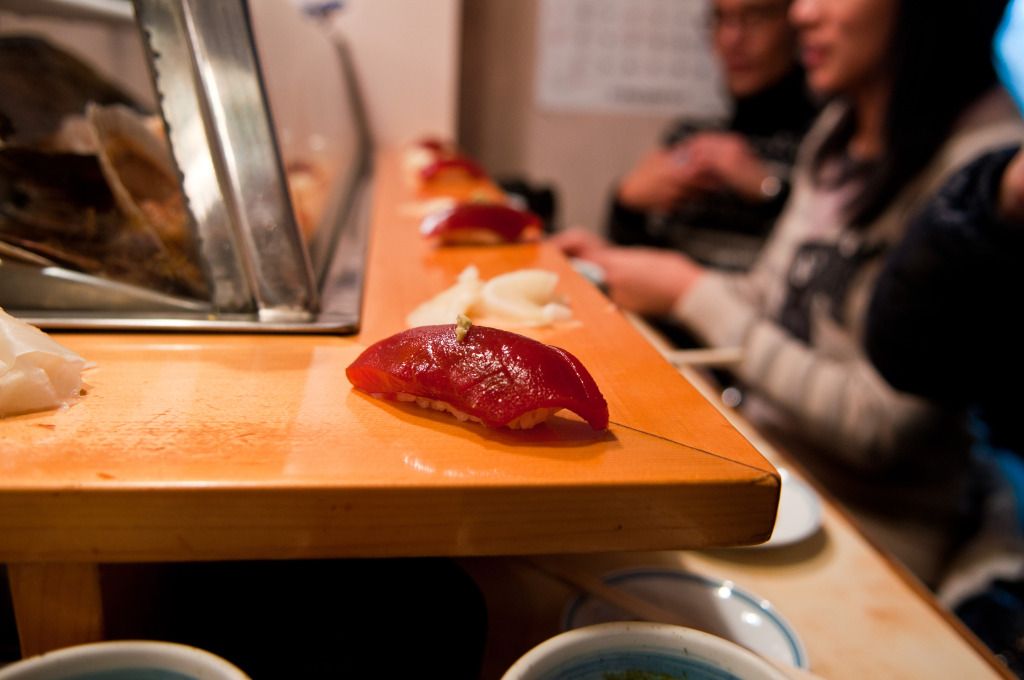 My my my… what do we have here?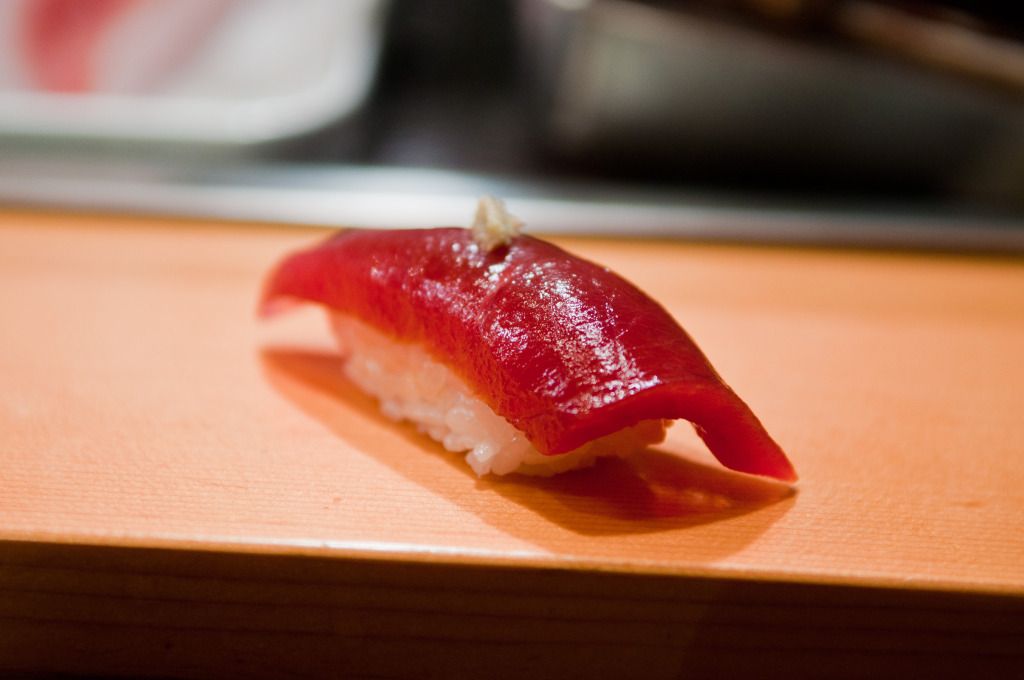 Maguro (Lean Tuna) - A ruby gem. None of that fake dyed crap we have here in the states. What's another synonym for clean and amazing? 
Akagai (Red Clam) - Video Journey! I think the reaction from most people would be.. WTF! That shit's still moving!! How do you eat it? My answer? Easily… just pop it in my mouth and chew that sucker to death. The clam had a subtle flavor and because it was still alive, it had a toothsome texture. Who said eating can't be fun?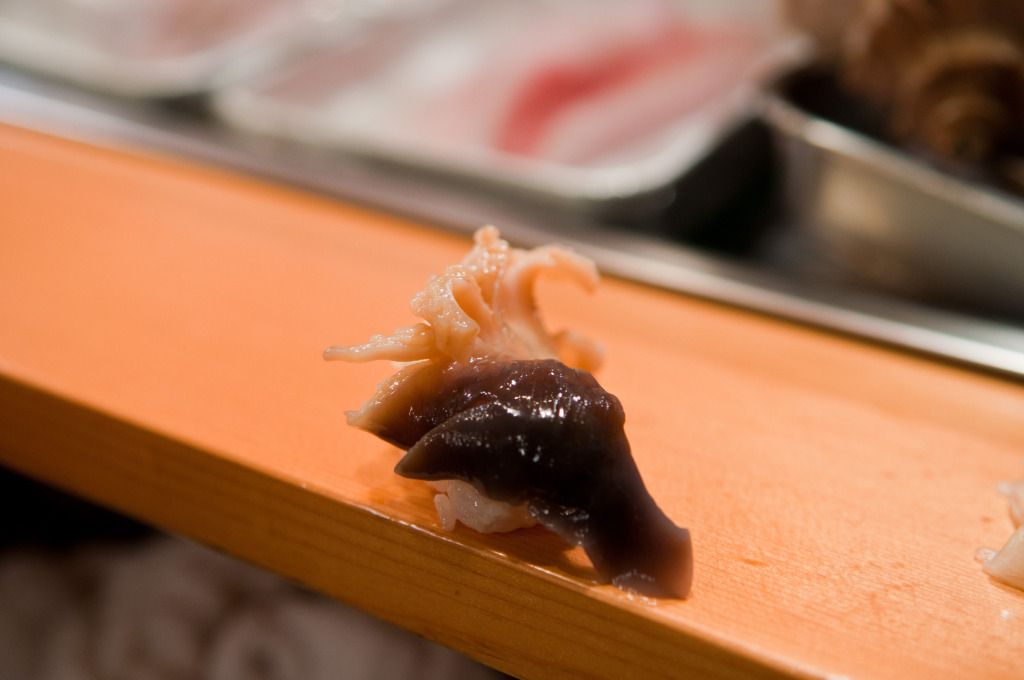 Pose for me baby…
I was trying my hardest not to reach over and steal myself a piece.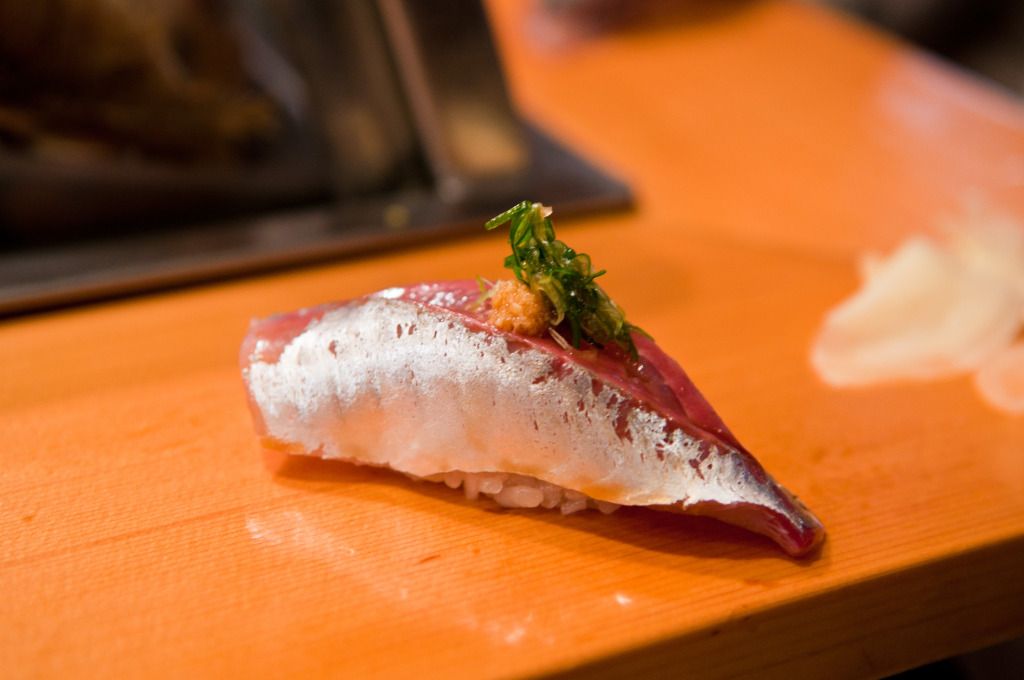 Aji (Horse Mackerel) - You beautiful piece of Aji! Served with your friends Scallions and Ginger. You have an early morning date with my mouth.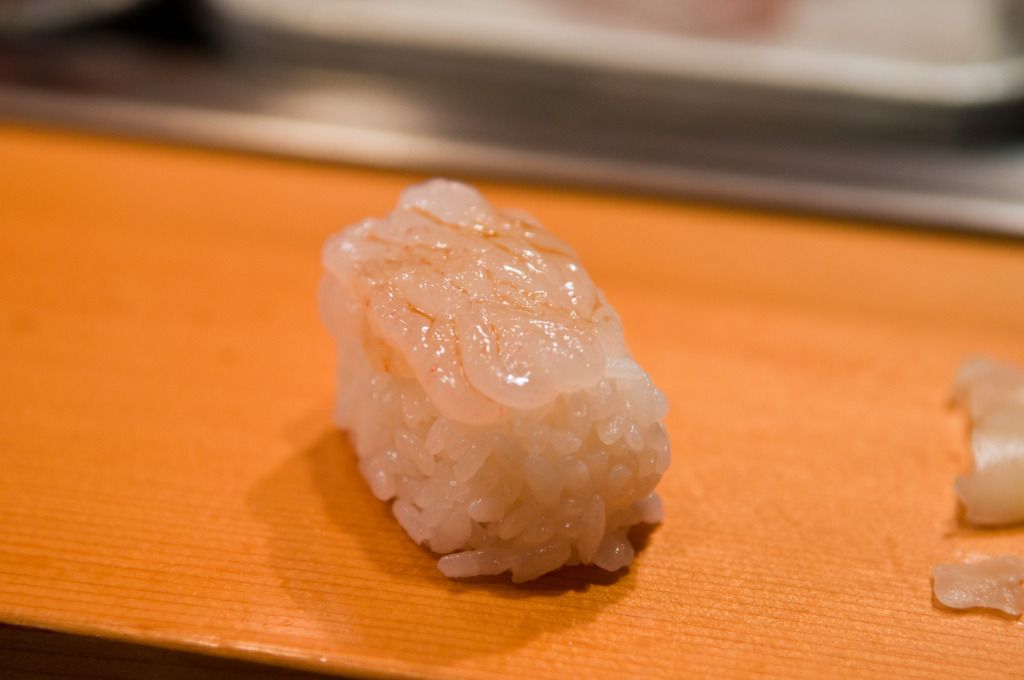 Baby Shrimp - Our chef was excited to present this to piece to us. The sushi is topped with many pieces of baby shrimp. How they peel every single piece of shrimp is beyond me, but the taste resembled amaebi. Amaebi-zing! (Sorry i tried..)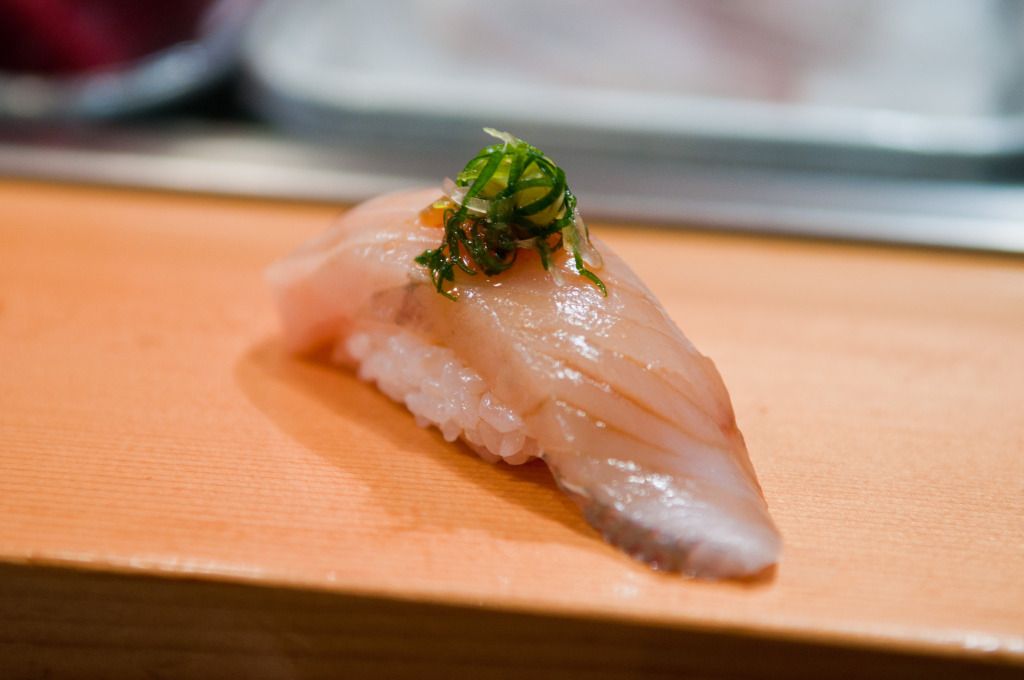 Sawara (Spanish Mackerel) - Yay more mackerel! The fish is brushed with a light soy sauce and topped with finely diced scallions. It's a bit more mild than the Aji, but trust me when I say.. delicious..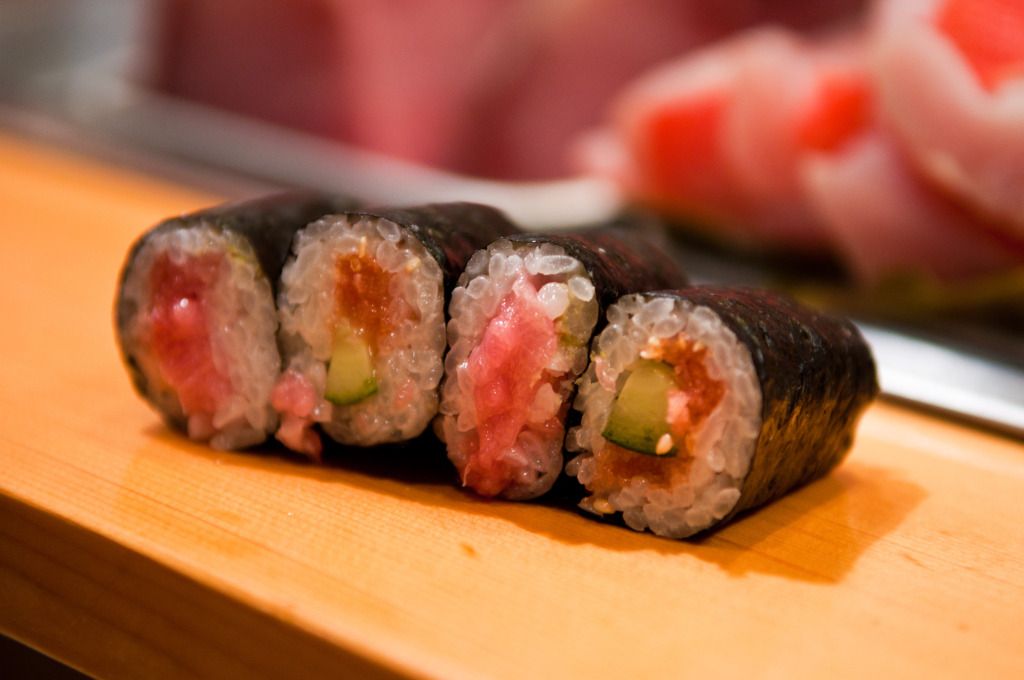 Negitoro and Tarako (Chopped Tuna and Cod Roe) - Cod Roe? Now it's a party!
Anago (Sea Eel) - I've actually haven't had much Sea Eel here in the states since I'm more used to seeing the fresh kind (Unagi). But despite how ugly this piece looks (honestly it looks like poop), the sweet sauce and slightly salty eel is a match made in heaven.
Now what should I order as my bonus piece? Come on… you serious? Oh-Toro!!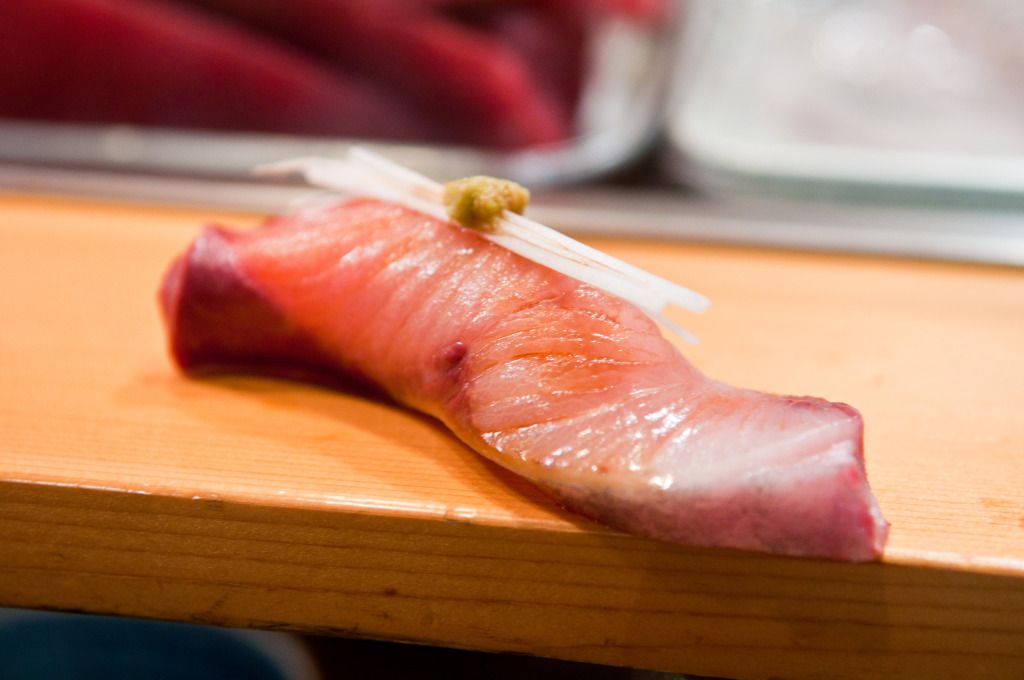 Hamachi (Yellowtail) - I released my inner fat ass and ordered my favorite fish off the menu, a piece of Yellowtail. It looks like they cut my the American sized portion since this bad boy took me 3 bites to finish. I'm not complaining as it was probably THE best piece of yellowtail ever and was prepared perfectly. I love you Sushi Dai..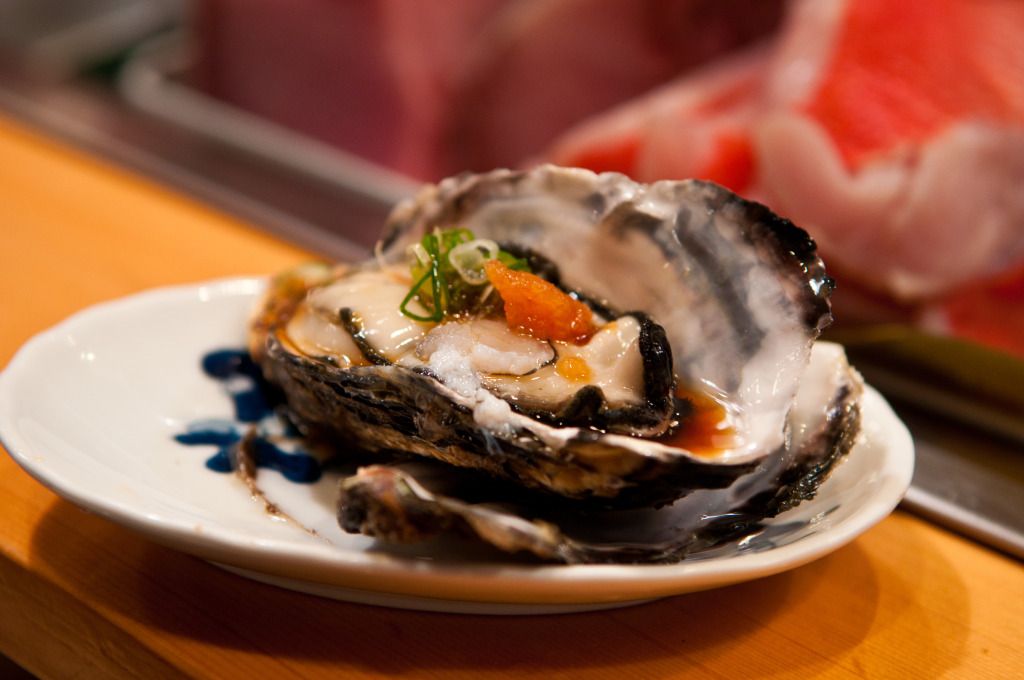 Kaki (Oyster) - My friends followed my lead and ordered Oysters. Now I didn't get to sample it (thanks a lot fatties..), but I heard it was a highlight of the meal.
Sushi Dai Scores:
Food: 10/10 - Best sushi of my life, possibly one of the best meals of my life.
Restaurant Environment: 10/10 - The long wait and the ridiculously small restaurant are things you would expect in Tokyo. So get over it and enjoy the experience.
Service: 10/10 - Friendly staff and chefs. Although we were "gaijin," we were treated as though we were VIPs. 
Value: 10/10 - $42 for the best sushi of my life? Sold!
Overall: 10/10 - I can't imagine how Jiro can be any better, but it's probably something I'll have to experience for myself..
Michael Voltaggio, the quintessential James Dean of the culinary world. Is it wrong to say that girls want him and guys want to be like him? Winner of Top Chef Season 6. What kind of bad ass would leave his Michelin Star restaurant to create something he truly loves. Respect.
Ink is the manifestation of Voltaggio's ingenious creativity. To be honest, I've been waiting ages to eat here, since the day the rumor of the opening first came out. My recommendation: Skip the tasting, be adventurous and order your meal a la carte. You'll be able to sample more offerings and surprisingly, save more money.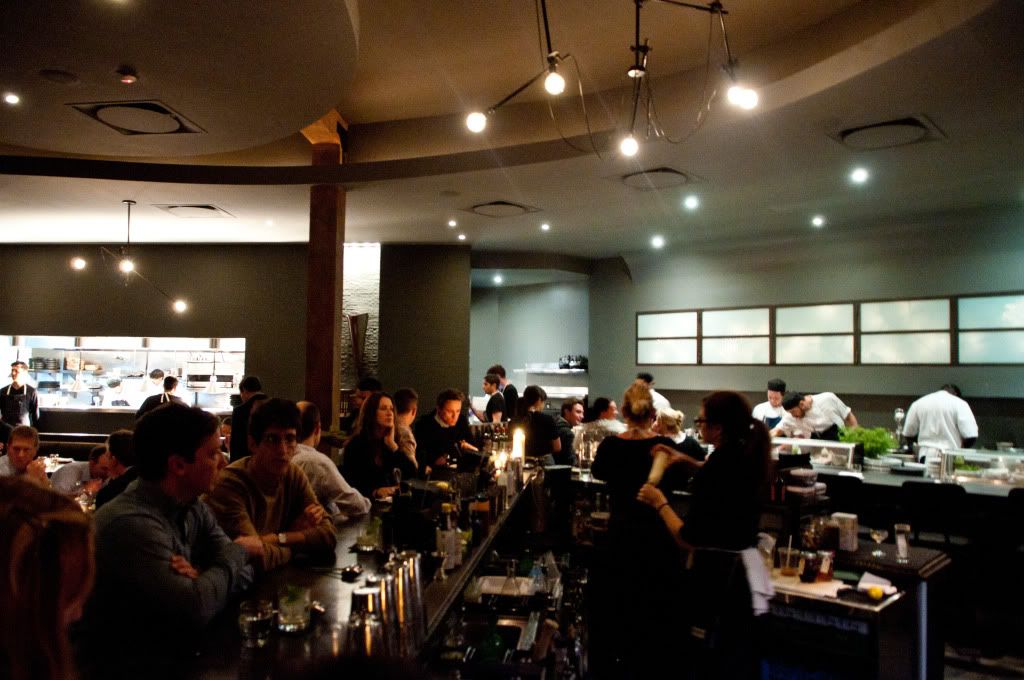 The restaurant is beautifully constructed with an open bar and seafood prep. Unfortunately for us, MV was not in house this evening.
Slow down, catch your breath, and take a drink.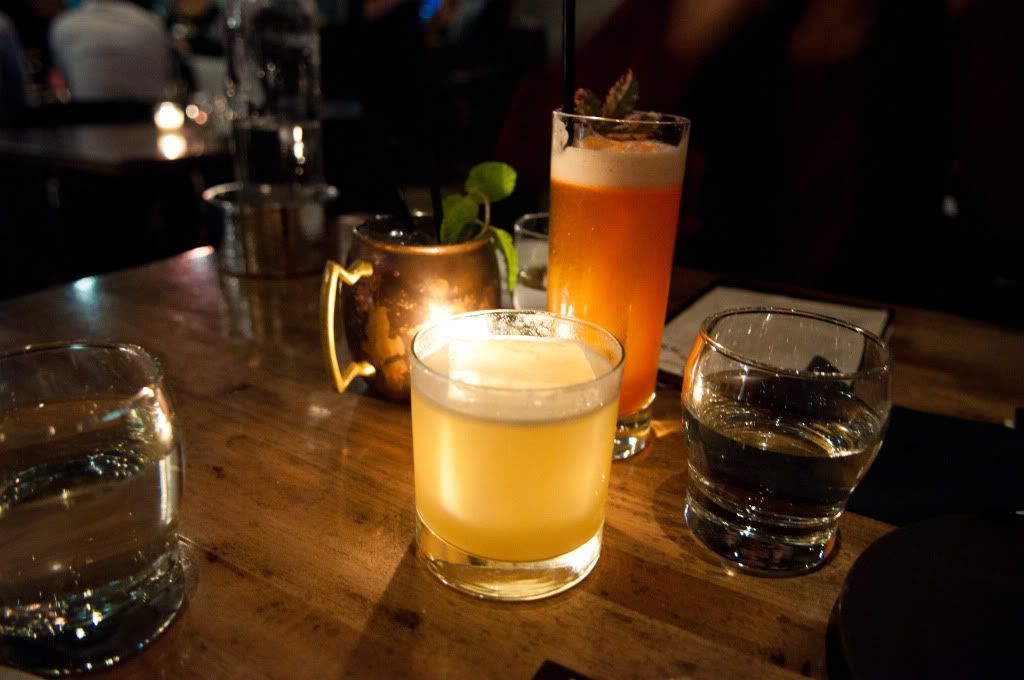 If you're yearning for a more adult libation, you can enjoy ink's cocktail offerings which include Moscow Mules and ones mixed with Japanese Whiskey.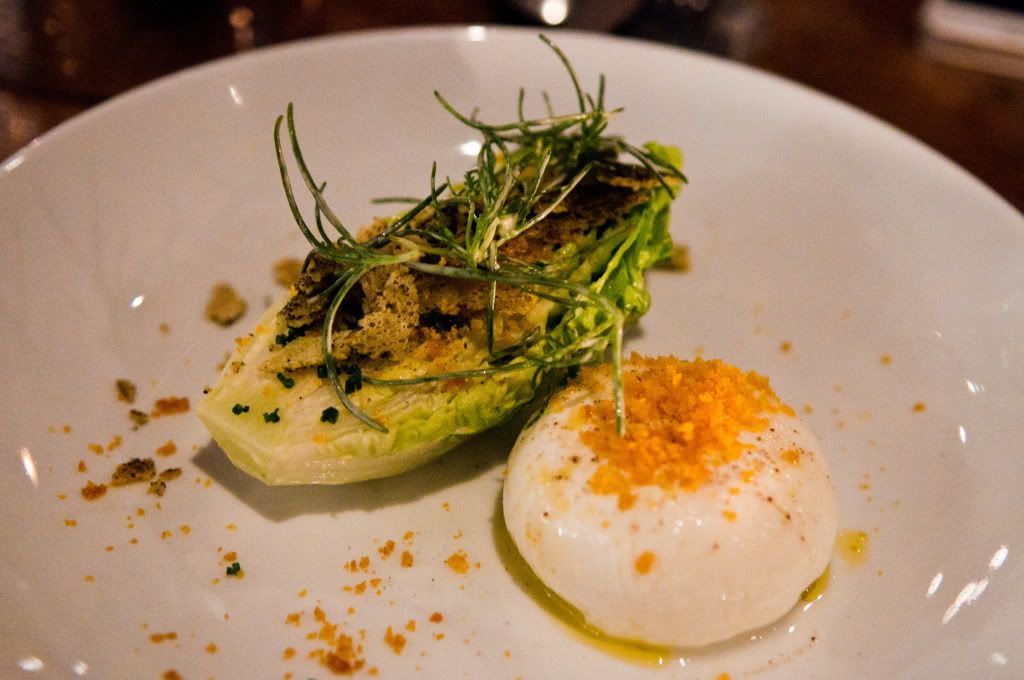 Burrata with Bottarga, Little Gems and Lemon Dressing. A perfect light start to our soon to be hearty meal. It's just something you can never go wrong with.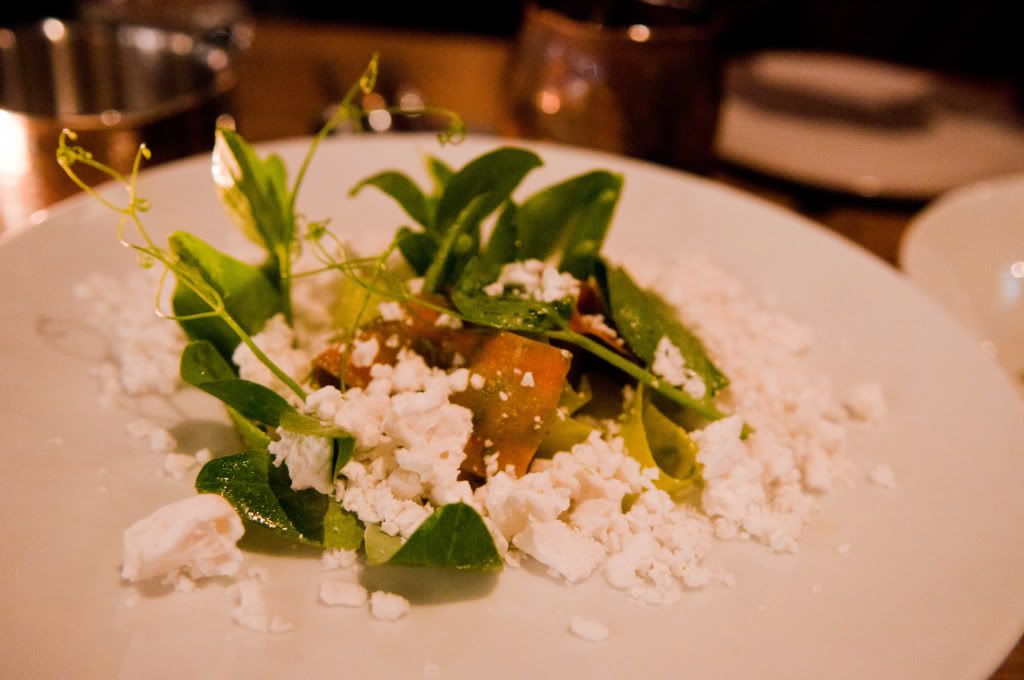 Carrots with Pea Tendril Mojo and Coconut. OMG! MOLECULAR GASTRONOMY!!!! Carrots are shaved into thin planes and are served frozen. Served with the curd-like coconut, amazing! A must try at only $11, what a steal!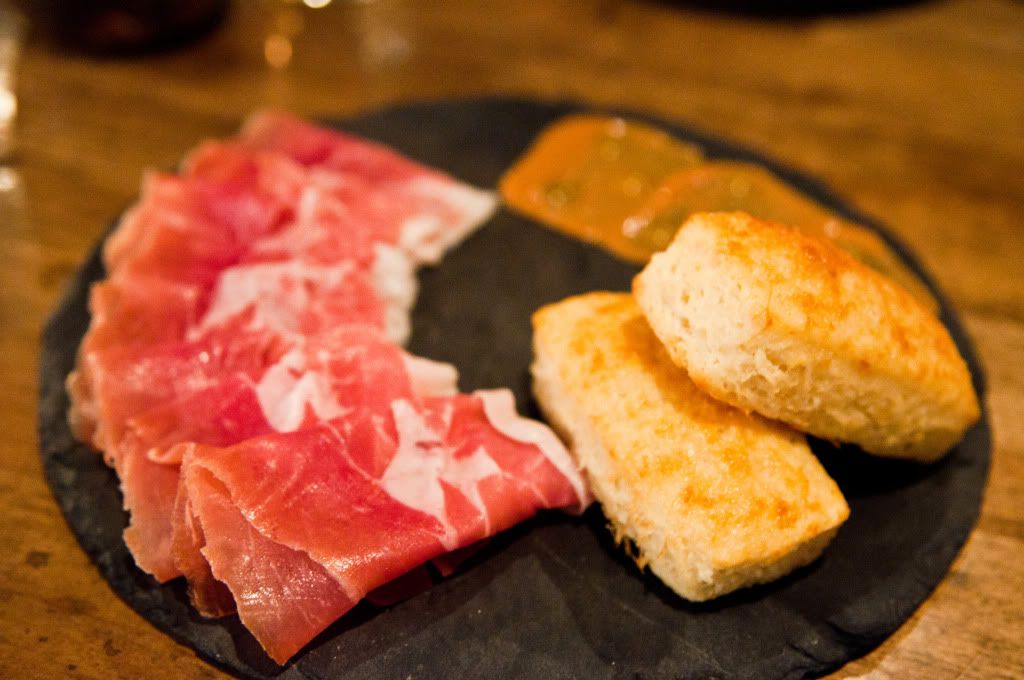 La Quercia Berkshire Ham with Manchego Biscuit and Marcona Almond Butter. One of the best dishes of the night. A perfectly baked fluffy biscuit, spread with the smooth almond butter and the savory, salty ham.. enough said..
Shishito Peppers with Almond-Bonito Sand and Tofu Mustard. Oh shishito peppers, I think I've already gone over how much I love you in previous posts. Ink does them right, especially with the integration of the Tofu Mustard and Sand.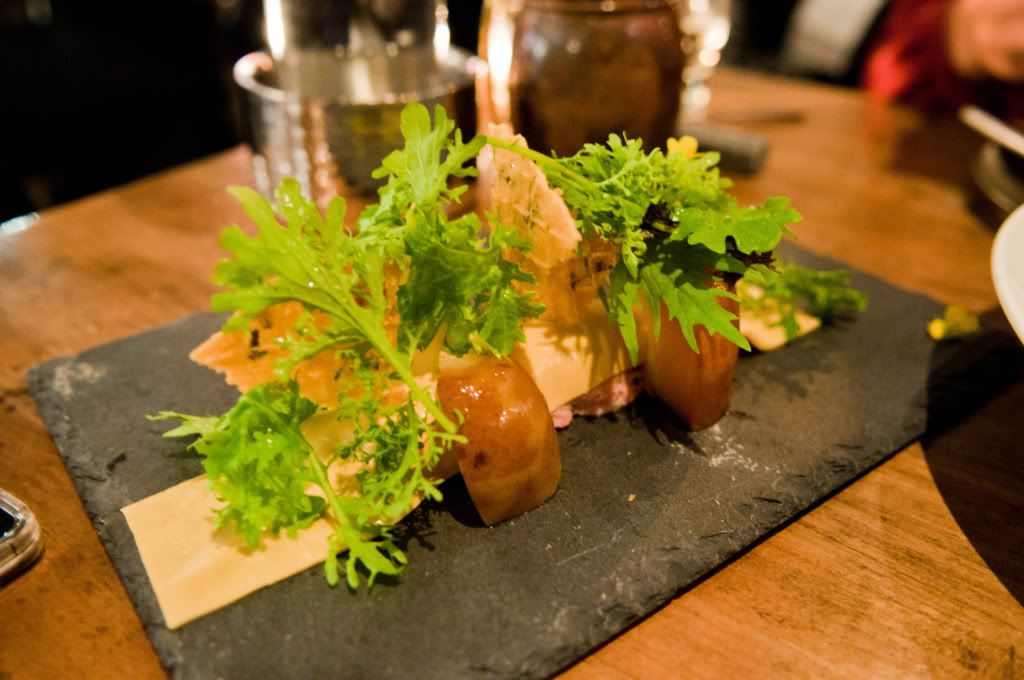 Duck Rillette with Waffle, Mustard, Griddled Pear, and Banyuls Vinegar. The duck rillette is hidden under the sheet. The dish, or should I say slab of slate, was extremely delicate and a bit underwhelming for my taste. On to the next one..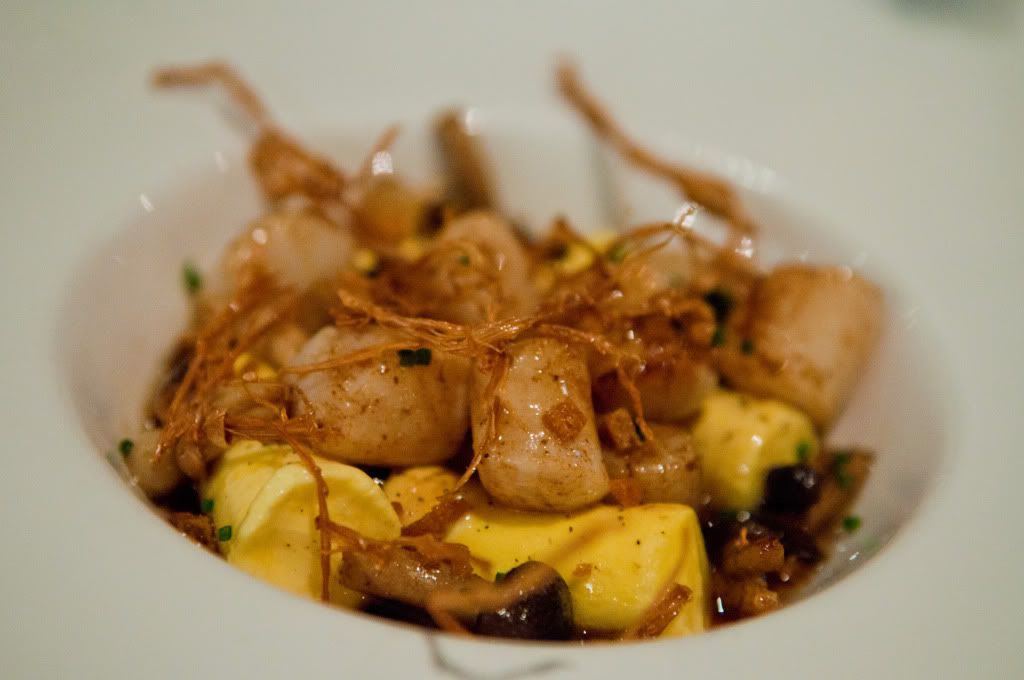 Baja Scallops with Egg Yolk Gnocchi and Mushroom Hay. Umami Attack!! All of those mushrooms, especially with the mushroom hay simply overpower the dish and the beautifully tiny baja scallops.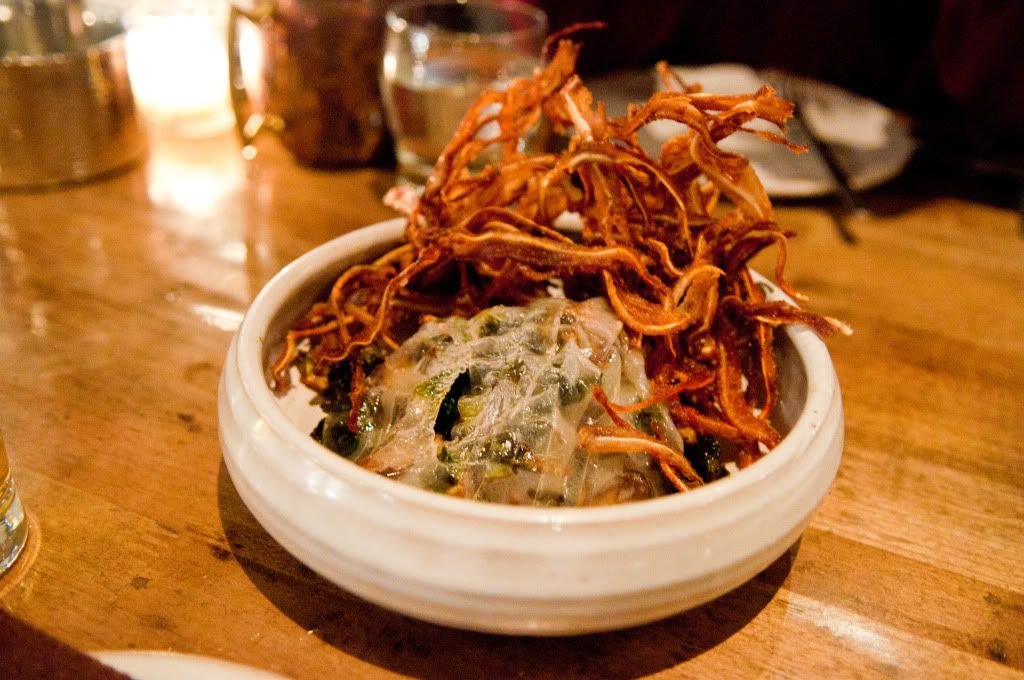 Brussels Sprouts with Pig Ears, Lardo and Apple. I love how the sprouts were cooked in vinegar. It definitely provided a new cooking method for myself to try. The sheet of lardo just provided that unctuous punch. Let me say this though, Chinese still prepare better Pig Ears.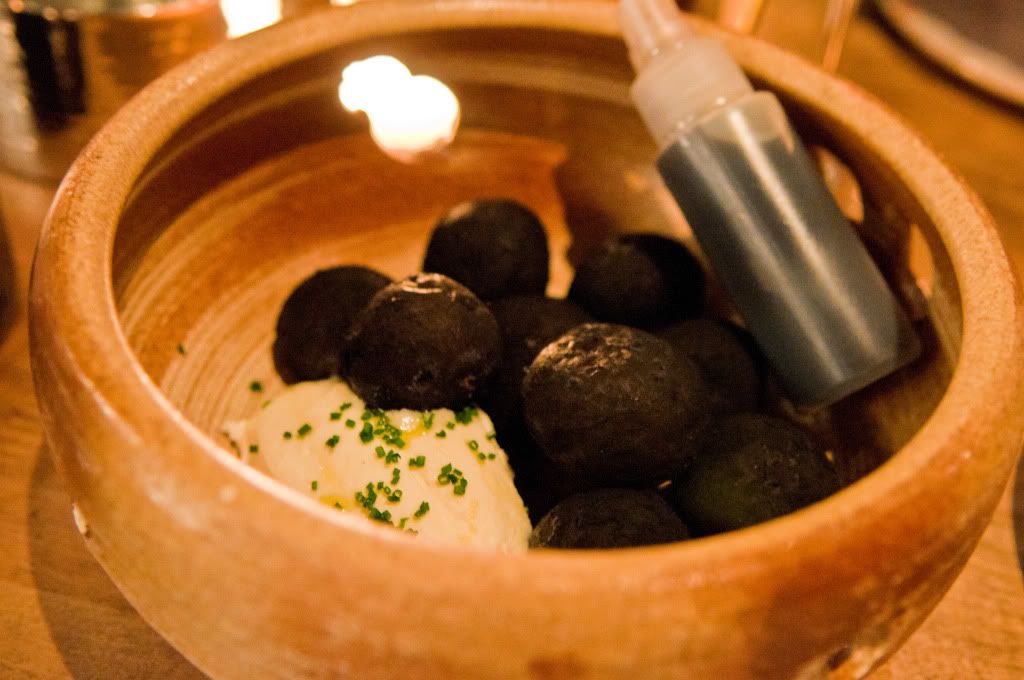 Potato Charcoal with Housemade Sour Cream and Black Vinegar. An ink staple. Blackened potatoes are paired with sour cream and a spritz of black vinegar. Simple, yet delicious. It's a fun dish that you should definitely experience.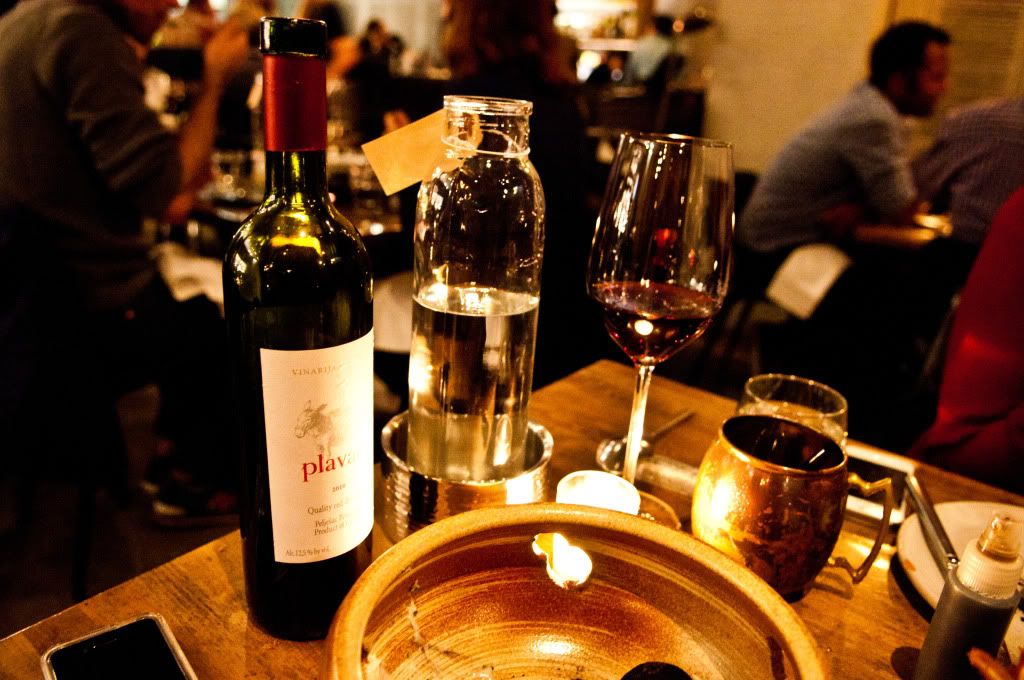 When you're having a great time, just throw another bottle of wine into the mix.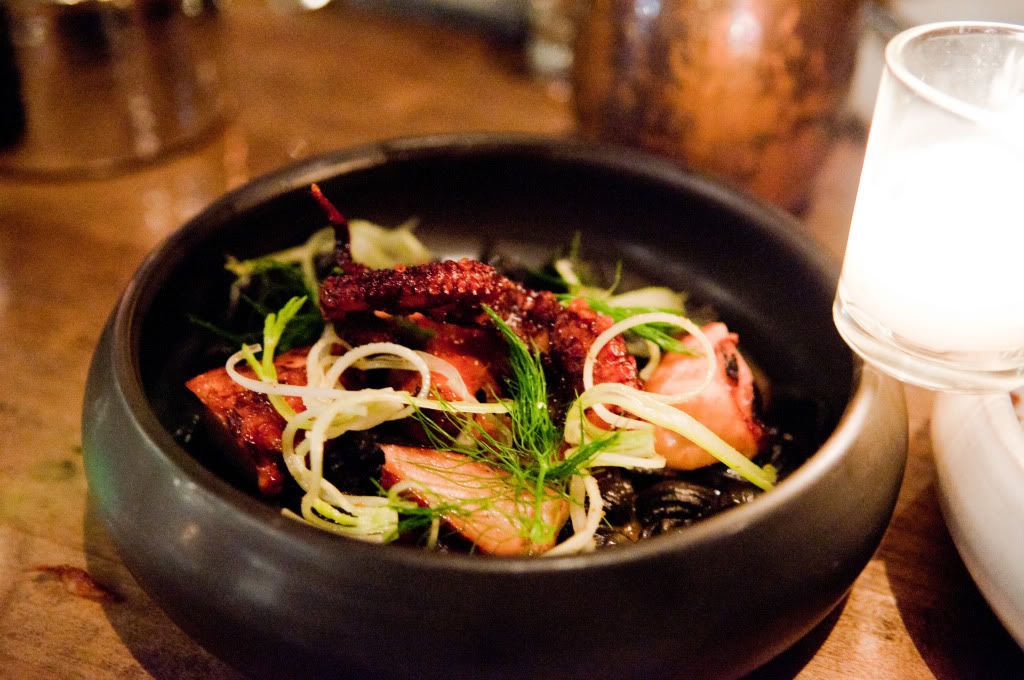 Octopus with Ink Shells, Young Fennel and Pimenton. It may be because we've already had a ton of dishes, but I wasn't a huge fan. The ink shells were a bit bland.
Poutine with Chickpea Fries, Yogurt Curds and Lamb Neck Gravy. A great example of gastronomy gone bad. I love poutine. It should be a comfort dish, but ink's rendition just made things confusing. Be sure that your friends love the gamey lamb flavor, as the gravy is a bit overpowering.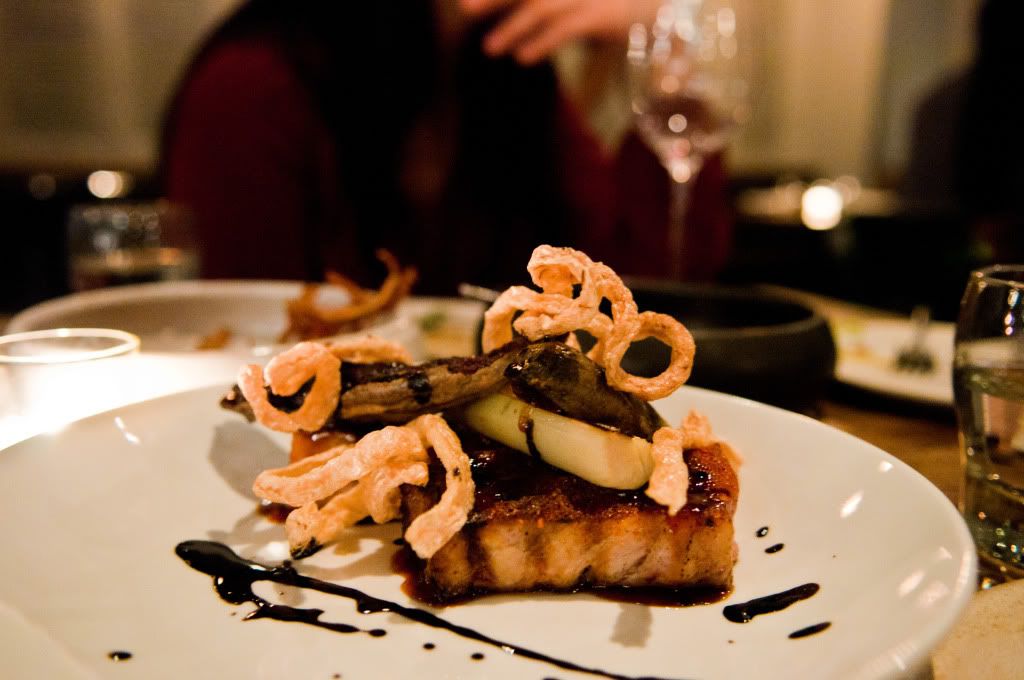 Pork Belly with Charcoal Oil, BBQ Flavor and Petrified Yams. Perhaps the best entree out of the lot came in the eleventh hour. Oh Pork Belly, get in my belly. Wait what? The liquid charcoal jogs your BBQ memory. A few bites in and before you know it, the chunk of porcine is gone.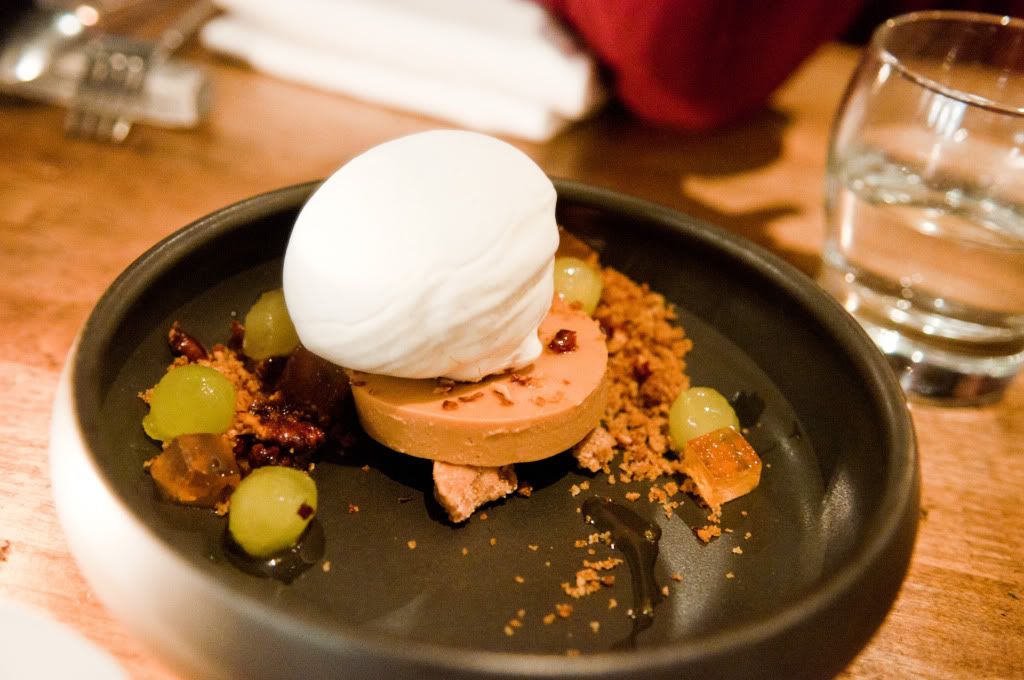 Apple with Caramel, Walnut, and Burnt Wood Ice Cream. During the meal, my friend (whom commented on my check-in) recommended that I order the Burnt Wood Ice Cream. And boy was she right. The small plate is filled with goodies to complete a wonderful dessert experience.
An interesting way to receive the bill..
ink Scores:
Food: 7.5/10 - Although there were a few misses (perhaps my high expectations), overall everything was extremely creative and fun to try.
Restaurant Environment: 8.5/10 - A bit cramped, but the edgy design is what you'd expect from Voltaggio.
Service: 8/10 - I love how when I asked for a copy of the menu, the server just ripped it straight out.
Value: 8/10 - With all items under $20, an unexpected affordable meal.
Overall: 8/10