Traveling is always one of my favorite pastimes. And whenever I travel, the first thing that races through my mind is.. "by golly, what am I going to eat?" After a recent trip up north to San Francisco, I wanted to share with you guys some of my delicious quick bites.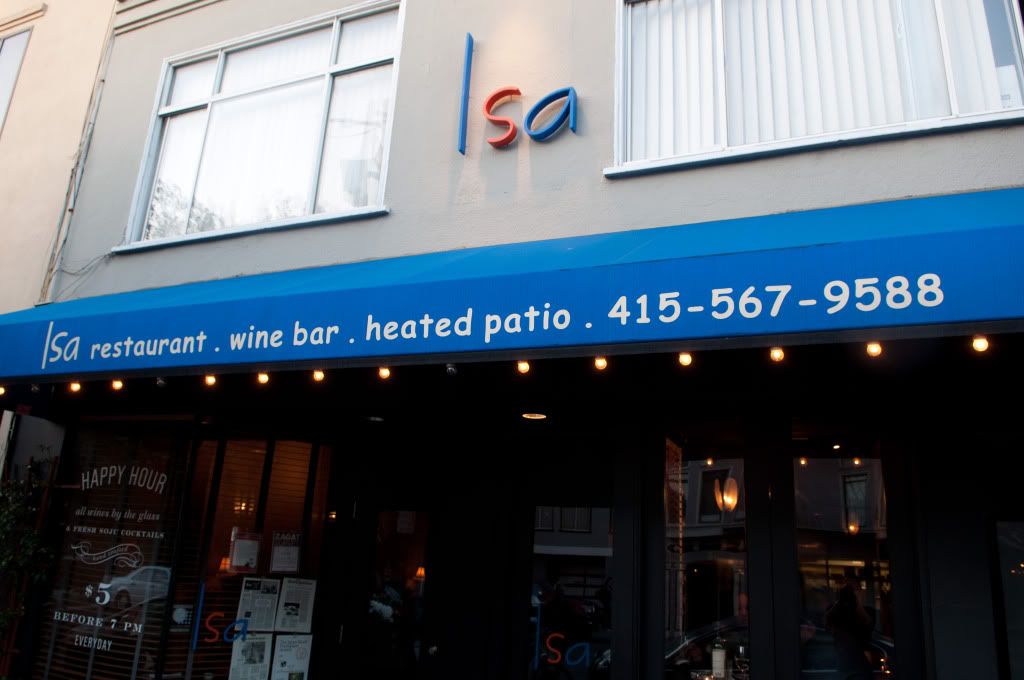 I actually came up north to rid the city of all of it's foie gras (before the ban). But funny thing is, I didn't indulge in a single bite. Well stop #1 was Isa in the Marina District.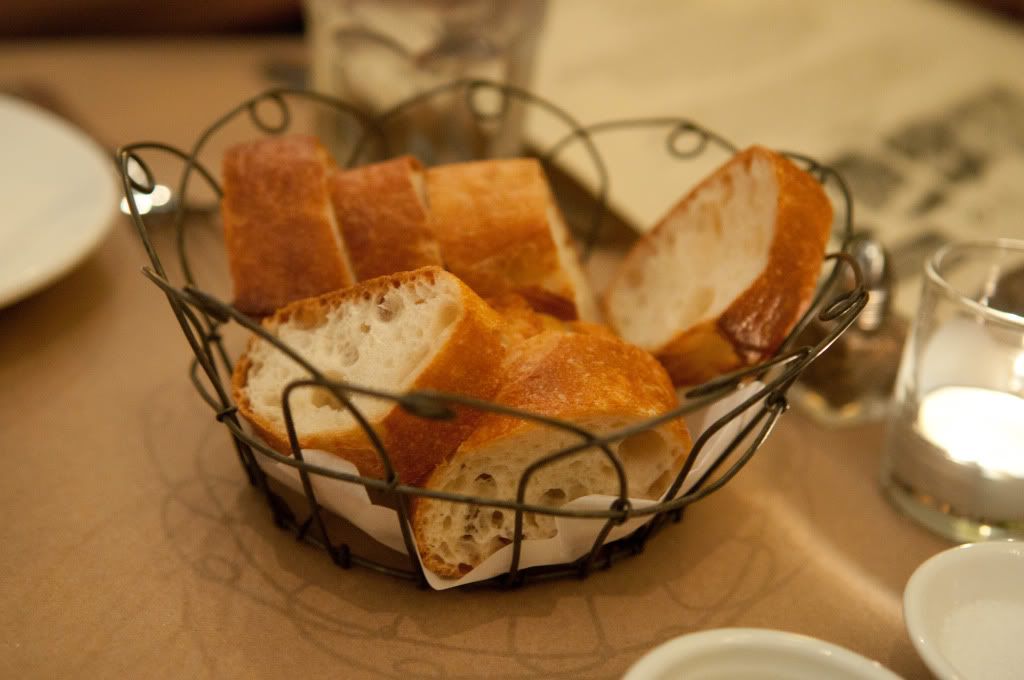 So hungry…. let's have some bread.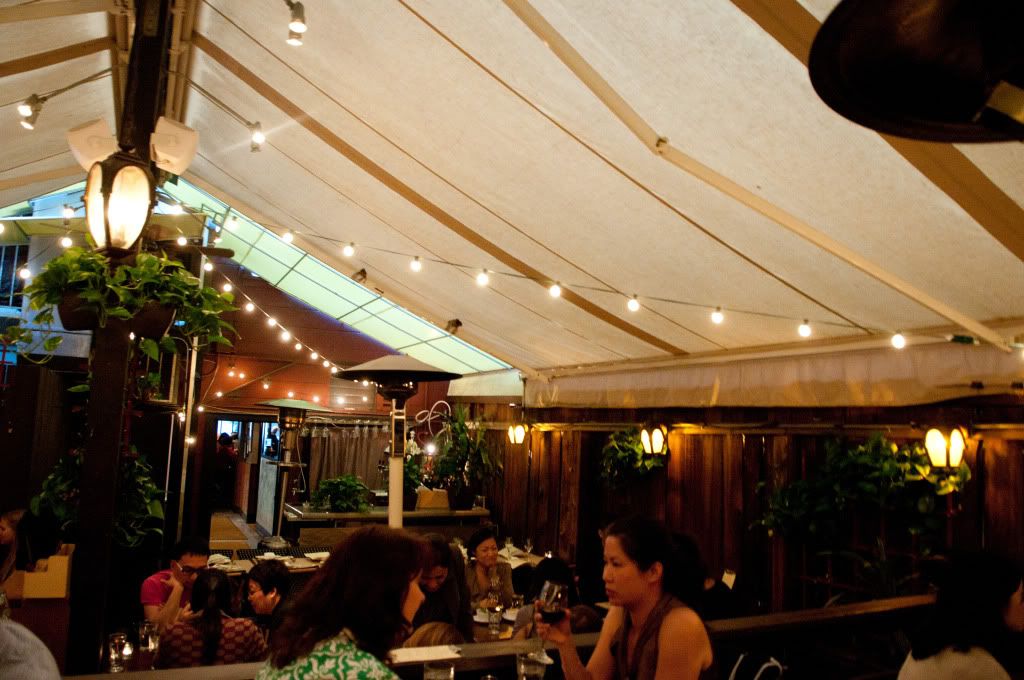 The backroom of Isa is beautifully decorated. The outdoor cabana setting creates a more homely dining experience. 
Luckily we arrived during San Francisco's "Dine About Town" event. A beautiful plate of fresh Tomales Bay Pt Reyes Oysters to start. The oysters are served with a Spicy Orange Mignonette. 
Another first course option during the event was the Dungeness Crab Salad with Avocado, Apple, Grapefruit, and Taragon. The intense flavors of the salad actually robbed the crab of it's delicacy and sweetness. No bueno.
Our final appetizer was a Loch Duart Salmon Carpaccio with Lemon, Creme Fraiche, Cucumber, Egg, Capers and served over Crostinis. A fairly simple dish to construct, and something you'd usually find as a prix fixe option.
A small plate of Seared Scallops with Sauteed Asparagus, Garlic, and Truffle Sauce is a choice for entree. 
You can also have your choice of Truffle Risotto with Baby Shiitake, Hon Shimiji Mushroom and Reggiano. 
The last dinner entree we selected was the Duck Breast with Red Beet, Arugula, Goat Cheese, and Huckleberry Sauce. I mean come on, Duck Breast, love. Beet, Arugula and Goat Cheese, love. What's not to love about this dish?
Lastly, how could you not end with a classic prix fixe dessert like Creme Brulee.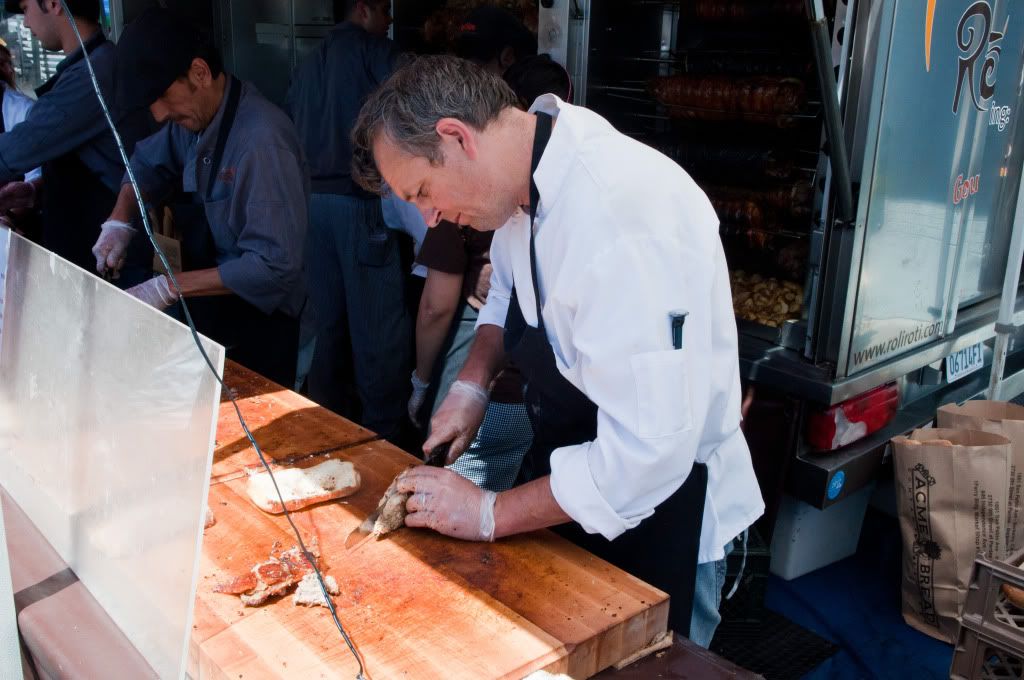 Chef and owner, Thomas Odermatt, of the delicious Roli Roti truck/stand in the Ferry Building Farmer's Market. You sir, are a gentleman and a saint. 
The absolutely exquisite Roli Roti masterpiece, the Porchetta Sandwich. Crispy Rotisserie Porchetta, Caramelized Onions, Arugula, Aioli on a Ciabatta? Heaven in sandwich form.
And here you thought we were done. Nope! Roli Roti also serves up potato perfection. Rosemary Roast Potatoes. These potatoes are roasted directly under the slow rotisserie of the porchetta and chicken. You know what that means? All the delicious and unctuous fat and drippings leak directly onto and flavor these magnificent potatoes. I can die happy a happy man.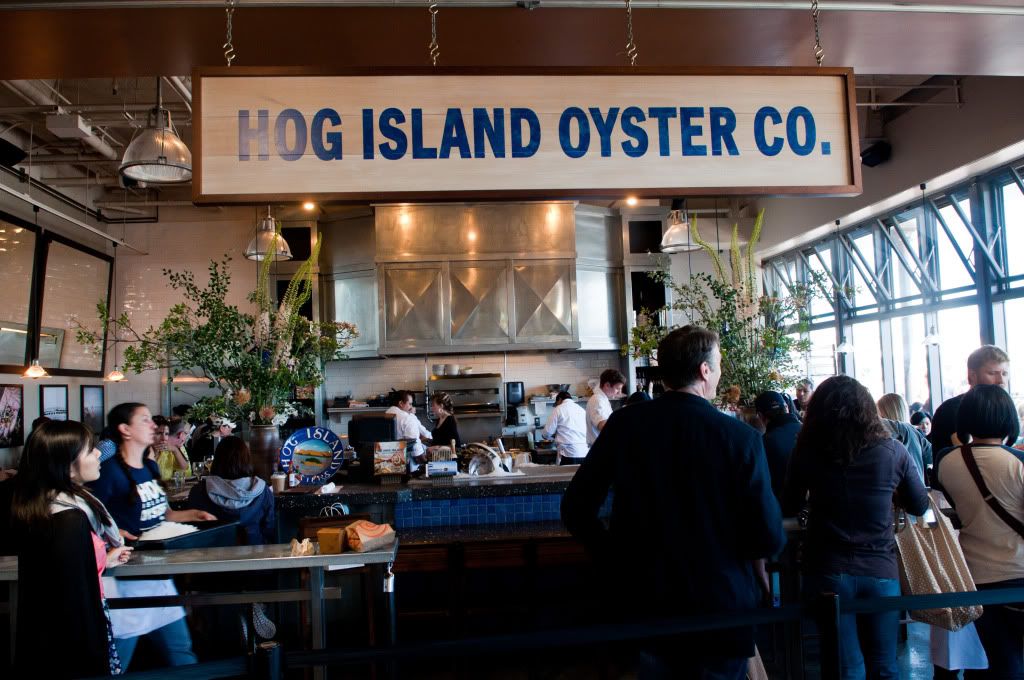 As we continue on with our journey through the Ferry Building. We arrive at Hog Island Oyster. 
What's funny is, a few years ago, you could kill me and I still wouldn't eat these. Now it's pretty much the opposite, I would kill to eat them.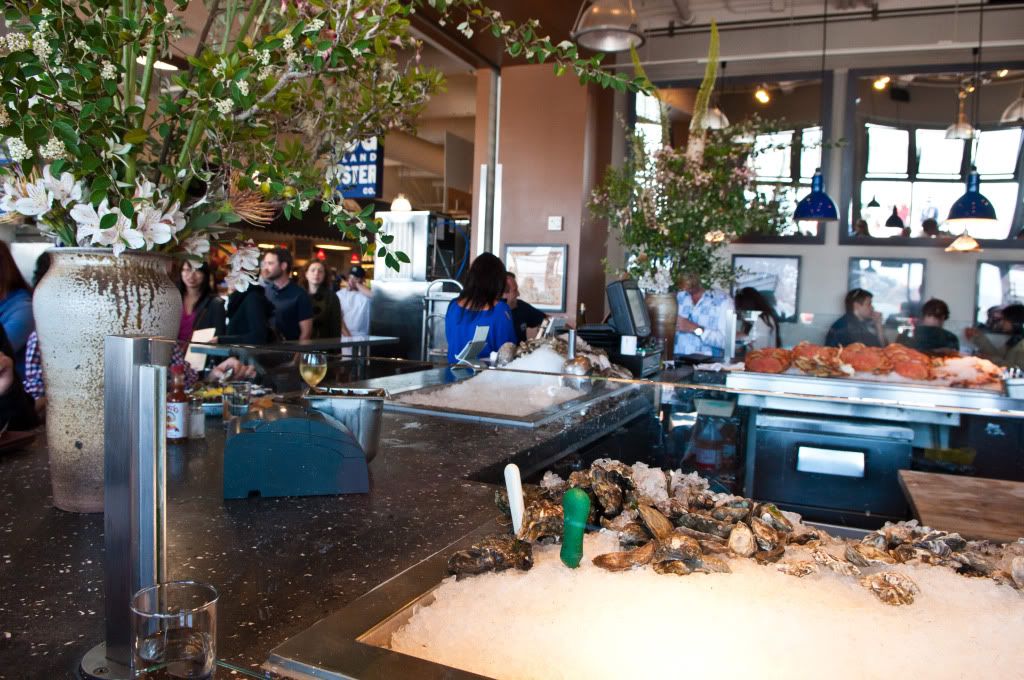 Oyster bars make me happy. Unfortunately, Hog Island wouldn't allow me to eat my Porchetta Sandwich while eating there. That blows! So let's eat these shelled bad boys quick status!
I ordered the beautiful Oyster Bar Mix spread.
Naked Cowboy
Hog Island Sweetwater and Hog Island Atlantics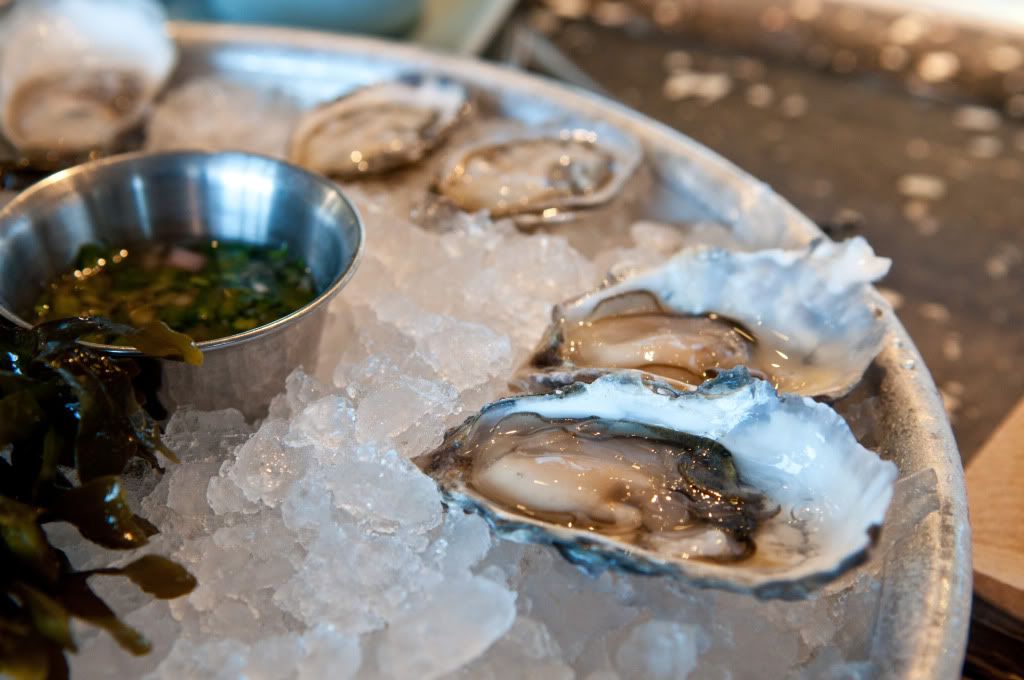 Those little bad boys up top, Redwood Curtain Kumamotos <3. Carlsbad Luna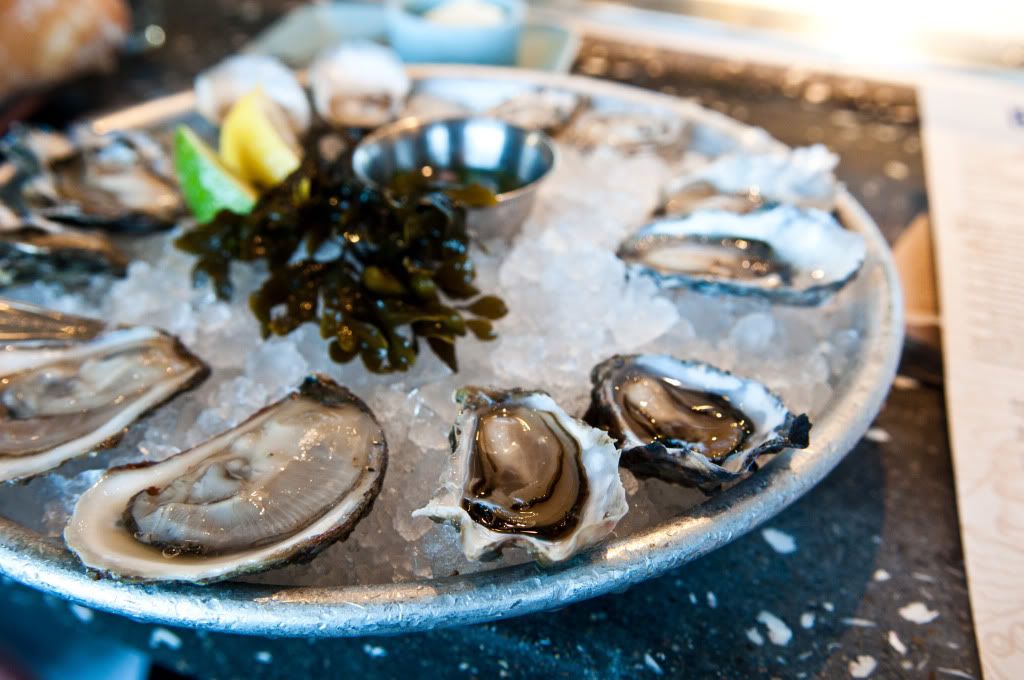 I love Oysters and I love SF Food!