Three Months ago, something terrible happened in California, foie gras was banned. SoCal was in a complete cluster fuck looking for that savory buttery avian organ. But lucky for me, I was able to score a walk-in seat on the very last day at one of the best and most innovative places for foie, Animal (But I totally failed at trying to walk in the night before, but that's another story in itself). PETA supporters, turn away.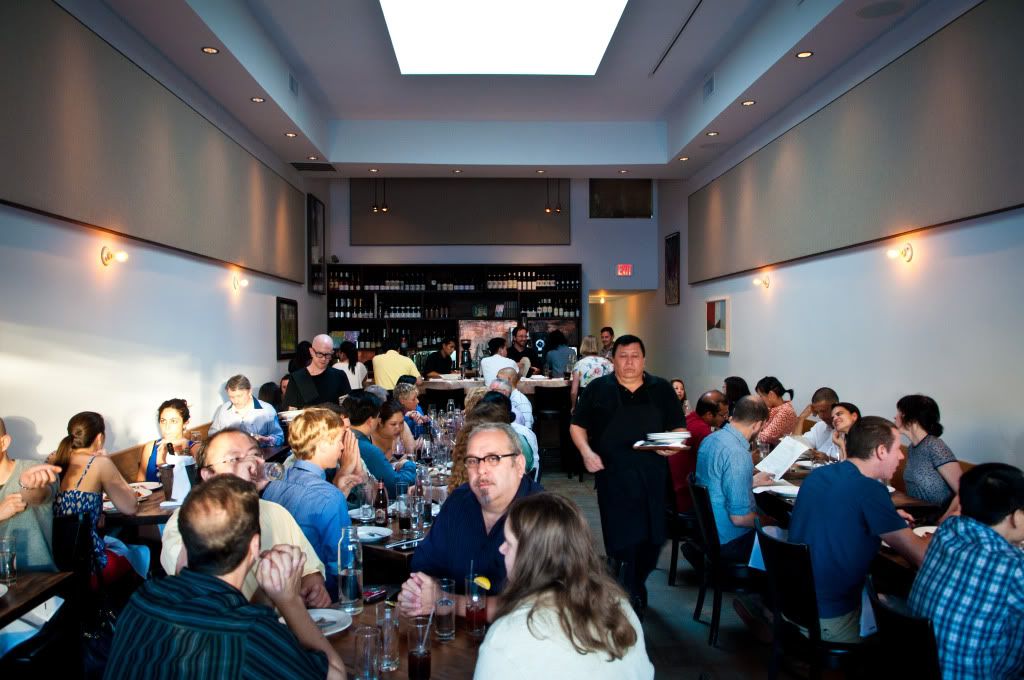 Animal is an extremely tiny restaurant, with almost a New York City feel. With hot fare and  limited seating, reservations are at a premium.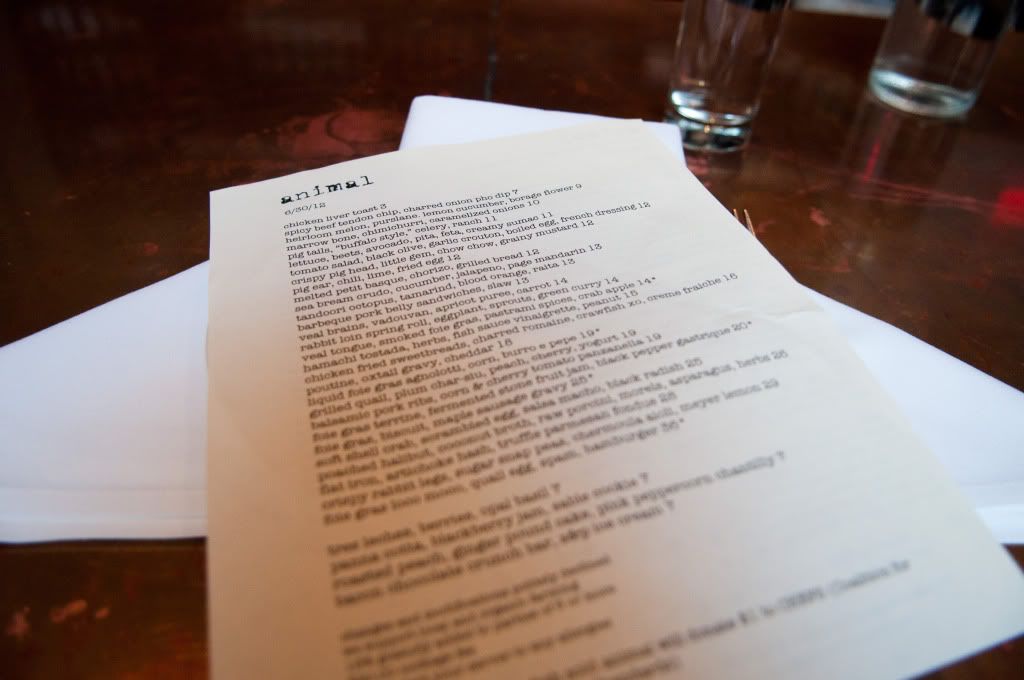 The final Foie Gras menu - 6/30/2012.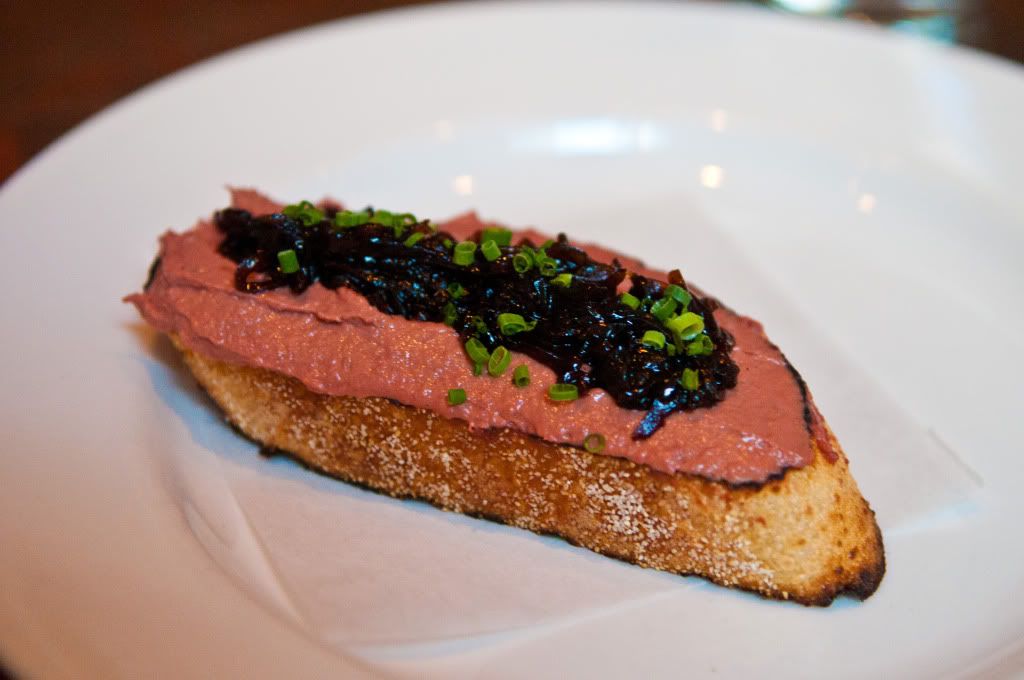 Arguably one of the best items on the menu is the cheapest. The Chicken Liver Toast ($3) marries that perfect blend of sweet and savory. Everything about this little toast was perfect. The sweet compote paired with the smooth pate, then the textural contrast with the crispy toast, amazing. 
Don't forget about a bottle of Animal's House Red. At $20, it's a steal and a great complement.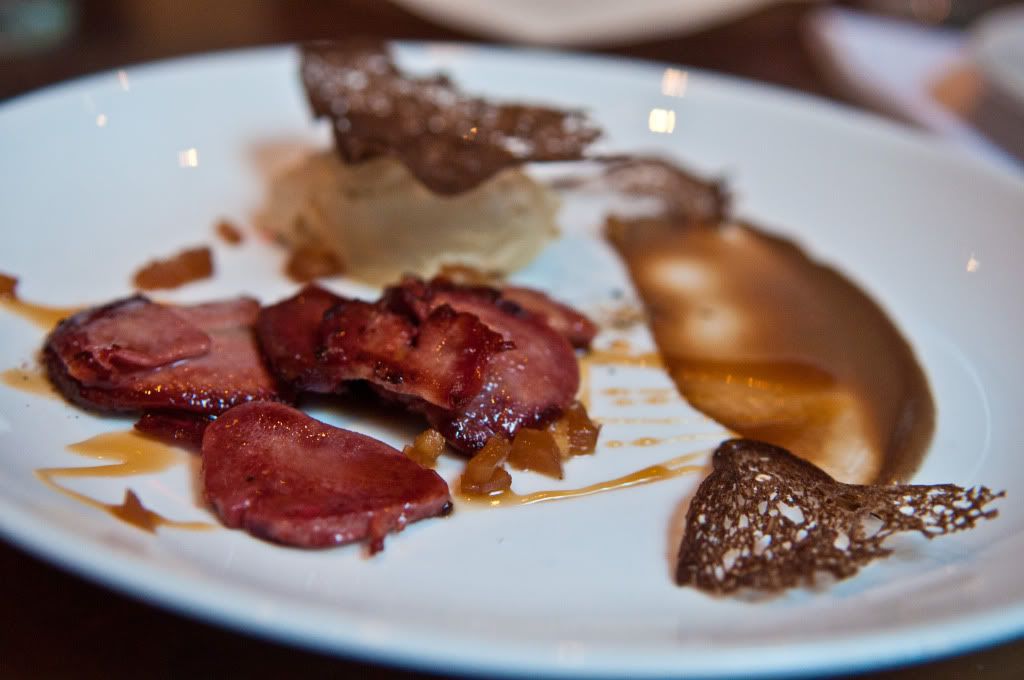 We first started with a plate of Veal Tongue, Smoked Foie Gras, Pastrami Spices and Crab Apple ($14). Not the best dish to show case foie, but pleasing nonetheless. I'm actually a huge fan of cow/veal tongue but I guess I'm too spoiled with the Japanese yakiniku type from Anjin/Tsuruhashi. With all the spices, it was just glorified Canadian bacon. 
Here we have the Foie Gras Terrine with Fermented Stone Fruit Jam and Black Pepper Gastrique ($20). 
Eat it with a piece of toast and a dollop of jam, yum! Now this is foie! Secretly, I was thinking that I could've ordered 7 Chicken Liver Toasts at the same price. I know.. I know.. it's actual foie gras, and there is a tremendous difference. But come on! $3 Toasts?! P.s. Like my plate decoration?
Now the best dish of the night. I wanted to save this for the very end, but I'm too excited. Animal's Liquid Foie Gras Agnolotti with Corn, Burro e Pepe ($19). These little pillows are filled with what pretty much could be considered foie gras gravy. They explode in your mouth and you're zoomed off in a flavor filled bliss. I was seriously debating whether to order another dish, that's how amazing they were.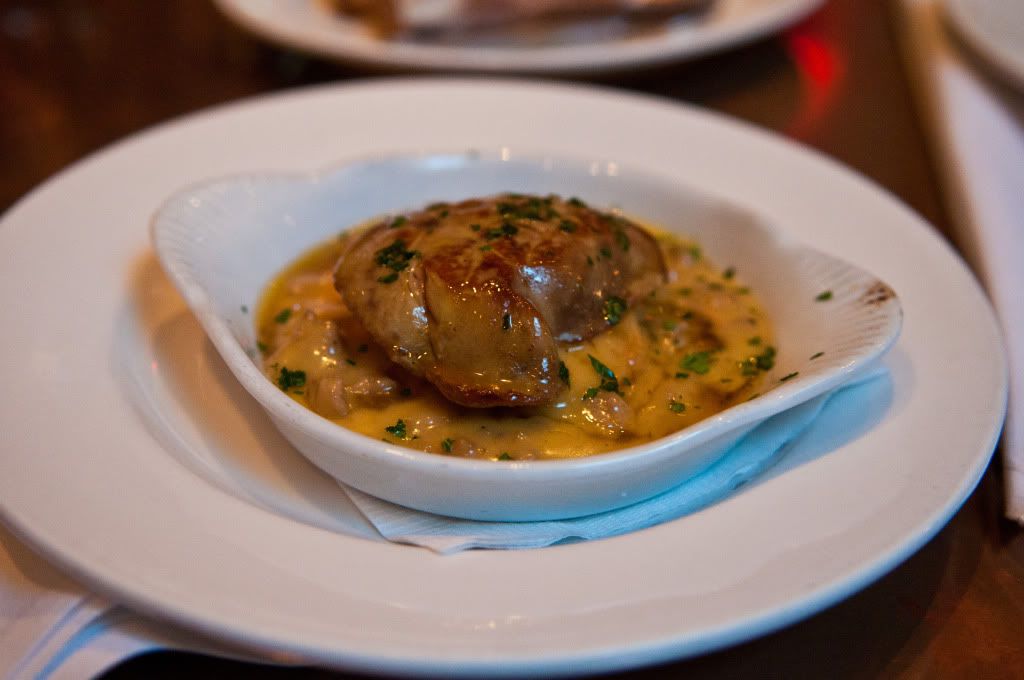 A dish that I was pretty excited for, actually completely let me down, the Foie Gras, Biscuit, and Maple Sausage Gravy ($25). I'm an absolutely die hard for Biscuits and Gravy (like the one at Denny's for $2…). I can understand the concept of the fish, but the Maple Gravy was just wayyyyy too sweet. There just wasn't a good balance to the dish. And overpowering the foie? No, no, no…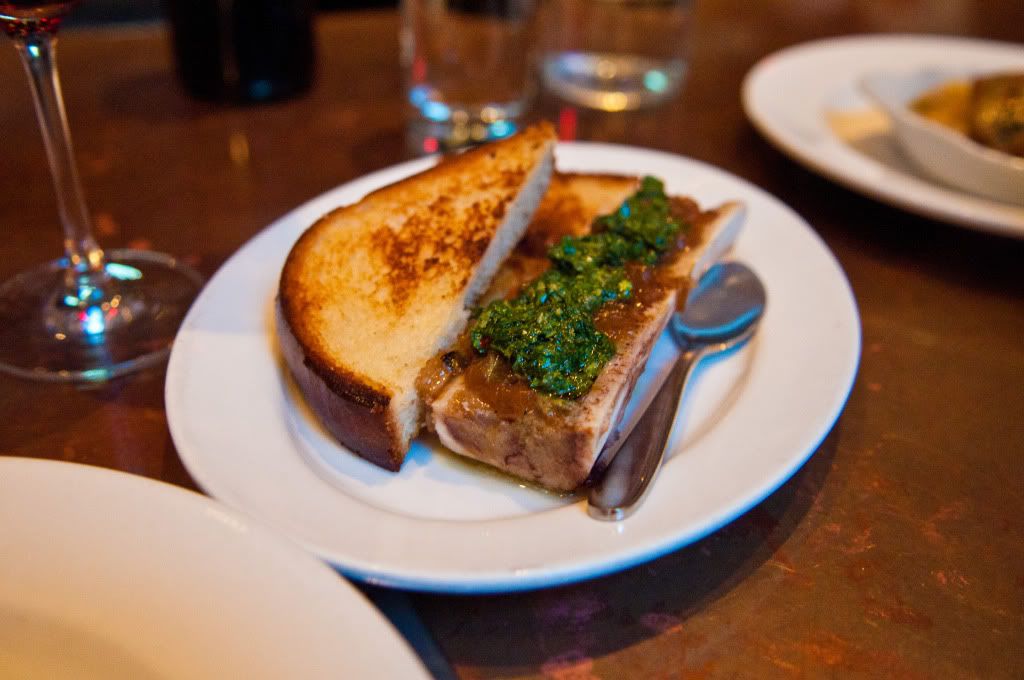 Let's take a quick foie break and order something else that's close to my heart. Marrow Bone with Chimichurri and Caramelized Onions ($10).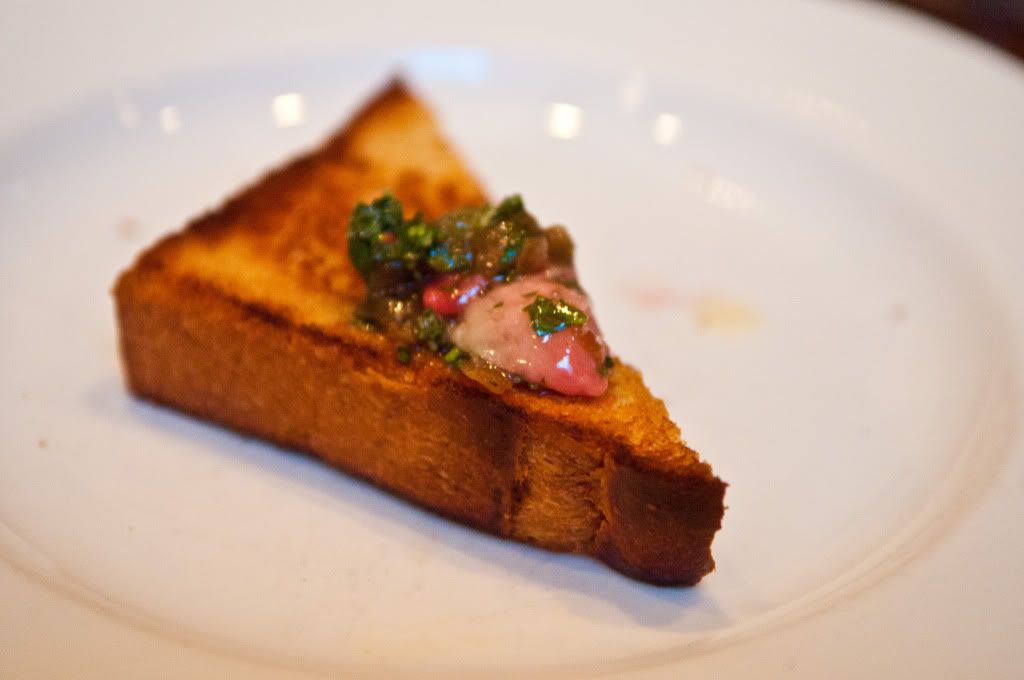 In my opinion, a beautiful dish, but that's actually the most it had going for it. Maybe it was my huge expectations. Come on.. it's Animal.. they must have fantastic bone marrow. I guess not. I could've sworn I had better elsewhere on more than a handful of occasions.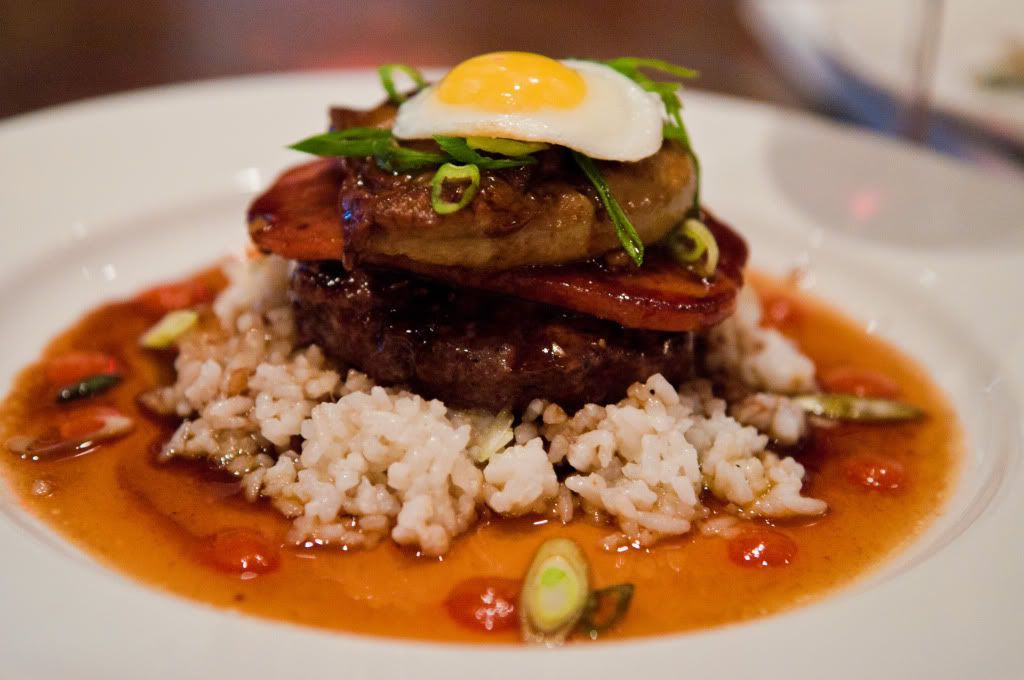 Finally we have Animal's "main" foie dish, Foie Gras Loco Moco with Quail egg, Spam and Hamburger ($36). This dish was hard to wrap my head around. Individually, the items were amazing. The Foie Gras, Spam and Hamburger were perfectly cooked. The hamburger should be more considered as ground steak in patty form. However, collectively, the dish was underwhelming. The rice was undercooked and the sauce tasted cheap. I guess I'll save my loco moco's for Hawaii. 
I really wanted dessert since the other groups next to me were happily enjoying theirs. So to be different, I ordered the Roasted Peach, Ginger Pound Cake and Pink Peppercorn Chantilly. I should've went with the Tres Leches cake….
Animal Scores:
Food: 8/10 - Highs and lows, a lot of dishes were hit or miss, but I'll definitely be back to sample their foie-less menu.
Service: 9/10 - I guess sitting at the bar has its perks, your always attended to. The hostesses also had a friendly demeanor amidst the chaos.
Restaurant Environment: 7/10 - Too cramped, I'm too big to be shoved in small places.
Value: 7/10 - The Chicken Liver Toast was absolutely money at $3, but the Loco Moco for $36?? Pass..
Overall: 8/10