Bestia was widely considered as the top new restaurant in LA in 2013. Reservations were extremely difficult to nab for a prime weekend slot. However, I was able to nab something two months in advance.
You're guaranteed to get lost on your first visit to Bestia. Located in a small nondescript alley in downtown LA, the hidden aspect only adds to the charm.
Walkway to heaven.
Like almost all restaurants in DTLA, Bestia rocks the industrial loft-like look.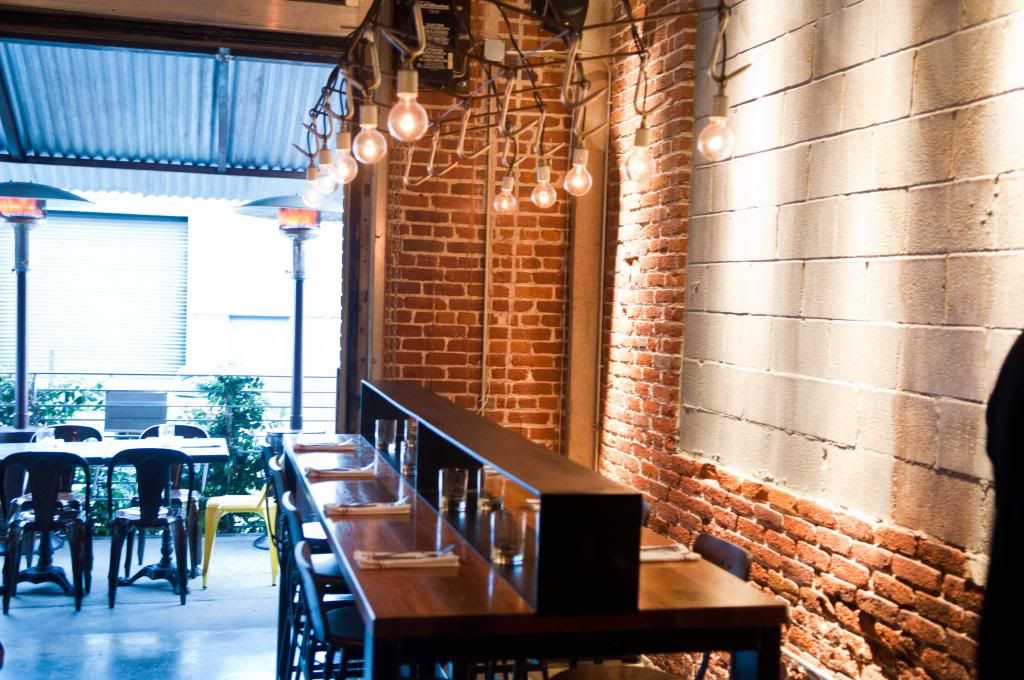 But they do it well.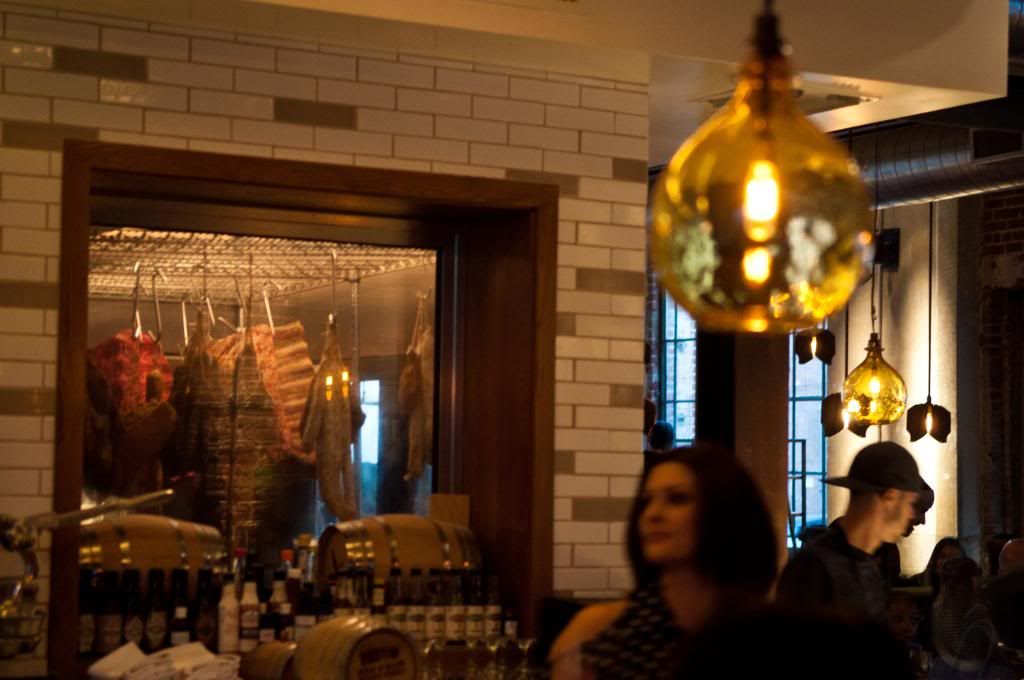 I spy a meat locker!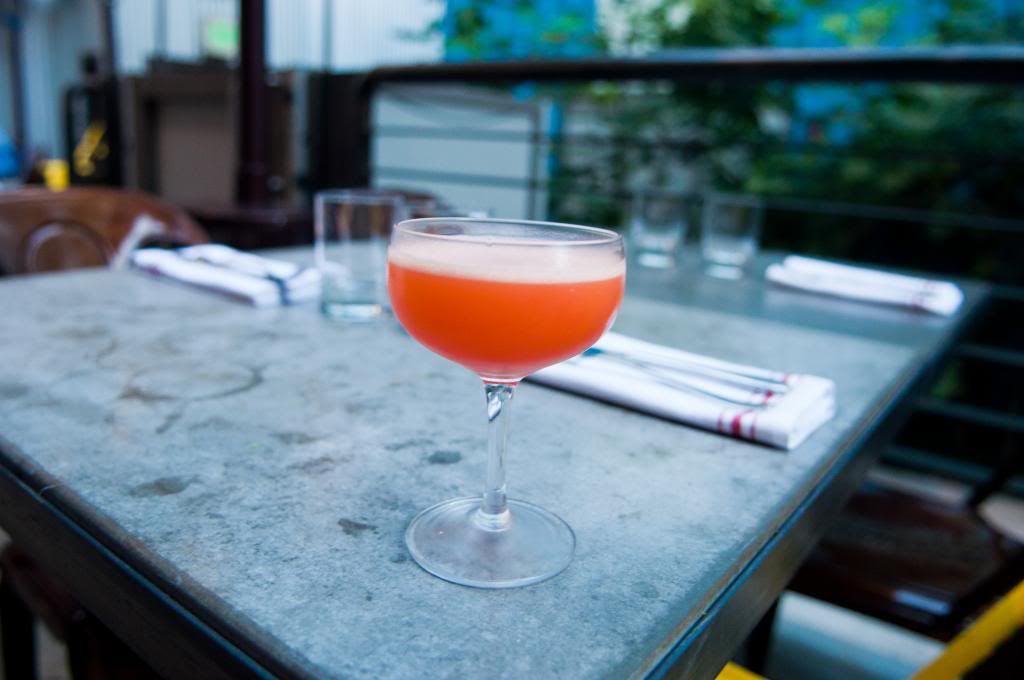 Bespoke! Essentially you tell your mixologist a few cocktail likes and dislikes, and they'll craft up something to your liking. 
Quick peek into the dining room. For you bloggers out there.. Bestia is incredibly dark and dimlit. Plan ahead as it's extremely hard to snap pics without flash. Enough restaurant pics, let's get started with the food…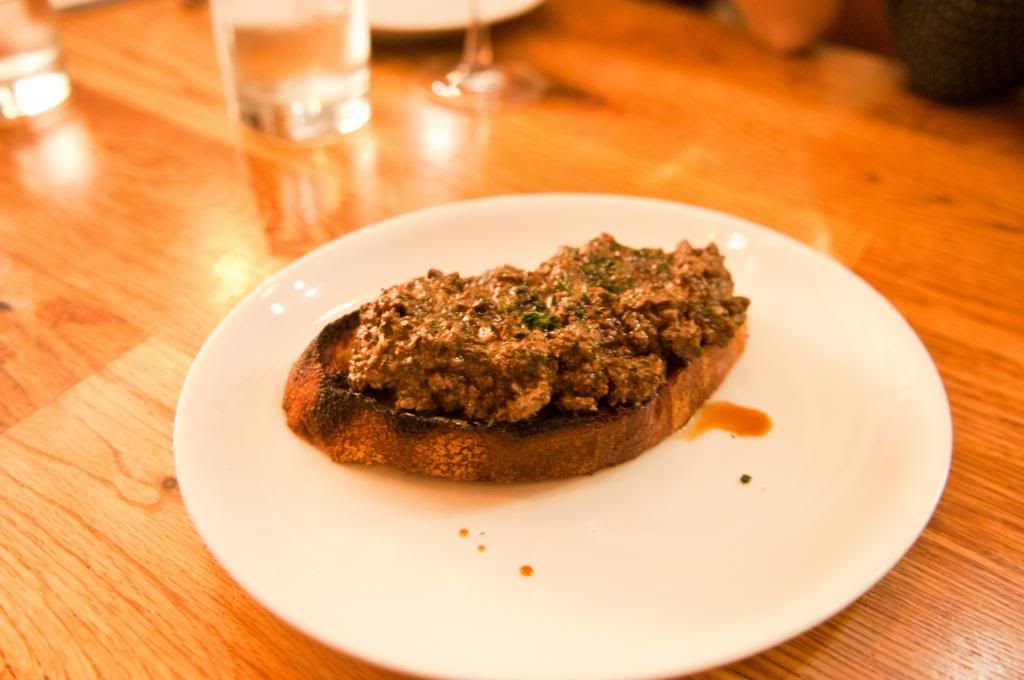 Chicken Liver Crostino with Aged Balsamic and Sea Salt. At $8, it's a bit pricey for what it is. Maybe I'm just spoiled with the amazing chicken liver toast at Animal. You know what? Just get this at Animal..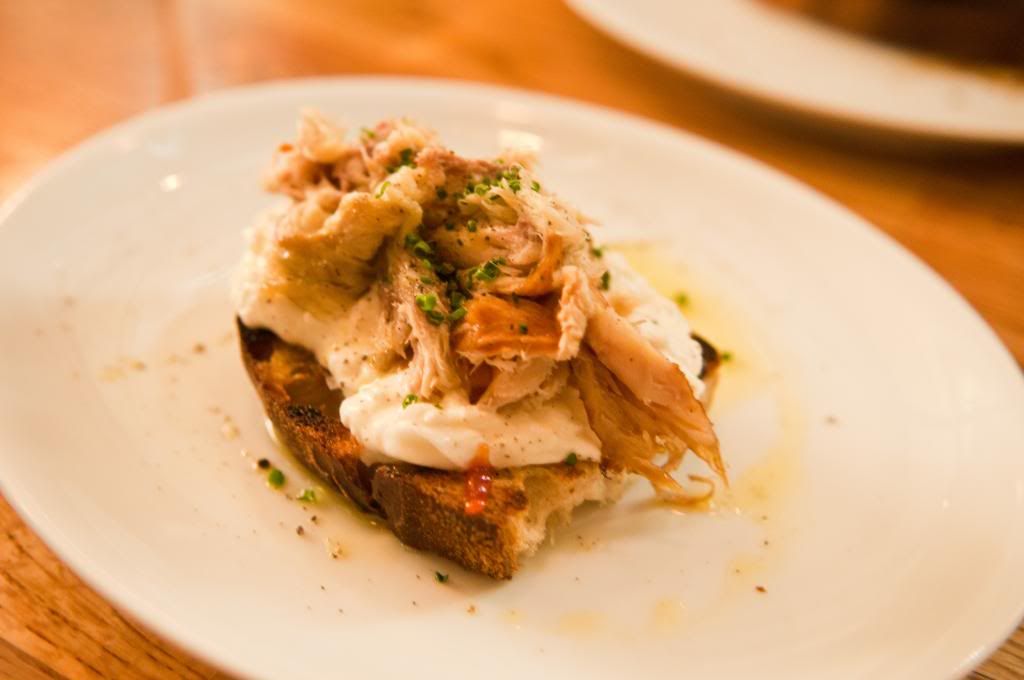 Next up on our crostino list, Smoked Mackerel Crostino with Burrata, Tomato Jam and Sea Salt. A brilliant idea which I had high hopes for. But it felt like an over embellished tuna sandwich.
A quick intermezzo of leafy greens. Bloomsdale Spinach with Shaved Beets, English and Sugar Snap Peas, Sieved Egg, Brignate, Lemon-Oregano Citronette. A very unmemorable dish. It sounds more sophisticated than it actually was. 
Wine break!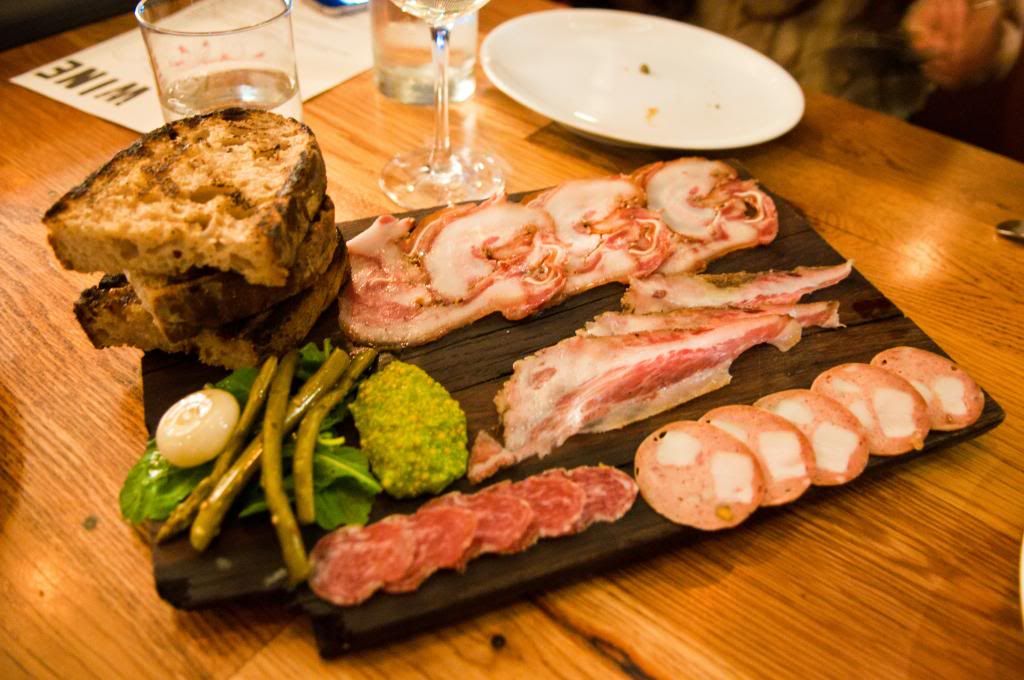 Bestia's famous Salumi platter. The amazing charcuterie is served with perfectly grilled bread and an amazing mostarda and pickled vegetables. Some amazing capicola, headcheese and pig jowl. Yum!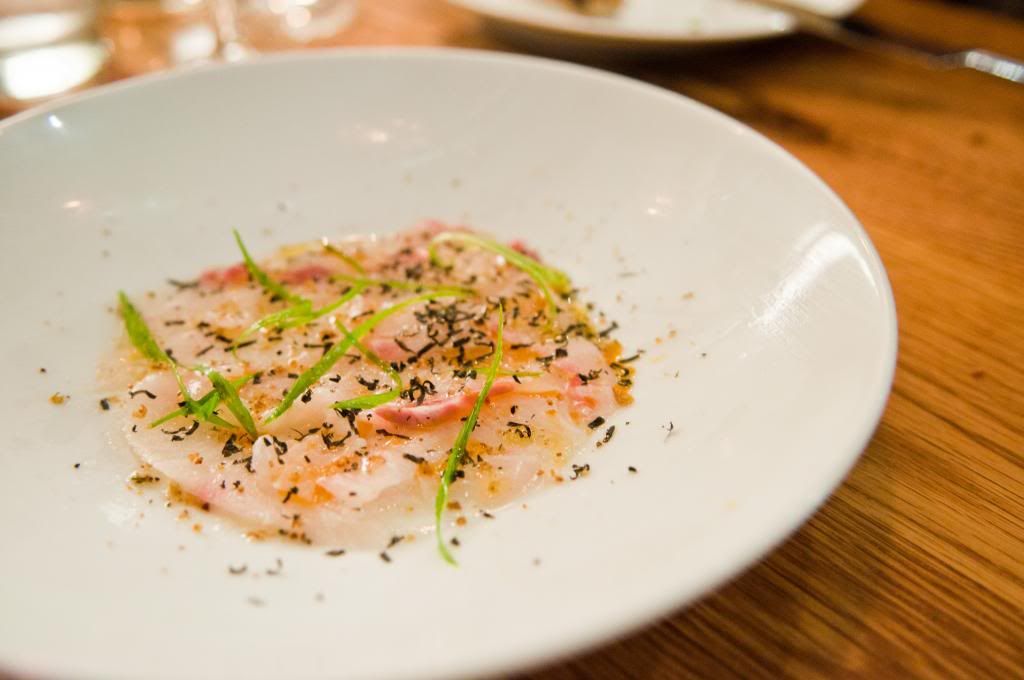 Kanpachi Crudo with Squid Ink Bottarga, Bread Crumbs, Chili Oil, Lemon and Scallion. Quite possibly my favorite dish of the night. Just an amazing demonstration of fresh ingredients done right. 
Roasted Market Vegetables. Excuse the ugly picture, but the small cast iron pot was filled with simply roasted Brussel Sprouts, Cauliflower, Broccoli and Carrots.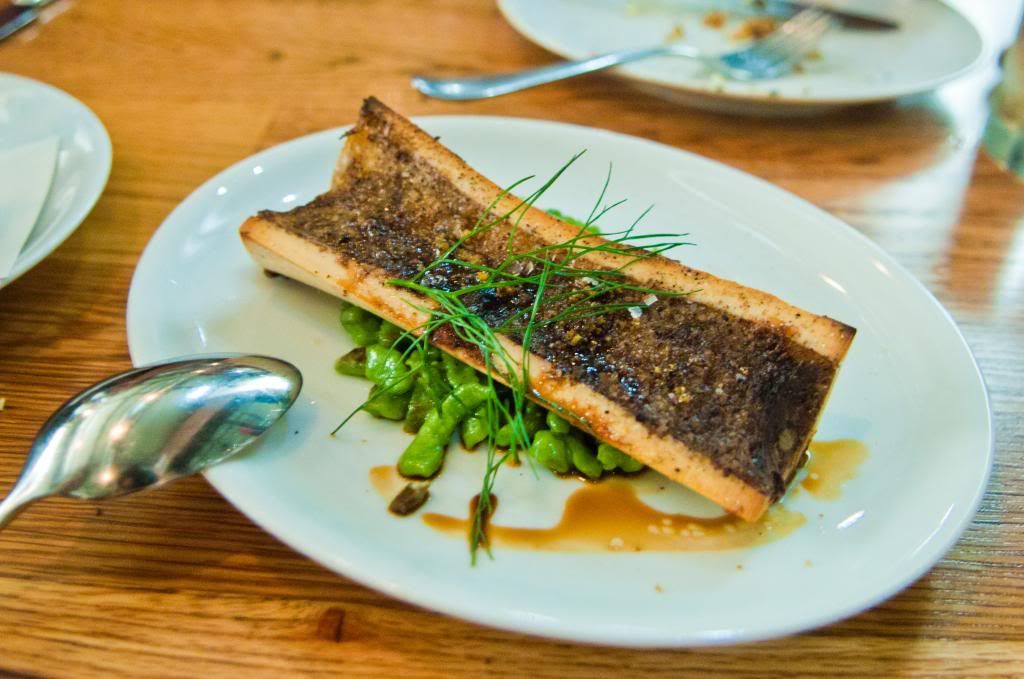 Roasted Bone Marrow with Spinach Gnochetti, Crispy Breadcrumbs and Aged Balsamic. It wasn't until we finished the bone marrow that we soon discovered (because of the darkness) that underneath was edible gnochetti. Maybe I've just eaten too much marrow in my lifetime, but Bestia's was underwhelming.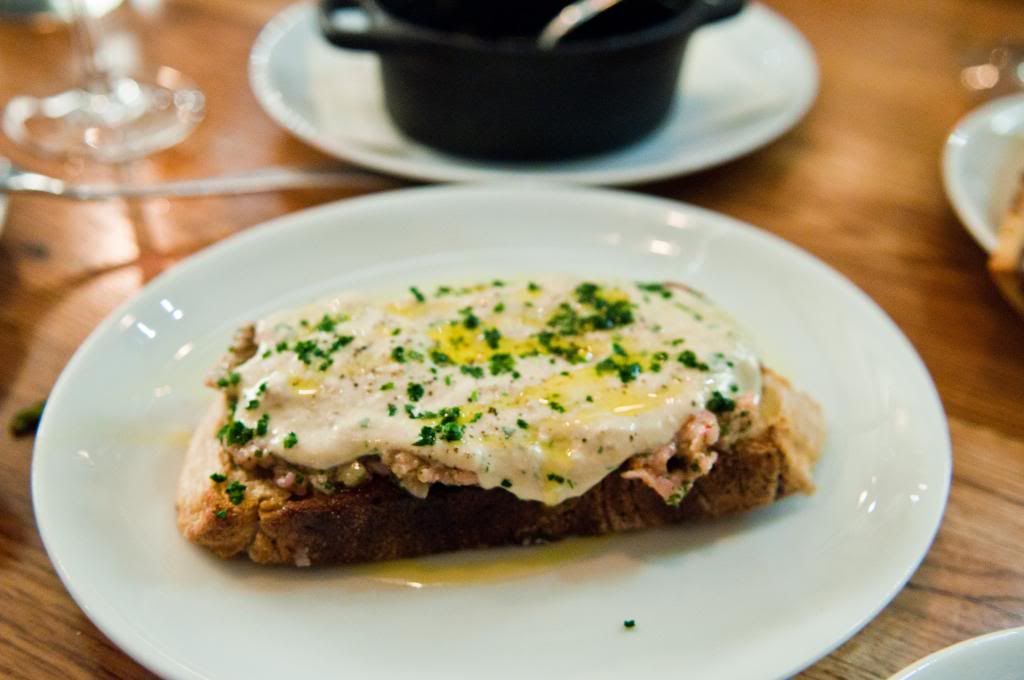 Our last antipasti and crostino, Veal Tartare Crostino with Shallot, Parsley, Lemon, Capers and Tonnato Sauce. My favorite crostino out of the lot. The tonnato (mayo-like) sauce pairs perfectly with the sweet veal.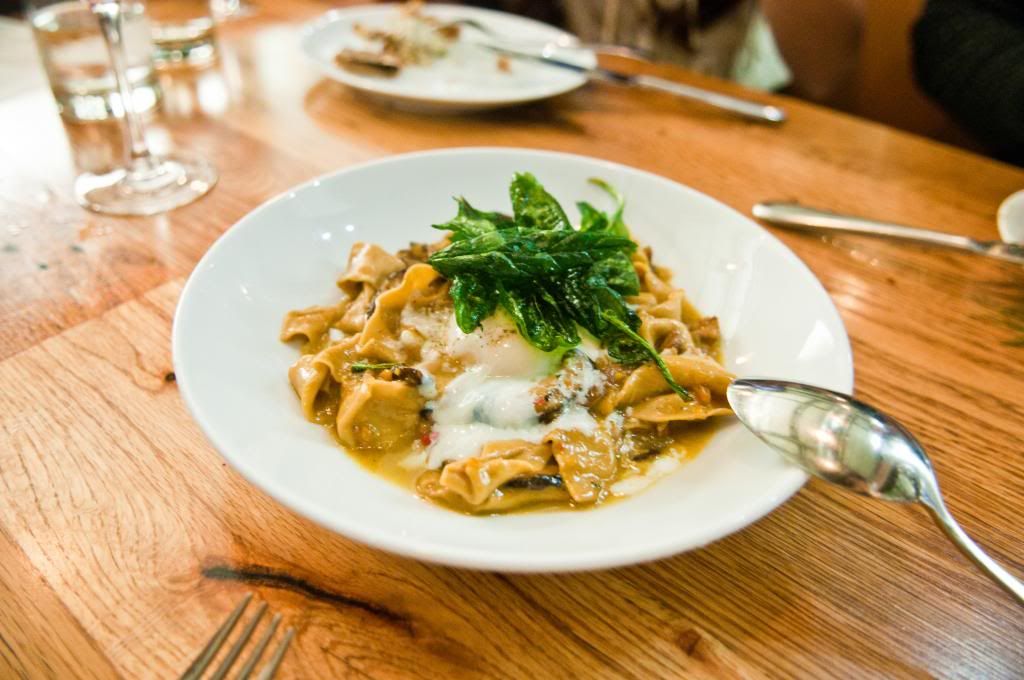 Our first pasta arrives. Porcini Pappardelle with Hand-Cut Mushrooms Pasta, Mushroom and Artichoke Ragu, Poached Farm Egg, and Fried Spinach. Simply Umami. Topping the pasta with a perfectly poached egg was also an amazing touch. Touche!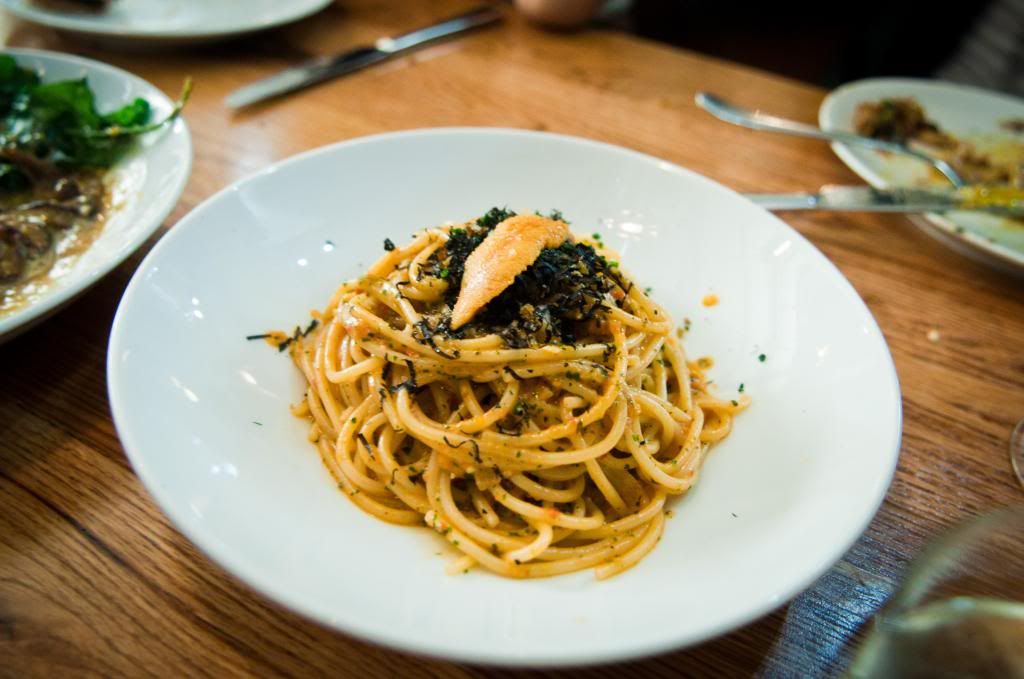 Second, a Spaghetti Rustichella with Sea Urchin, Squid Ink Bottarga, Garlic, Calabrian Chile, and Breadcrumbs. Your classic uni pasta with an incredibly rich, buttery flavor. 
By this time, my party and I were already incredibly full and quite possibly a bit buzzed from all the wine. But guess what? Here come's the Secondi! A Roasted Half Duck with Sugar Snap Peas and Cippolini Agridolce. When this dish came, I just snacked on the sugar snap peas and the super tender cippolini's. My kind of dessert.
What!? More food!? A Pizze Tartufo e Porcini, Black Truffles, Porcini Mushroom, Fior di Latte, and Grana Padano. I understand the high price of fresh black truffles, but at $25, this pizza's a bit steep. And you know what? Being ridiculously full quite possibly made me dislike this incredibly rich pizza.
Excuse the ugliest picture ever! But the final dish of the night was the one I was looking most forward to, but I was too full to enjoy. Roasted Suckling Pig with Anson Mills Polenta, Spinach, Kale Chips, and Fruta di Speziate. I was able to fit in a small sliver, and boy was it delightful! The pig was well seasoned and had a butter-like tenderness.
On an extremely negative note, because our bill was comprised primarily of wine, we tipped accordingly (leaving a generous amount on food). However, upon leaving, we were given an ugly scowl/snarl by our server because she was dissatisfied with the amount. I tried to alleviate the situation by explaining to her the reasoning, but was only met with a lecture.
Bestia Scores:   
Food: 6/10 - I came in expecting the world (maybe it was because of the 2 month wait). But most of the dishes came up short.
Restaurant Environment: 9/10 - Maybe this is being nit picky, but the restaurant was just too dark for food photographers like myself. But other than that, a perfect place to eat.
Service: 2/10 - Well done until the very end. Would've also liked if she suggested that we were ordering too much food, but that's a moot point.
Value: 6/10 - Spending ~$30 per entree dish (that I wasn't even able to eat), probably wasn't the best budgeting.
Overall: 5/10
Three Months ago, something terrible happened in California, foie gras was banned. SoCal was in a complete cluster fuck looking for that savory buttery avian organ. But lucky for me, I was able to score a walk-in seat on the very last day at one of the best and most innovative places for foie, Animal (But I totally failed at trying to walk in the night before, but that's another story in itself). PETA supporters, turn away.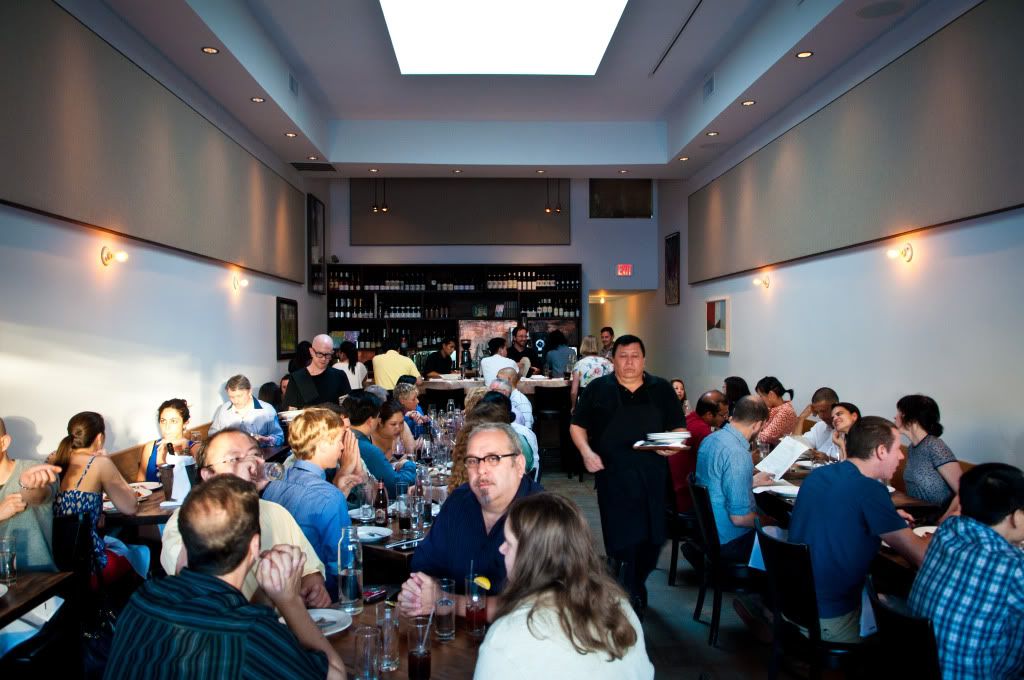 Animal is an extremely tiny restaurant, with almost a New York City feel. With hot fare and  limited seating, reservations are at a premium.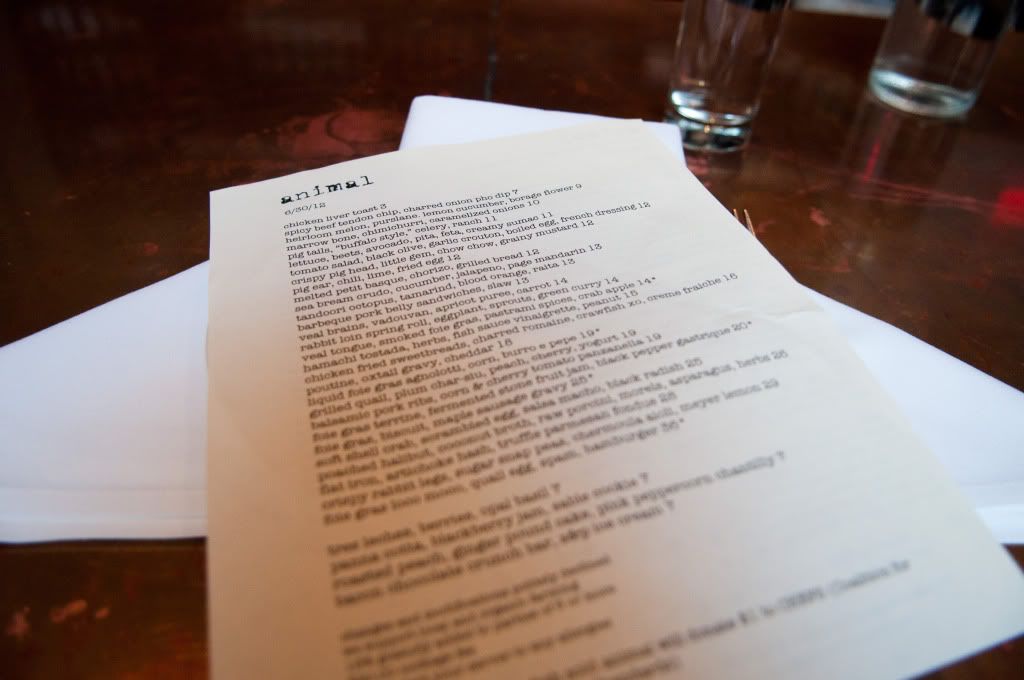 The final Foie Gras menu - 6/30/2012.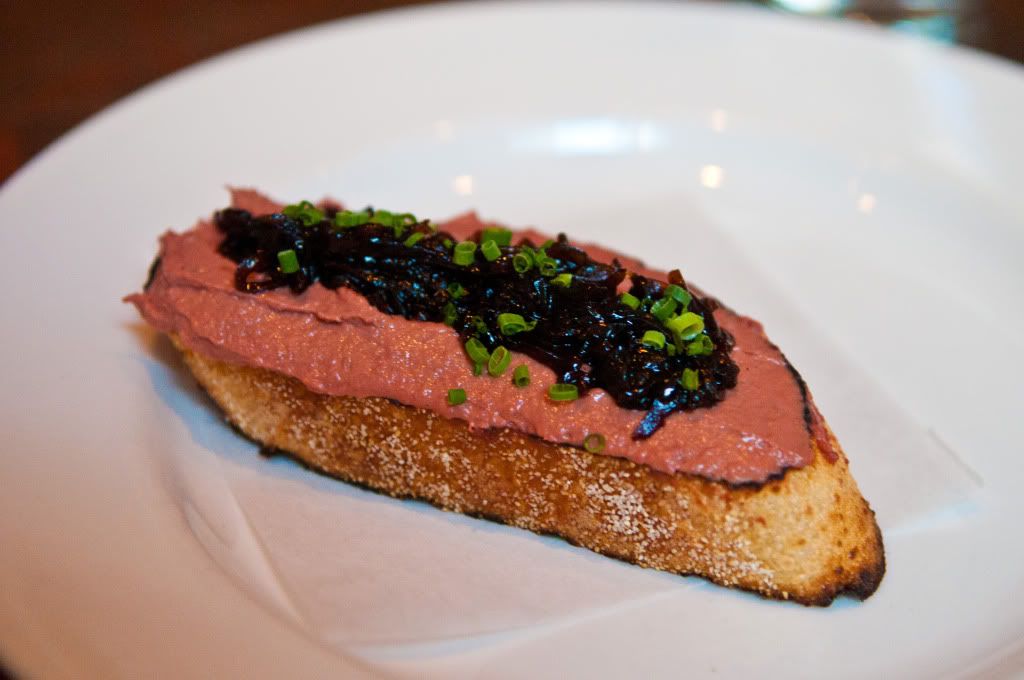 Arguably one of the best items on the menu is the cheapest. The Chicken Liver Toast ($3) marries that perfect blend of sweet and savory. Everything about this little toast was perfect. The sweet compote paired with the smooth pate, then the textural contrast with the crispy toast, amazing. 
Don't forget about a bottle of Animal's House Red. At $20, it's a steal and a great complement.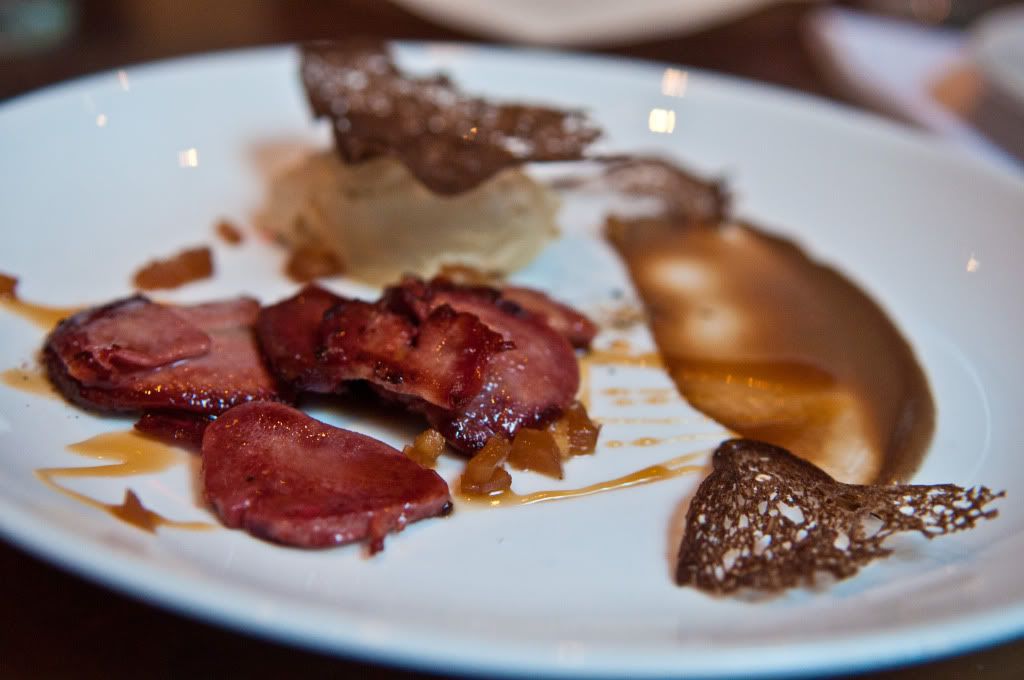 We first started with a plate of Veal Tongue, Smoked Foie Gras, Pastrami Spices and Crab Apple ($14). Not the best dish to show case foie, but pleasing nonetheless. I'm actually a huge fan of cow/veal tongue but I guess I'm too spoiled with the Japanese yakiniku type from Anjin/Tsuruhashi. With all the spices, it was just glorified Canadian bacon. 
Here we have the Foie Gras Terrine with Fermented Stone Fruit Jam and Black Pepper Gastrique ($20). 
Eat it with a piece of toast and a dollop of jam, yum! Now this is foie! Secretly, I was thinking that I could've ordered 7 Chicken Liver Toasts at the same price. I know.. I know.. it's actual foie gras, and there is a tremendous difference. But come on! $3 Toasts?! P.s. Like my plate decoration?
Now the best dish of the night. I wanted to save this for the very end, but I'm too excited. Animal's Liquid Foie Gras Agnolotti with Corn, Burro e Pepe ($19). These little pillows are filled with what pretty much could be considered foie gras gravy. They explode in your mouth and you're zoomed off in a flavor filled bliss. I was seriously debating whether to order another dish, that's how amazing they were.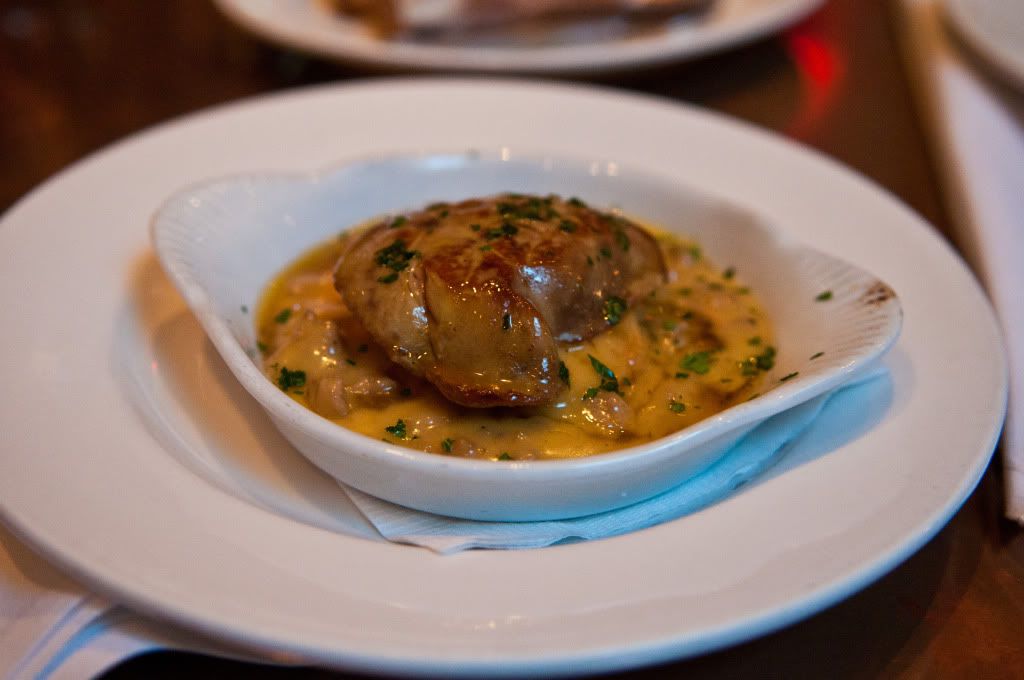 A dish that I was pretty excited for, actually completely let me down, the Foie Gras, Biscuit, and Maple Sausage Gravy ($25). I'm an absolutely die hard for Biscuits and Gravy (like the one at Denny's for $2…). I can understand the concept of the fish, but the Maple Gravy was just wayyyyy too sweet. There just wasn't a good balance to the dish. And overpowering the foie? No, no, no…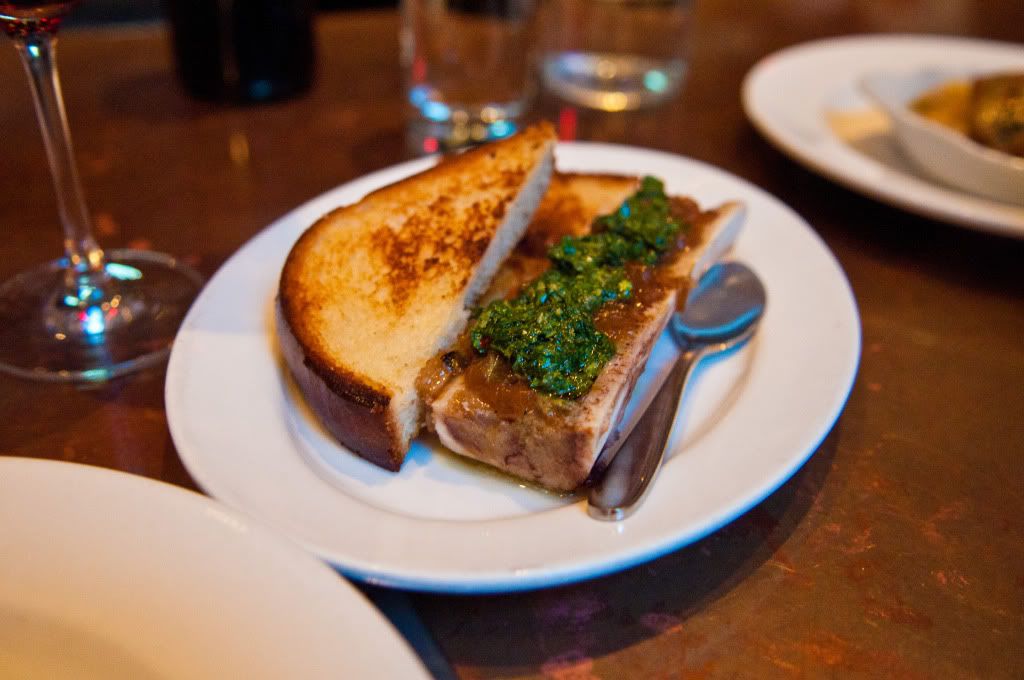 Let's take a quick foie break and order something else that's close to my heart. Marrow Bone with Chimichurri and Caramelized Onions ($10).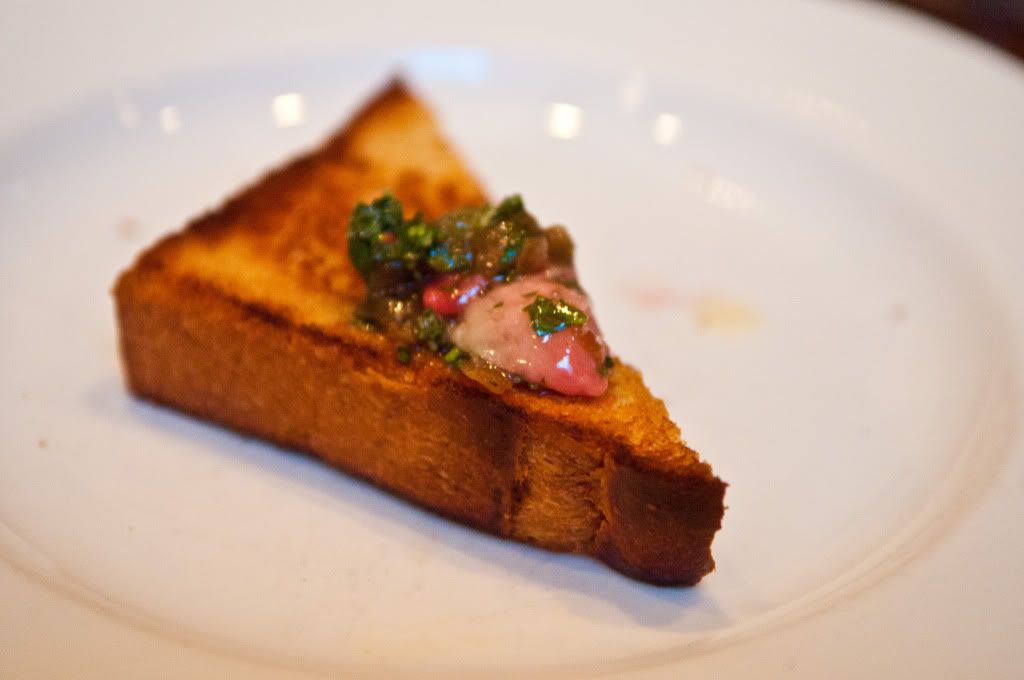 In my opinion, a beautiful dish, but that's actually the most it had going for it. Maybe it was my huge expectations. Come on.. it's Animal.. they must have fantastic bone marrow. I guess not. I could've sworn I had better elsewhere on more than a handful of occasions.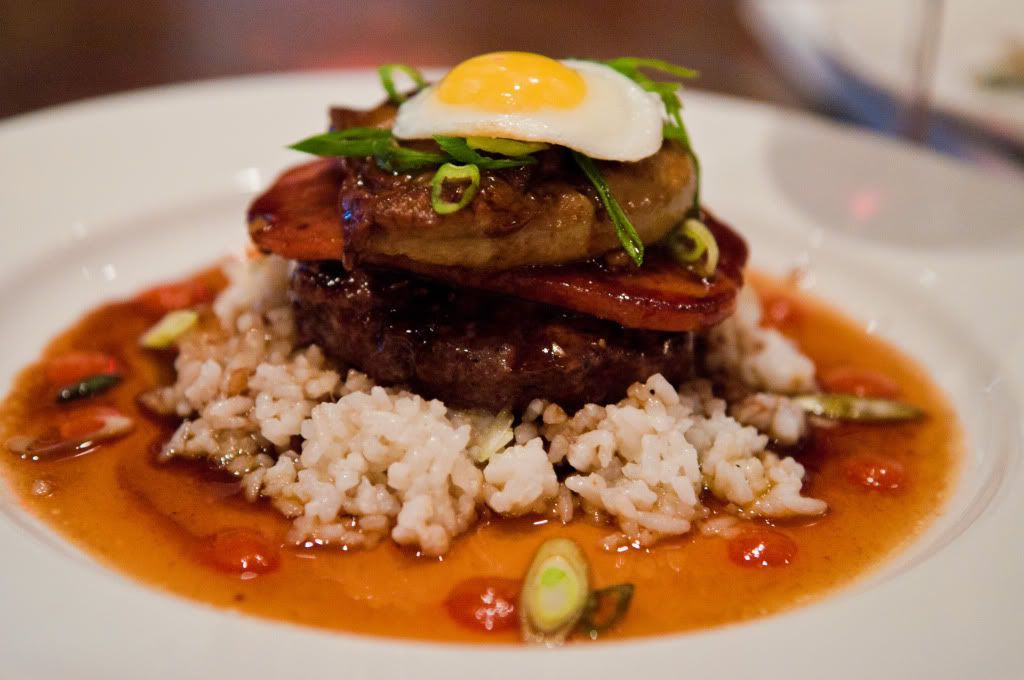 Finally we have Animal's "main" foie dish, Foie Gras Loco Moco with Quail egg, Spam and Hamburger ($36). This dish was hard to wrap my head around. Individually, the items were amazing. The Foie Gras, Spam and Hamburger were perfectly cooked. The hamburger should be more considered as ground steak in patty form. However, collectively, the dish was underwhelming. The rice was undercooked and the sauce tasted cheap. I guess I'll save my loco moco's for Hawaii. 
I really wanted dessert since the other groups next to me were happily enjoying theirs. So to be different, I ordered the Roasted Peach, Ginger Pound Cake and Pink Peppercorn Chantilly. I should've went with the Tres Leches cake….
Animal Scores:
Food: 8/10 - Highs and lows, a lot of dishes were hit or miss, but I'll definitely be back to sample their foie-less menu.
Service: 9/10 - I guess sitting at the bar has its perks, your always attended to. The hostesses also had a friendly demeanor amidst the chaos.
Restaurant Environment: 7/10 - Too cramped, I'm too big to be shoved in small places.
Value: 7/10 - The Chicken Liver Toast was absolutely money at $3, but the Loco Moco for $36?? Pass..
Overall: 8/10
Like everybody else's post, I'm here to tell you that Son of a Gun is a spinoff of Vinny Dotolo and Jon Shook's highly successful restaurant, Animal. Now instead of the carnivorous offerings at Animal, Son of a Gun serves a more delicate seafood fare. Whenever you go to either of the restaurants, keep in mind that they're actually tapas restaurants.
The restaurant is segmented into two areas, one filled with tables that are meant for those with reservations, and then a long dining table that is meant for walk-ins. Completely filled with nautical themed items, the tavern-esque feel of the restaurant creates a welcoming feel. 
Now let's get down to business. To start, an order of the Smoked Mahi Fish Dip with Celery, Radish, and Crackers. The dish was light and refreshing, essentially it's a tuna salad kicked up a million notches. Nice touch with the buttery crackers similar to the ones in those cheese and cracker packets.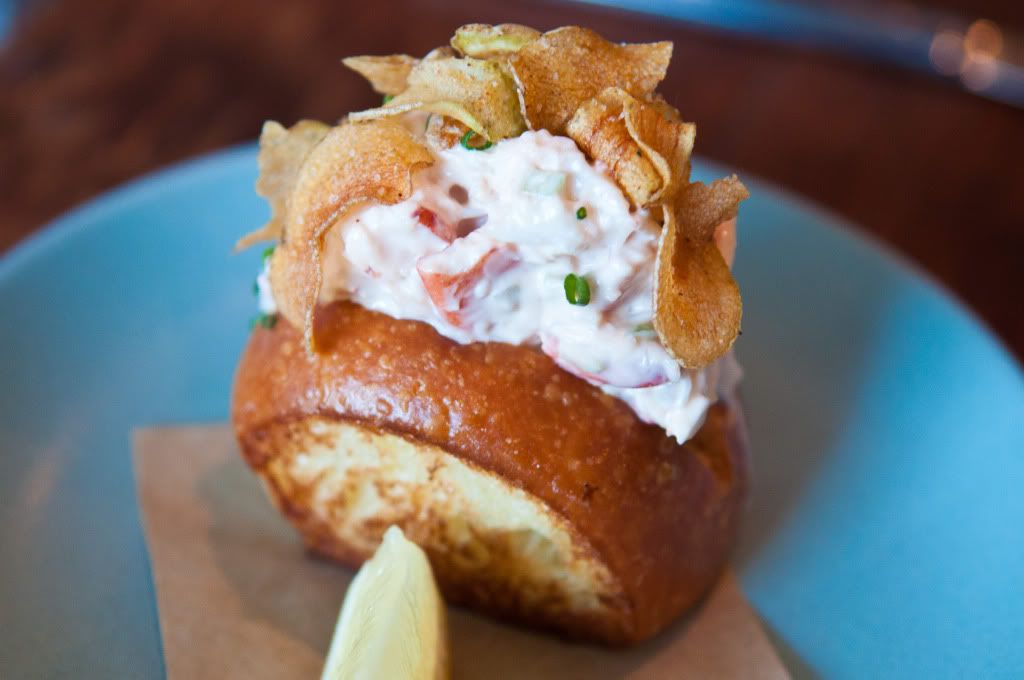 Don't let the image deceive you, this Lobster Roll with Celery, Lemon Aioli and topped with Sea Salted Chips is not large by any means. It's actually two bites, or one ginormous bite. Regardless of size, it was quite delicious. The bread was perfectly buttered and cooked and the lobster was fresh and sweet. Nice touch with the chips, because the extra crunch made it possible to differentiate itself from other rolls I've had.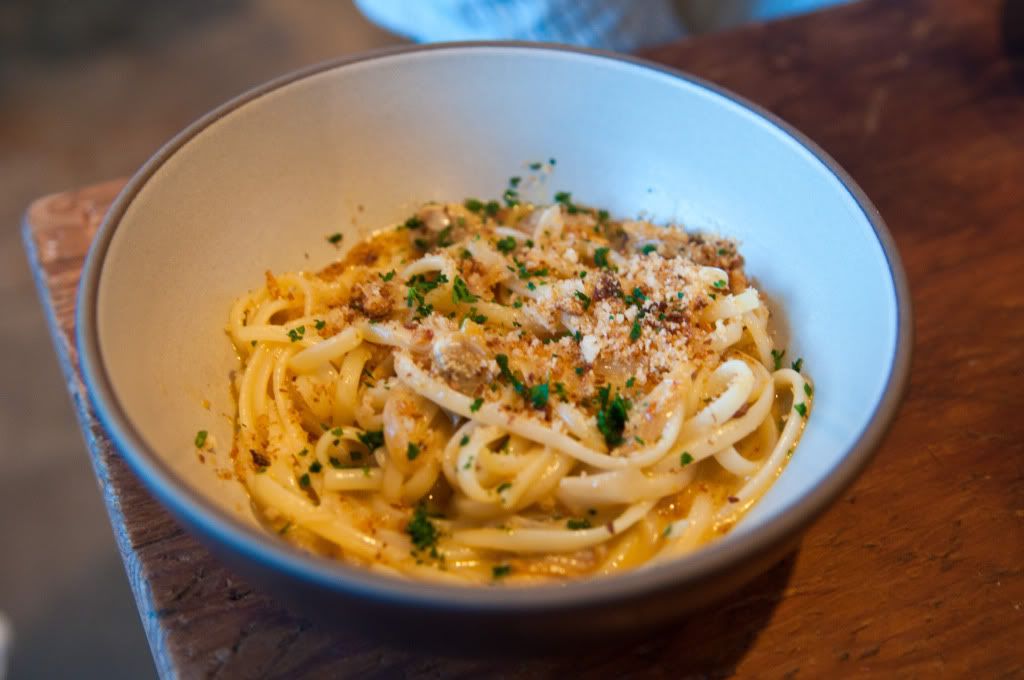 Next up, we have a smal bowl of Linguine and Clams with Uni Aglio-olio with Chili and Breadcrumbs. This was probably on the 'meh' level for me. It's good, but I definitely think there are better items on the menu that I would prefer. I think it needs more actual Uni than it being masked in the sauce. 
Here we have an Idaho Trout with Carrot, Potato, and Caper Dill Butter. I know it's supposed to be considered tapas, but what's with the paper thin piece of trout? Looks like they hooked and lined the Kate Moss of trouts. Then again, shouldn't I be excited to be dining with (or have eaten) an underwater celebrity.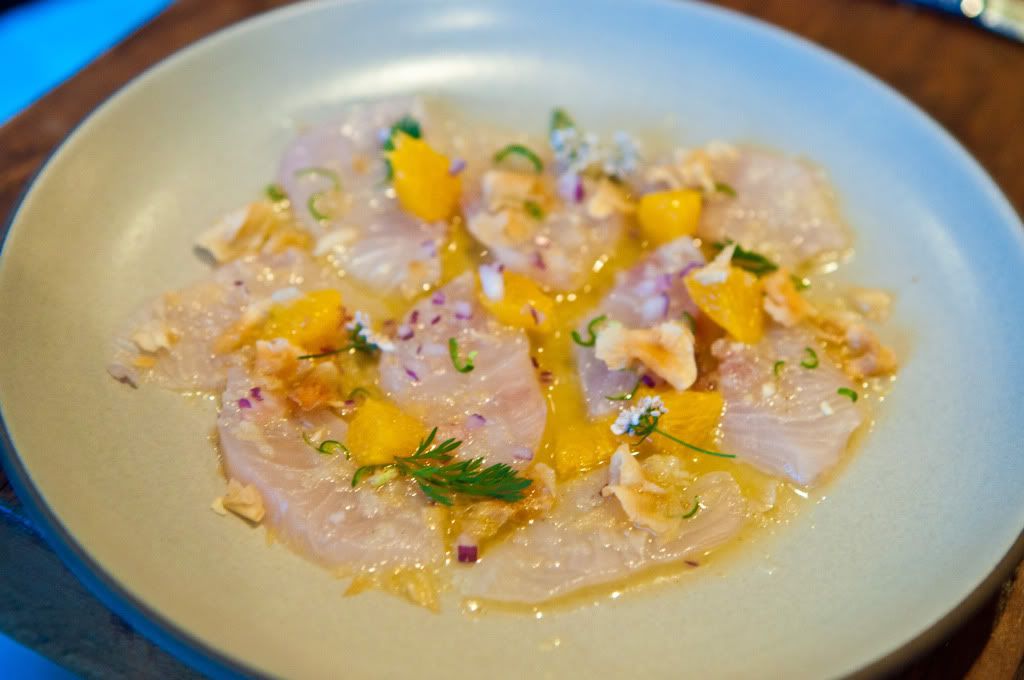 Finally, we have a beautiful plate of Hiramasa with Mojo de Ajo, Red Onion and Sunchoke. Not only is this dish gorgeous, but it tastes great to boot. Thinly sliced pieces of fresh Hiramasa pair well with the slight acidity of the dish. Also, who can turn down edible flowers!
Son of a Gun Scores:
Food: 8.5/10 - The food was innovative and executed perfectly. There wasn't one dish I was disappointed with flavorwise. 
Restaurant Environment: 8/10 - A great crowd and an inviting feeling is always going to lead to a wonderful night. 
Service: 7/10 - Nothing over the top, but also nothing down in the cellar. My glass of water was always kept filled. 
Value: 5/10 - Although the tapas portion was great for sharing, it left you still longing for more. So taking into account that you have to eat multiple meals, it becomes quite pricey.
Overall: 7.5/10