Ahh.. New York. Has it really been nearly 2 years since I've left and last visited you? Well if that's the case, I have to make every meal count in my short trip back and partake in my favorite past time, Michelin Star hunting. So how about we visit one of the fastest up and coming restaurants in the city? First up, Chef Michael White's 2 Michelin Star restaurant, Marea.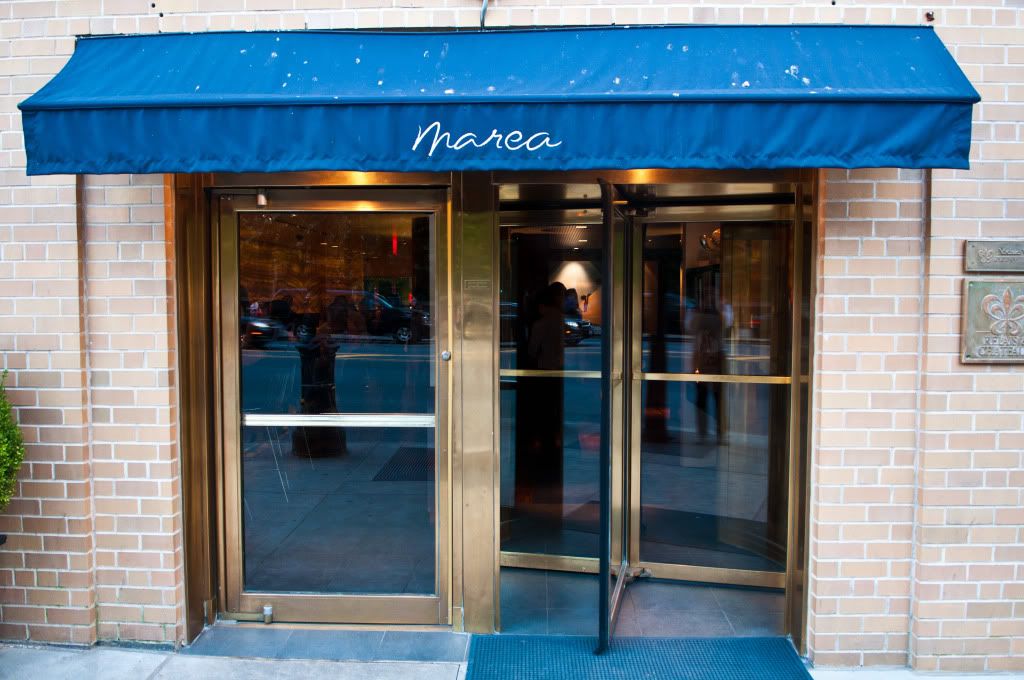 My friends and I showed up a few minutes late to our reservations, but the Maitre' d was more than accommodating and was very understanding. By the way, I absolutely despise Apple's new iOS maps, which led me into Columbus Circle instead of the restaurant.
Our table was situated right next to their beautiful wine collection. If there was ever a time of significant jealousy in my life, this was it.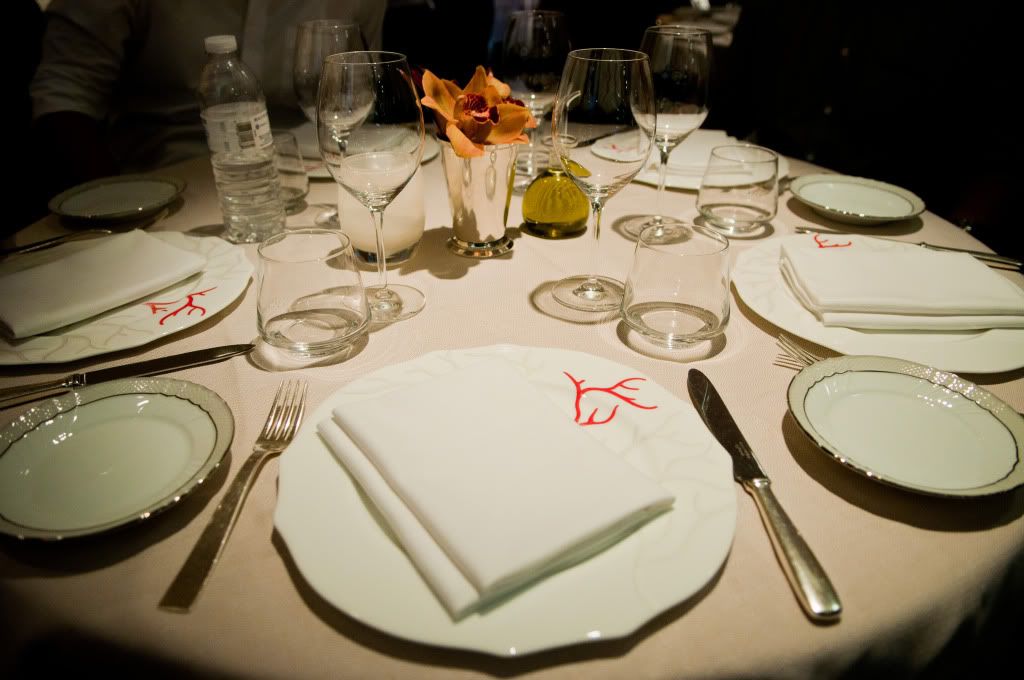 Unlike many other 2 or 3 star restaurants, Marea felt a bit.. unassuming. Classy? Yes. But not once did I feel out of place or experience a condescending stare from the staff (even going with the cheaper a la carte route). 

Marea was so highly touted that Bourdain even featured the restaurant on two separate episodes. I tried to mirror my dishes after his sit down with Chef Michael White. Unfortunately I am no where as eloquent as Bourdain, but I'll try my best.
Tsk tsk.. oil stains on the menu?!
My friends and I took a different approach this time around. Instead of perusing their wine list, we opted for some crisp clean Italian lager. A refreshing change.
For bread, you get your choice of multigrain or foccacia. A bit disappointed, but hey. I came for the food and not the free bread. Stay positive! Let's get started shall we?
Being a cheap Asian, free swag always puts a smile on my face. The amuse bouche was a small gelee of Butternut Squash, Razorclams, and Cranberry. A clean start, well done.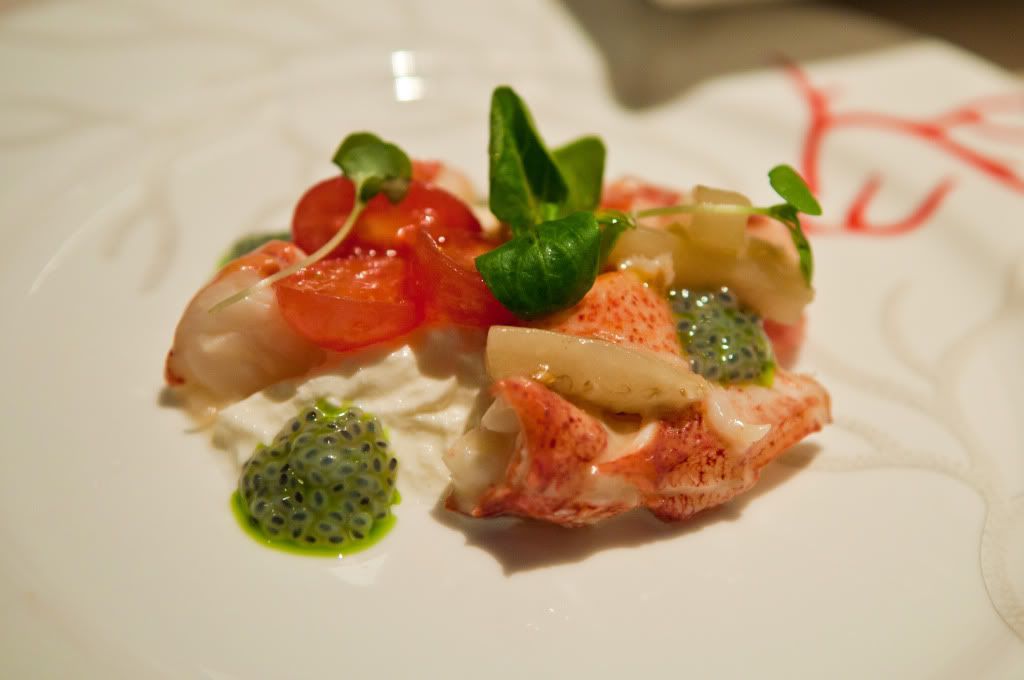 A spectacularly beautiful dish, Astice  - Nova Scotia Lobster, Burrata, Eggplant al Funghetto and Fresh Basil and Basil Seeds. An unusual paring that works amazingly well together. The lobster is sweet and tender, and the burrata is smooth and creamy. Mix in the body of stewed eggplant and the acidic cut of tomato and basil/basil seeds. The dish vanishes before you know it.
My friends trusted me ordering their entire meal. So I decided to grab something that I knew they would never have given a thought to order. Animelle e Gnocchi - Roasted Sweetbreads, Gnocchi, Smoked Trout Spuma, Parsley and Candied Lemon. I loved how the little roasted sweetbreads camouflaged with the soft gnocchi pillows. I don't believe any of my friends had an idea that they were happily eating roasted animal glands.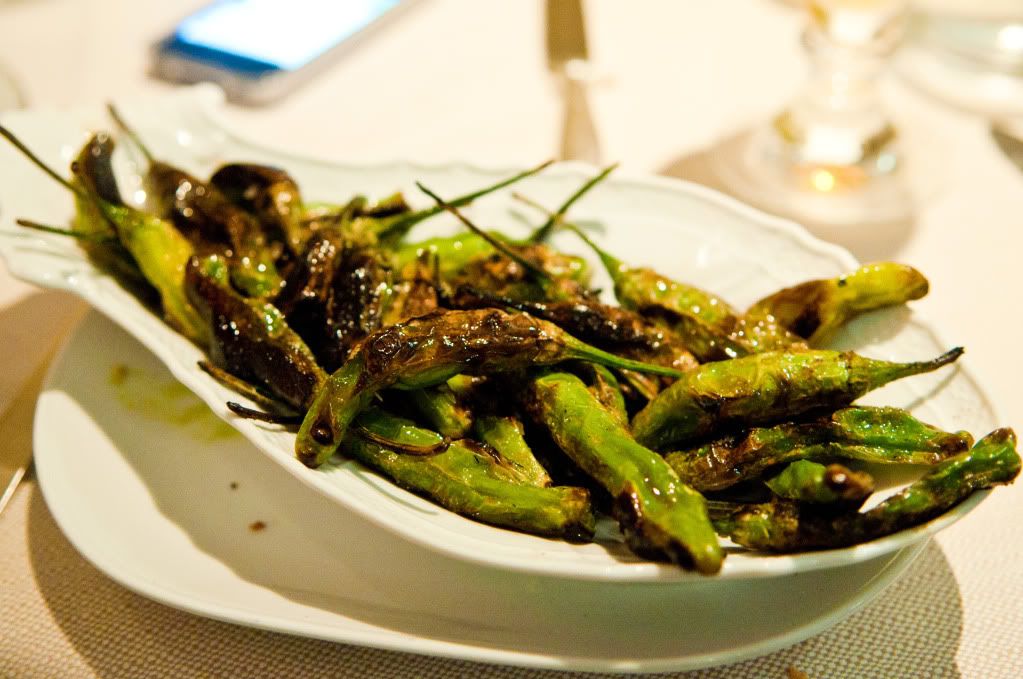 Now this is interesting. An Italian seafood restaurant serving Peperoni - Shishito Peppers with Sea Salt. I've always loved shishito peppers and the various levels of spicy heat. It's this randomness and sense of gambling that makes eating fun. 
Fun Note: They actually messed up our order and gave us a plate of Panzerotti - Smoked Eggplant, Ricotta, Bottaraga. Which my friends quickly devoured and were luckily comped. So quick that I didn't even get a chance to take a picture. A major no no when dining with me.
Now we have the mother of all appetizers. Ricci - Sea Urchin covered in Lardo with Sea Salt on top of a Crostini. My goodness, this must be what they serve in heaven. Honestly, the Santa Barbara Sea Urchin and crostini would've been divine enough. But Marea takes it to the next level and melts a sheet of lardo over top. The sweet buttery sea urchin tied in with rich unctuous lardo, finished with a crunchy bite. I could care less about my cholesterol levels. That's why Lipitor was developed right? So we can eat dishes like this?
Always have your camera ready. Especially for times like this. Beer Bubble! Another round of beer please.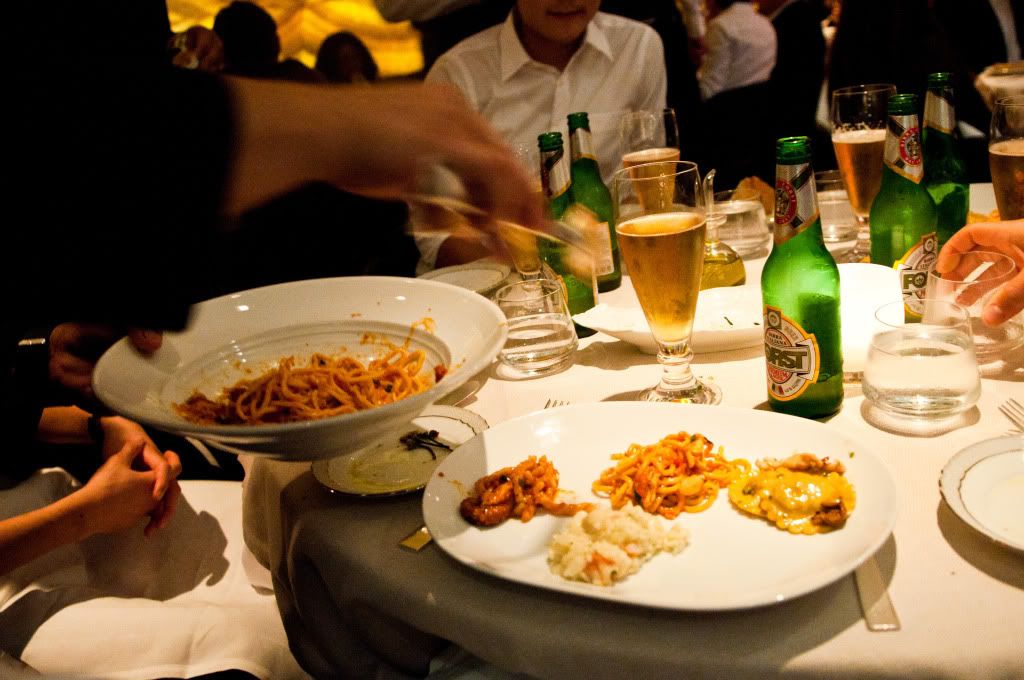 I wanted to take pictures of each of the 4 pastas we ordered, but unfortunately the servers were too quick and they decided to distribute the dishes as soon as it arrived. So excuse the pictures please!
The pasta line up.
Continuing on with our meal in Heaven menu, Fusilli - Fresh Rolled Fusilli with with Red Wine Braised Octopus and Bone Marrow. The octopus was cooked to tender perfection, none of that cheap rubbery crap and the sauce was full bodied and packed with flavor. One thing I disliked was the non proportional amount of pasta to protein. I don't even think I got a single nugget of bone marrow! Definitely not a happy camper.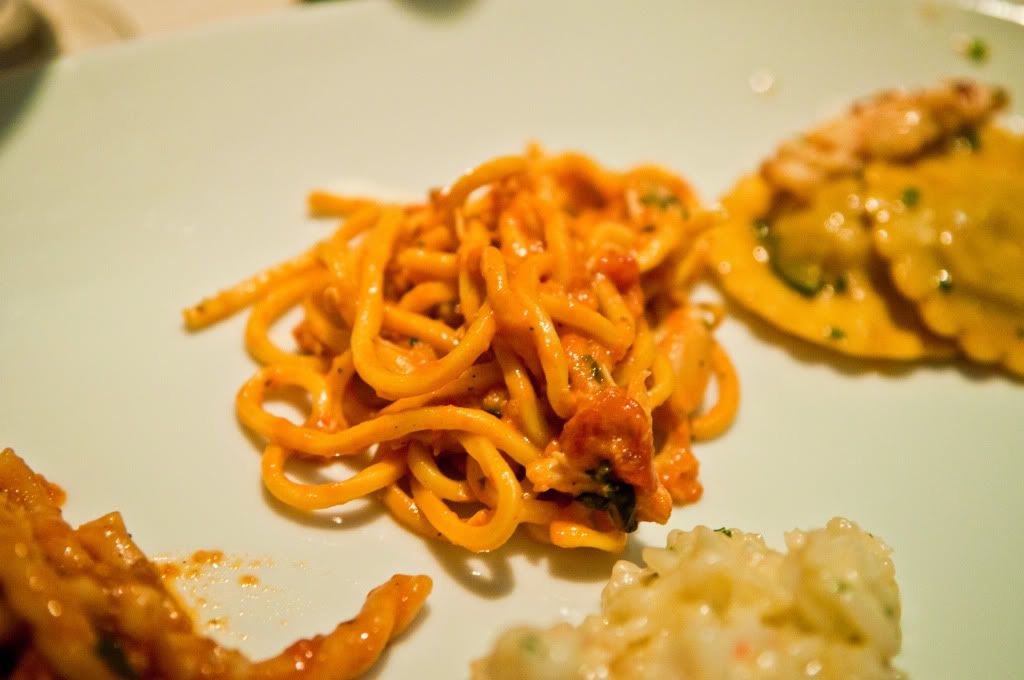 Next up, Spaghetti - Crab, Santa Barbara Sea Urchin, and Basil. Say goodbye to your cheap Prego and store bought noodles. Rich rich rich!! Like gangster rapper rich! The delicate crab and sea urchin flavors meld with a creamy tomato sauce to bring a smile on your face. If I closed my eyes and took a bite, I could pretty much imagine what Ariel was eating every night. Rapper rhymin'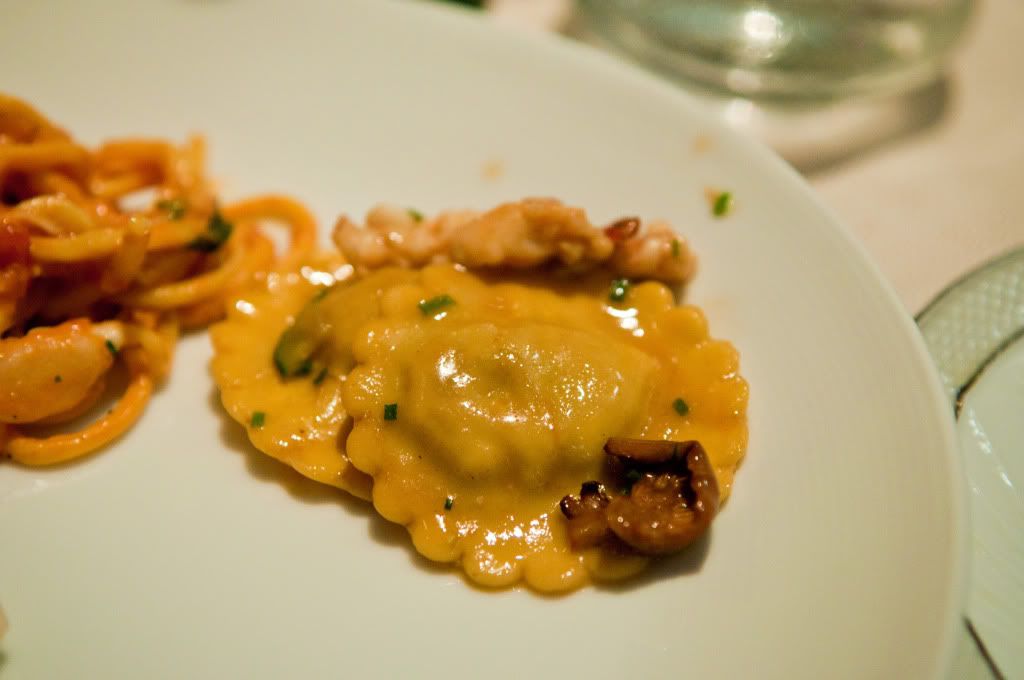 Here we have two pockets of Tortelli - Lobster Ravioli, Zucchini, Chanterelles. I actually thought the strong umami of the chanterelles dominated this dish. Hell, I paid for lobster, I want to experience lobster. Ok.. maybe on my next bite. Wait what? That's all I got?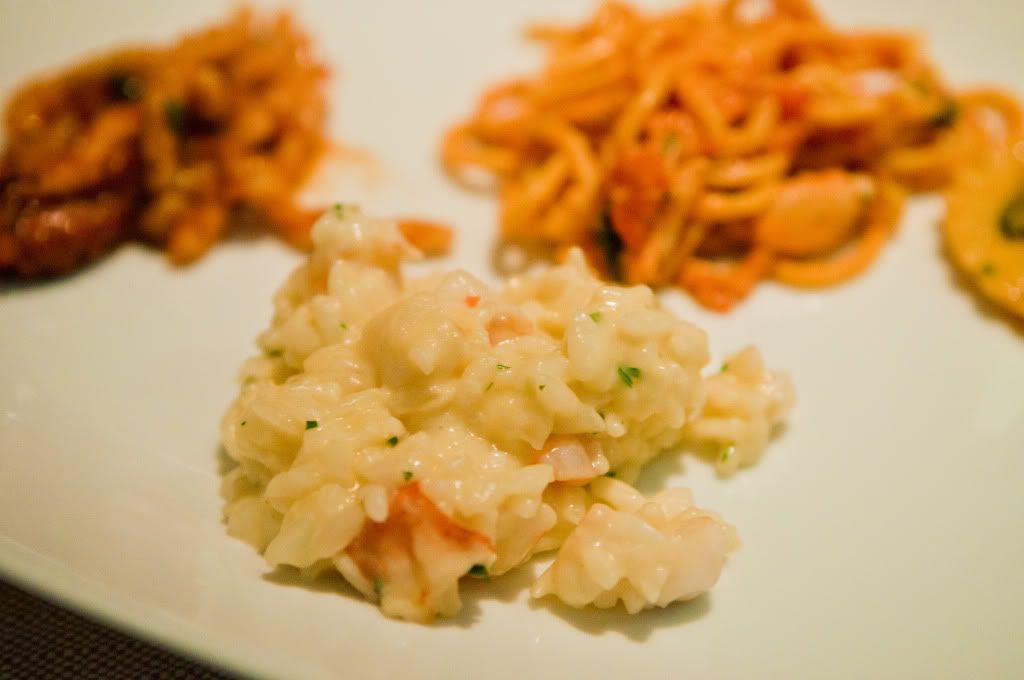 Finally we have Mare Risotti - Shrimp, Scallops, Lobster and Rouget. I've never really had a seafood risotto that I absolutely fell in love with. And Marea's was no different. The ingredients are there, but after finishing my few bites, I was thinking: "What's next?" instead of "Wow, that was amazing." I guess Bourdain was spot on regarding seafood and cheese. I would say save your money and perhaps get the mushroom, but that's only $4 cheaper.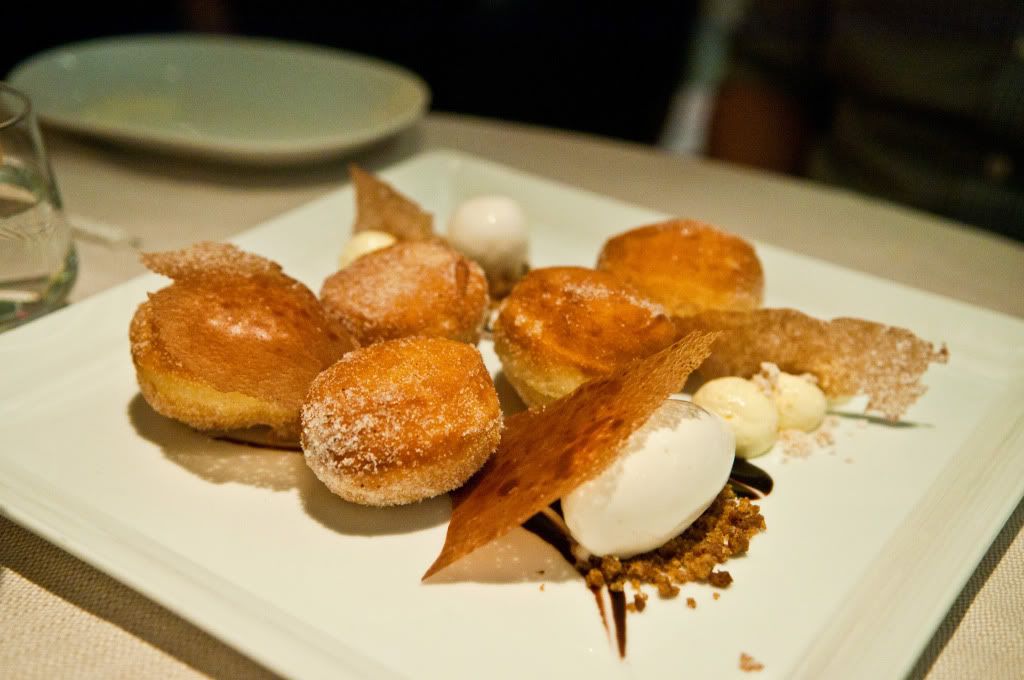 Now that's a beautiful full plate of dessert. The Bomboloni - Deed Fried Doughnuts, Zabaglione Crema, Espresso Crumble, Chocolate Sauce and White Espresso Gelato. My goodness were these good. You pretty much get a little love tap of every flavor and texture. You've got my heart when you have warm doughnuts and ice cream.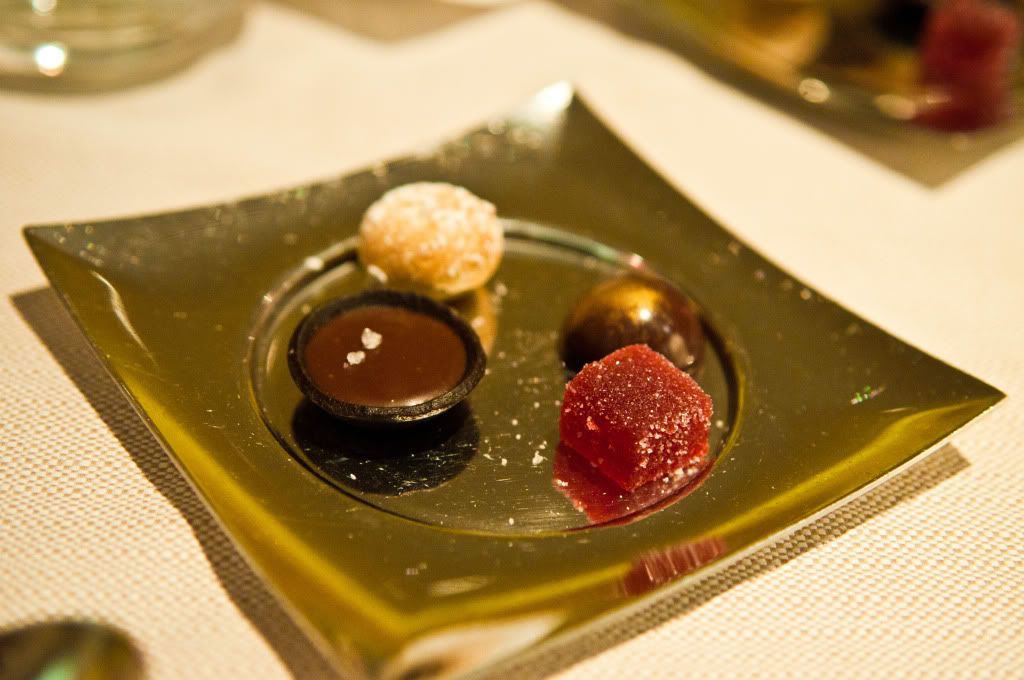 We end our night with Petit Fours. Starting from the top and going clockwise: Mocha Cream Puff, Salted Caramel Chocolate, Raspberry Gelee, and Hazelnut Cup. I love free stuff.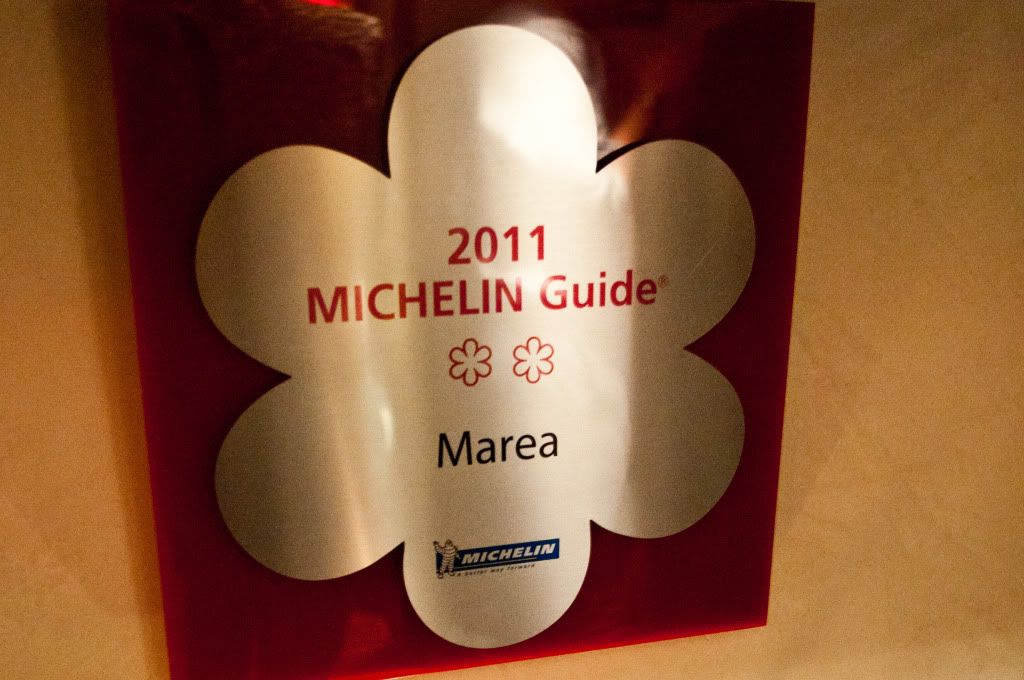 Congratulations on the 2 stars! Well deserved!
Marea Scores: 
Food: 9.5/10 - None of the dishes were disappointing and some were absolute home runs. But what keeps this from being perfect, was the keyword from the previous sentence, "some."
Service: 9.5/10 - Maitre D helping me with directions, and our server comping a dish without question because of their error. They lose half a point because I saw a server at another table knock over dishes.
Restaurant Environment: 10/10 - A beautifully designed interior and an unpretentious setting. Feel free to laugh and joke around with your friends, this 2-star restaurant certainly doesn't care.
Value: 9/10 - Quite possibly one of the least expensive Michelin rated restaurants that I've been to. The pastas are roughly $20-30. The entire meal, including drinks was less than $100pp. Albeit we did the a la carte approach. 
Overall: 9.5/10 - A terrific restaurant, but certainly there's room for improvement. Perhaps then, they'll get their 3rd star.
One thing I absolutely love about SF? Don't know what to eat? Flip open your phone… wait wait… actually I guess this day in age, it's slide and unlock your iPhone. Open up your Yelp app, and search your little heart away. Chances are, it's going to be a great restaurant. That's exactly what I did, and I came across a gem.
Enter Bistro Central Parc to my story, a tiny french bistro in the heart of NOPA.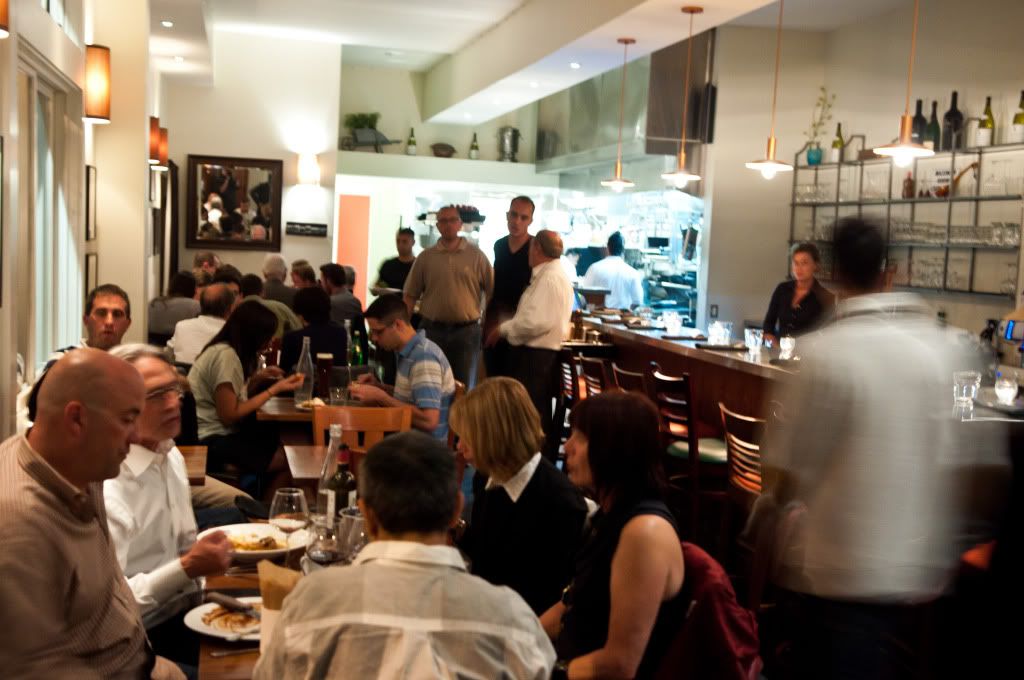 When I say tiny, I do mean tiny, but that just enhances that family style atmosphere. It's the type of place where you can pop open a bottle of wine, clank a few glasses and laugh your night away.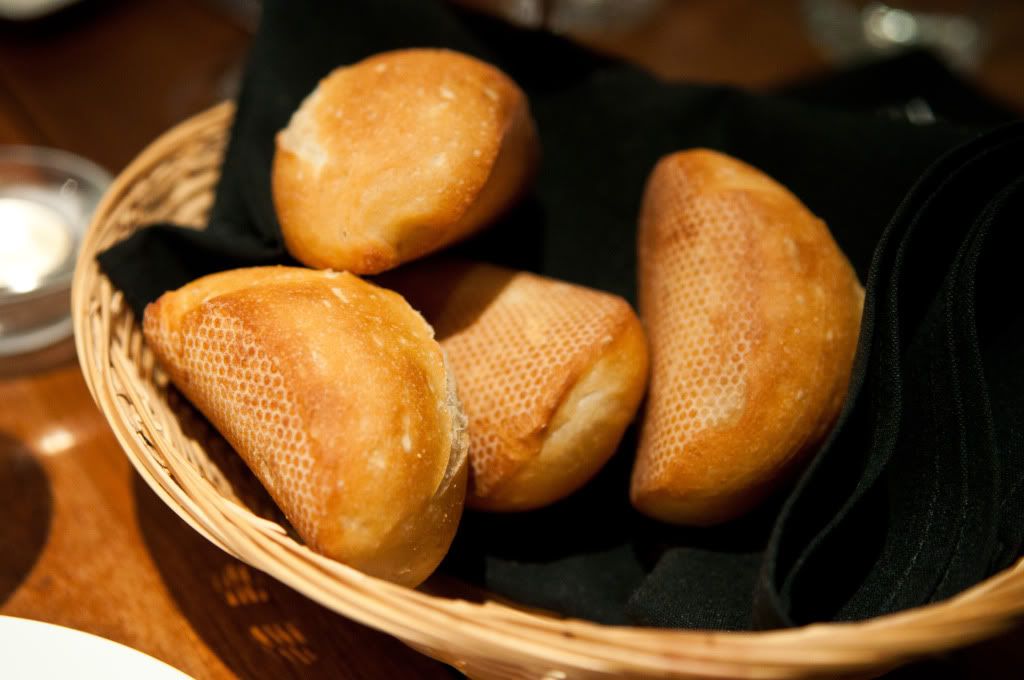 Dinner is served with a few warm French Bread Rolls and butter.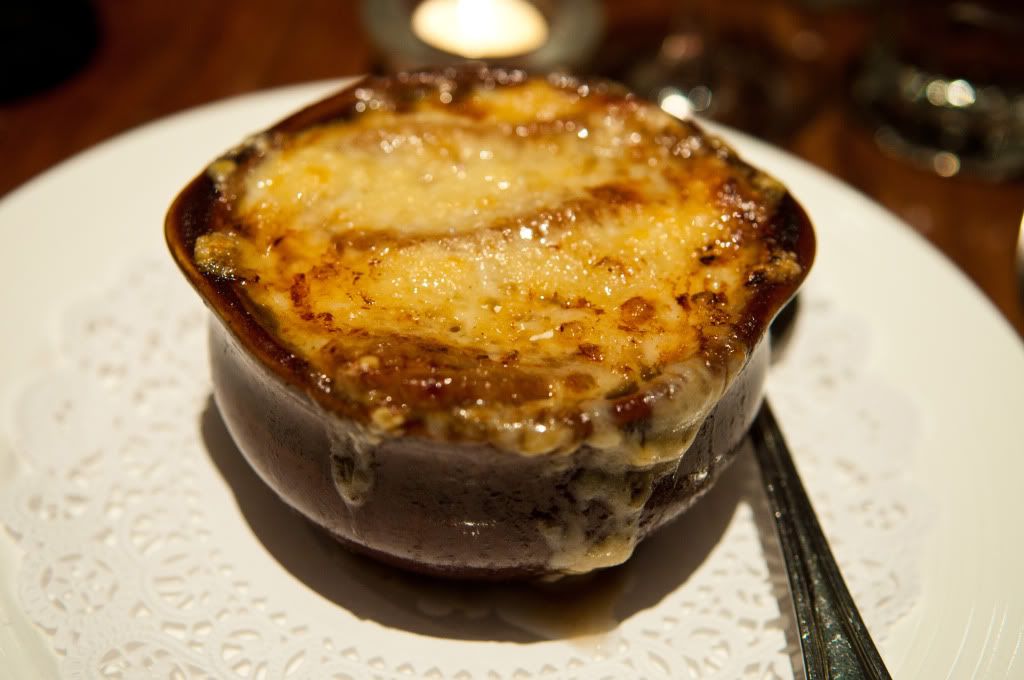 What's more French than French Onion Soup? But seriously, this is the blandest french onion soup ever. The flavor is only kept afloat by the sweetness from the onions. Never have I thought I would have to say this at a French restaurant, but could you pass the salt please?
Lookie what we have here, a Brandade of Cod. Just imagine a creamy spinach and artichoke dip witha touch of cod, and that's what we have. It's a perfect pair with the french rolls served earlier.
Let's move on to the mains shall we? And let's start off with a bang, the Tournedos Rossini or simply put Filet Mignon with Foie Gras. This dish isn't on the regular menu and is part of their daily specials. Now, I'm usually very much against Filet Mignon, but my goodness, this dish was heavenly. The steak is served with a port wine reduction over a soft pillowy bed of mashed potatoes, topped with decadent foie gras and some more crispy fried potatoes. Each bite consists of tender filet, buttery foie gras, and a touch of sweetness from the reduction, perfection.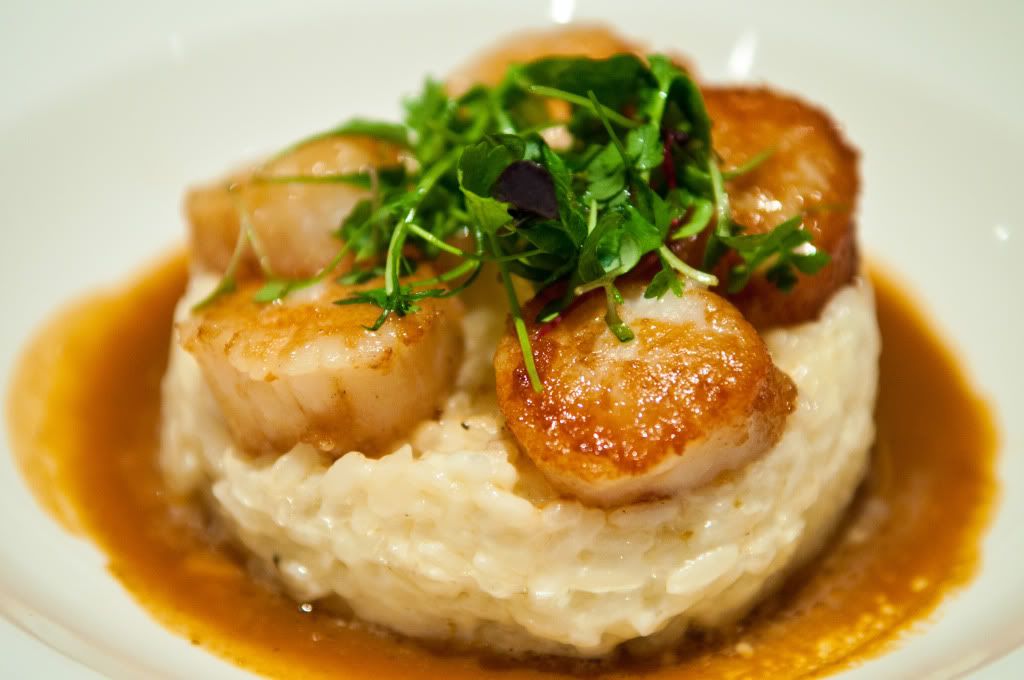 Next we have what they call Risotto aux Coquilles St Jacques, aka Risotto with Lobster Sauce and Scallops. Amazing… what else do I need to say that the picture can't do? This is seafood risotto to the max. The risotto was a bit too al dente, but hey who am I to complain for a dish that's less than $18?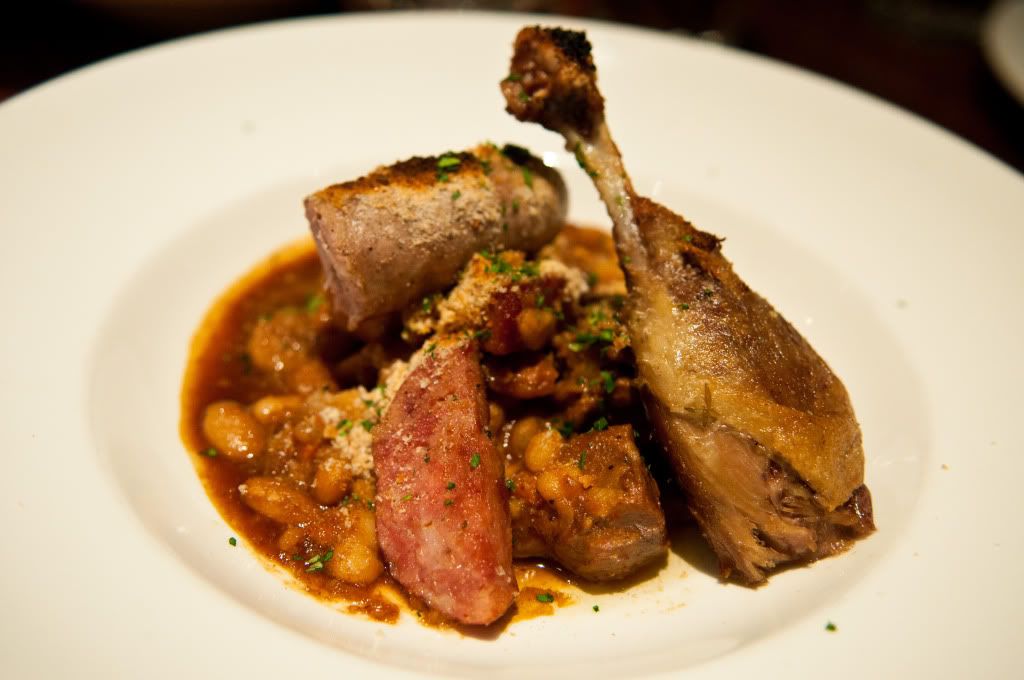 Finally, we have perhaps the worst dish of the night, Cassoulet de Toulouse. A stew of white beans, different pork items, and served with duck confit. The cassoulet had potential, but when paired up against the other dishes it's like a minor league player in a big league game, it just can't stand up. 
Bistro Central Parc Scores:
Food: 8/10 - It would've been a bit higher if we didn't order the Cassoulet.
Restaurant Environment: 9/10 - It's French.. Bistros are supposed to be small in France, that's what makes it great.
Service: 8/10 - Although our table wasn't ready by the time we got there, the manager clearly explained that they were trying to get us a larger table, no harm no foul.
Value: 8.5/10 - Honestly, $17.50 for that Risotto? $28 for the Filet? Not too shabby.
Overall: 8.5/10
Like everybody else's post, I'm here to tell you that Son of a Gun is a spinoff of Vinny Dotolo and Jon Shook's highly successful restaurant, Animal. Now instead of the carnivorous offerings at Animal, Son of a Gun serves a more delicate seafood fare. Whenever you go to either of the restaurants, keep in mind that they're actually tapas restaurants.
The restaurant is segmented into two areas, one filled with tables that are meant for those with reservations, and then a long dining table that is meant for walk-ins. Completely filled with nautical themed items, the tavern-esque feel of the restaurant creates a welcoming feel. 
Now let's get down to business. To start, an order of the Smoked Mahi Fish Dip with Celery, Radish, and Crackers. The dish was light and refreshing, essentially it's a tuna salad kicked up a million notches. Nice touch with the buttery crackers similar to the ones in those cheese and cracker packets.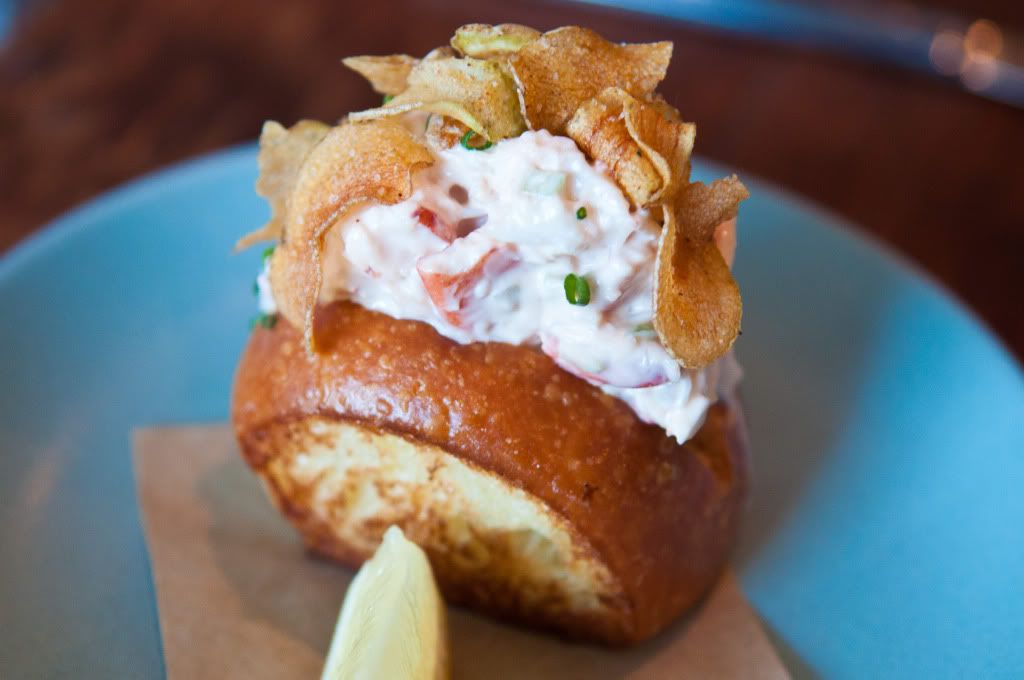 Don't let the image deceive you, this Lobster Roll with Celery, Lemon Aioli and topped with Sea Salted Chips is not large by any means. It's actually two bites, or one ginormous bite. Regardless of size, it was quite delicious. The bread was perfectly buttered and cooked and the lobster was fresh and sweet. Nice touch with the chips, because the extra crunch made it possible to differentiate itself from other rolls I've had.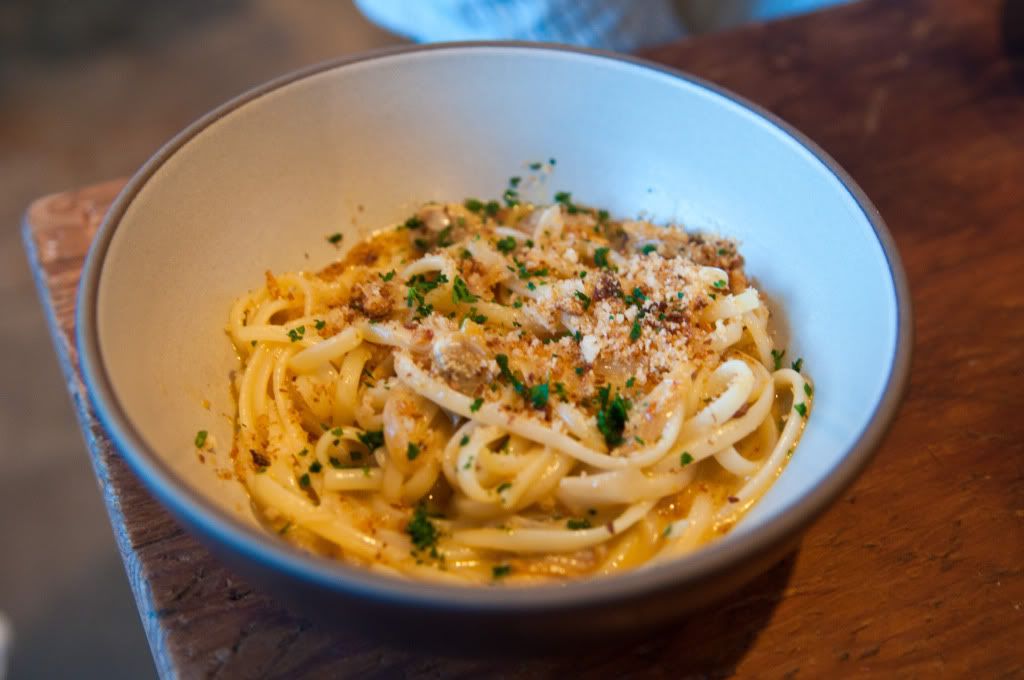 Next up, we have a smal bowl of Linguine and Clams with Uni Aglio-olio with Chili and Breadcrumbs. This was probably on the 'meh' level for me. It's good, but I definitely think there are better items on the menu that I would prefer. I think it needs more actual Uni than it being masked in the sauce. 
Here we have an Idaho Trout with Carrot, Potato, and Caper Dill Butter. I know it's supposed to be considered tapas, but what's with the paper thin piece of trout? Looks like they hooked and lined the Kate Moss of trouts. Then again, shouldn't I be excited to be dining with (or have eaten) an underwater celebrity.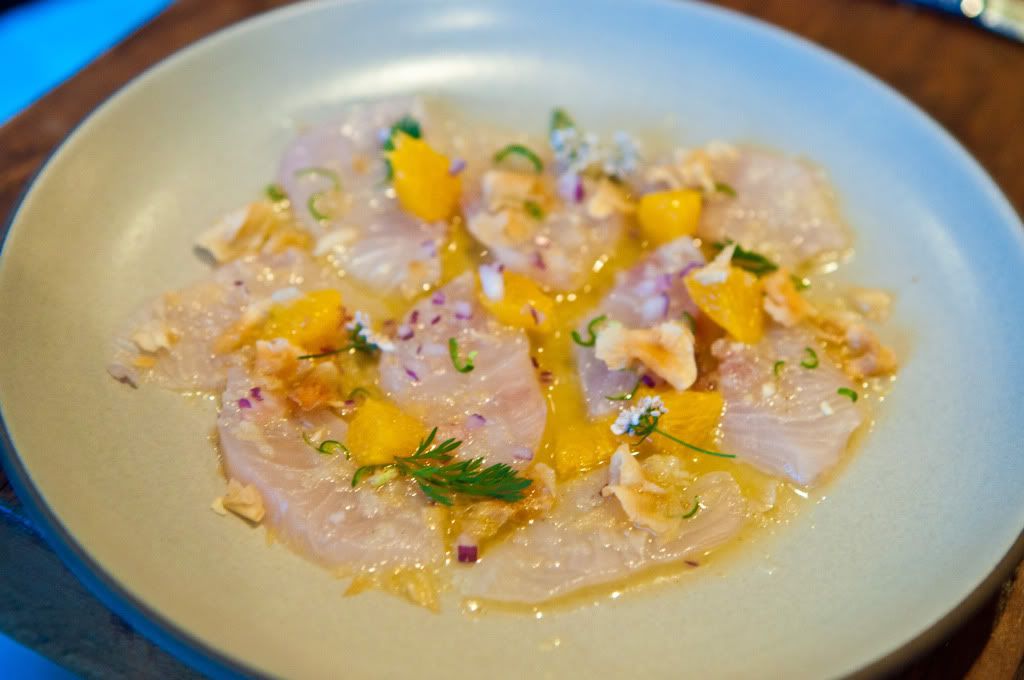 Finally, we have a beautiful plate of Hiramasa with Mojo de Ajo, Red Onion and Sunchoke. Not only is this dish gorgeous, but it tastes great to boot. Thinly sliced pieces of fresh Hiramasa pair well with the slight acidity of the dish. Also, who can turn down edible flowers!
Son of a Gun Scores:
Food: 8.5/10 - The food was innovative and executed perfectly. There wasn't one dish I was disappointed with flavorwise. 
Restaurant Environment: 8/10 - A great crowd and an inviting feeling is always going to lead to a wonderful night. 
Service: 7/10 - Nothing over the top, but also nothing down in the cellar. My glass of water was always kept filled. 
Value: 5/10 - Although the tapas portion was great for sharing, it left you still longing for more. So taking into account that you have to eat multiple meals, it becomes quite pricey.
Overall: 7.5/10