Hours before my chiropractor appointment, my friend (who also happens to be my chiropractor) and I decide to grab an early dinner. But then comes the age old question, "where would you like to go for dinner?" Being in Downtown LA, there was only one restaurant on my mind.. Baco Mercat
After reading about Baco Mercat being one of Bon Appetite Magazine's Best New Restaurants in 2012, I've been dying to try it. And with the constant flow of friends asking, "Hey, have you been to Baco Mercat…. OMG, Baco Mercat is so amazing.. you have to go." I can finally say, yes.. I've been.
Luckily for me, I was able to score an early weekday dinner reservation. Want to try coming here on a weekend? No way, Jose.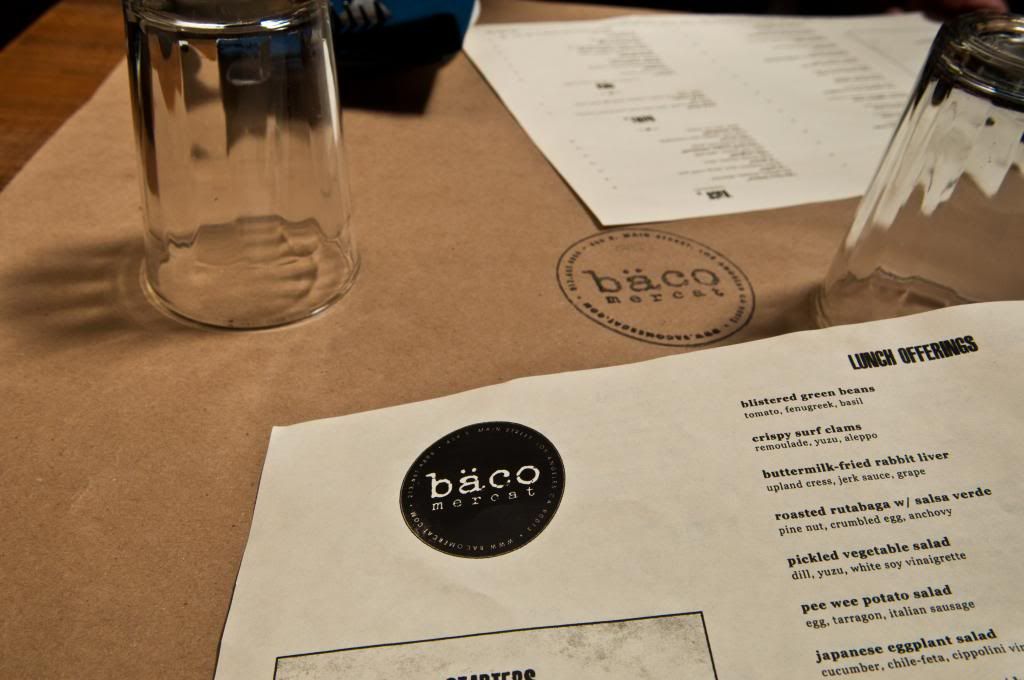 The restaurant is tiny, an almost New York-esque size. But what I loved, was the variety of diners - from teen hipsters to classy elders; you know the food is going to be good.
We started with a fresh plate of Hamachi Crudo with Abkhazian Chile Spice, Avocado and Hash Browns. Ok, I'm not going to lie, I have no idea what Abkhazian Chile Spice is, but my goodness, this dish is delicious. I rarely have yellowtail outside of Japanese restaurants, but Baco.. they got it right. The freshness of the fish is well represented and that hash brown, although out of place was more like a croquette.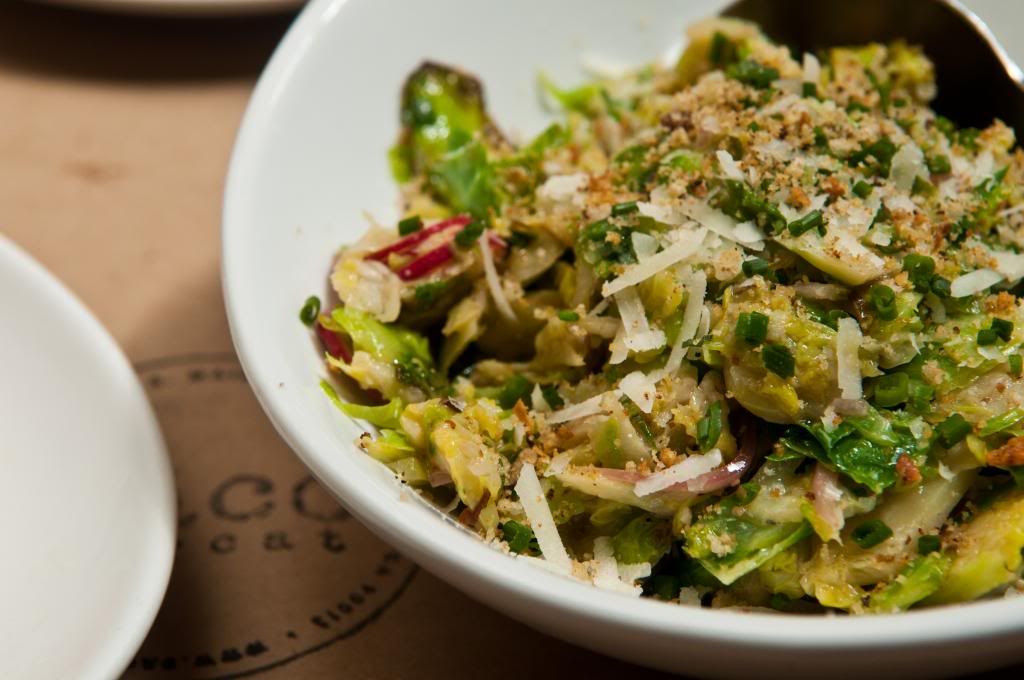 "Caesar" Brussels Sprouts with Pecorino, Anchovy, and Garlic - an absolutely ingenious way to use a stigmatized ingredient. I actually love brussels sprouts and eat it quite regularly. I never would have thought to prepare it as a warm Caesar salad. 2 for 2, Baco; keep up the good work.
Finally, we have the Bacos. What is a baco? Chinese people will find it eerily similar to their buns and "pancakes." But basically it's a flatbread that's converted to a sandwich.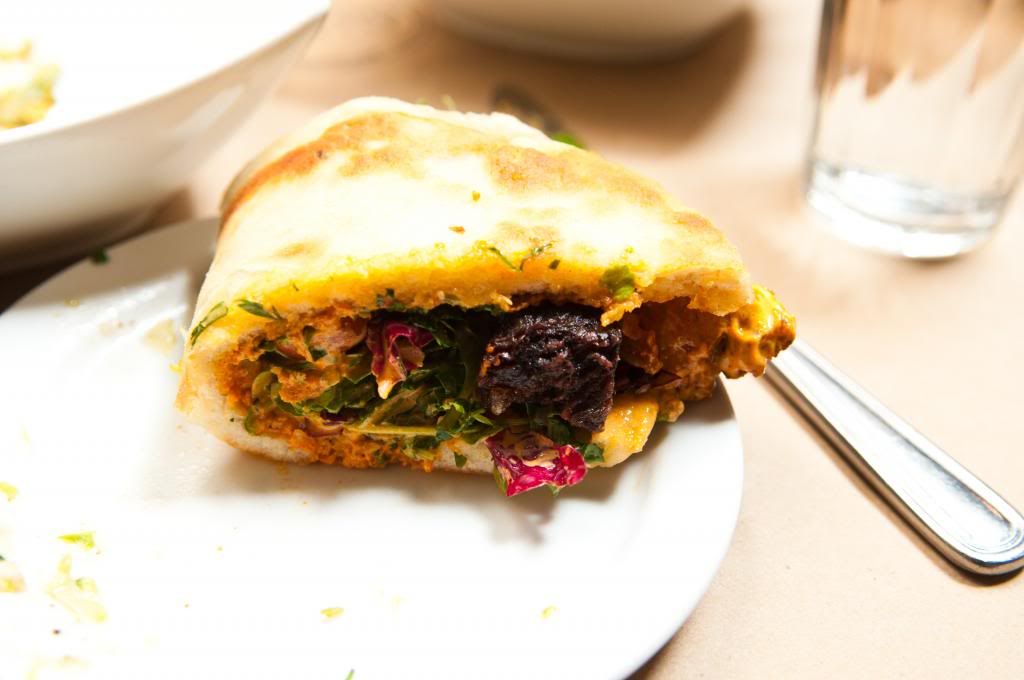 A beautiful cross section of the Original.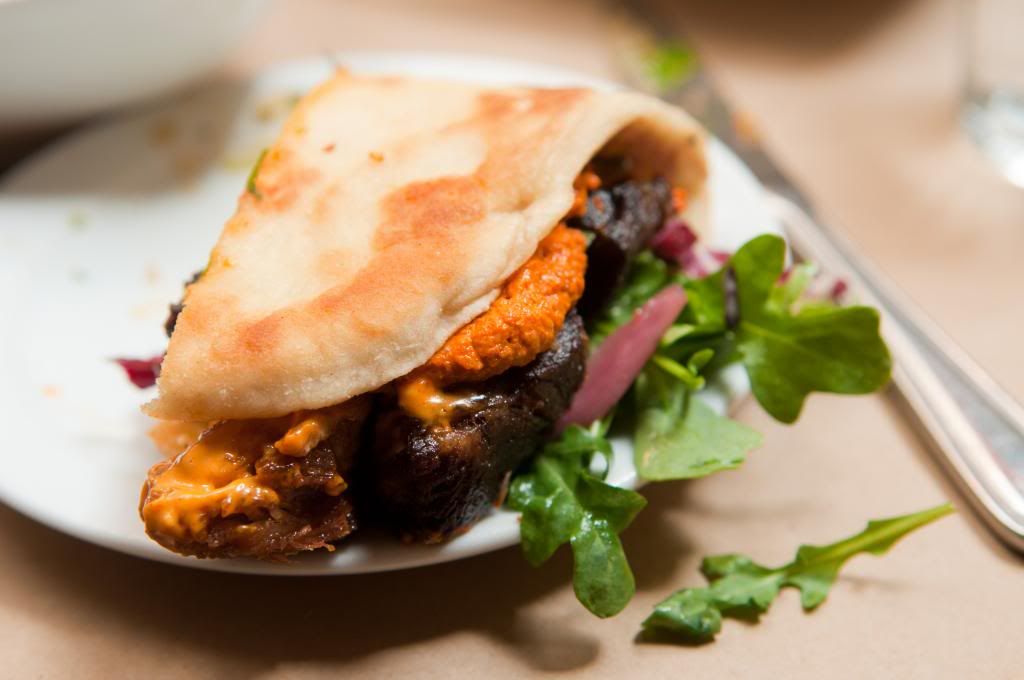 Let's start with the first. "The Original" is stuffed with Pork, Beef Carnitas, and covered in a Salbitxada sauce. Rich is probably the first word that pops in your mind. If you can get past the oiliness, you'll soon discover an unctuous bite of pork belly. The salbitxada is a tomato and almond sauce that pairs perfectly with the meats.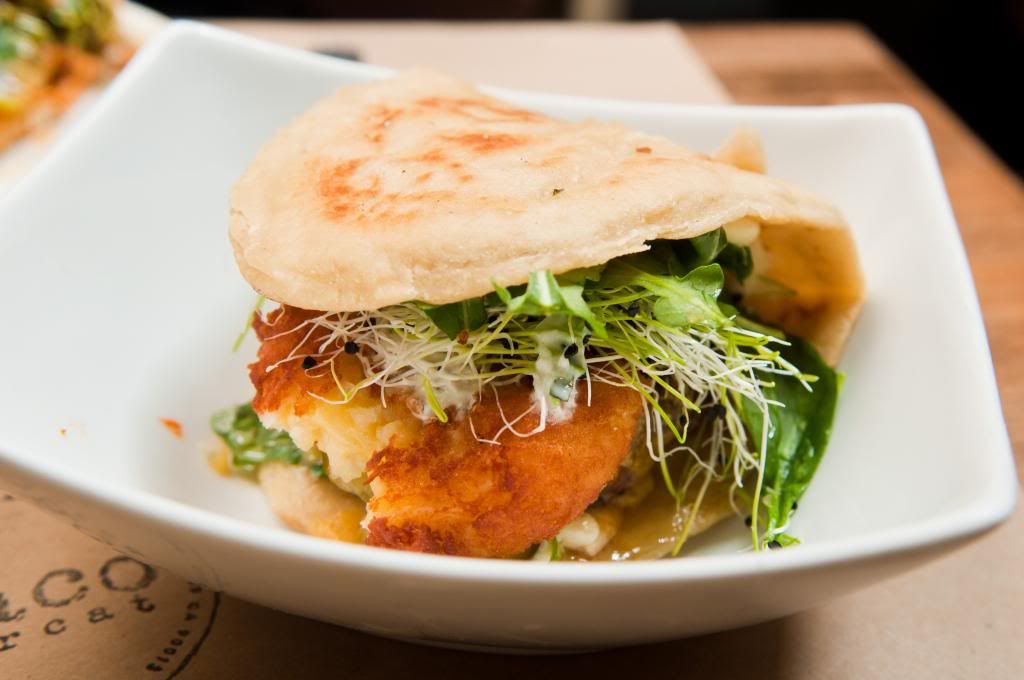 Next up, "The Toron" has Oxtail Hash, Cheddar Tater, and Horseradish. I love stuffing fried potatoes in a sandwich, but this Baco is on a whole other level. A giant croquette with tender oxtail.. I can't understand why fast food can't be more like this.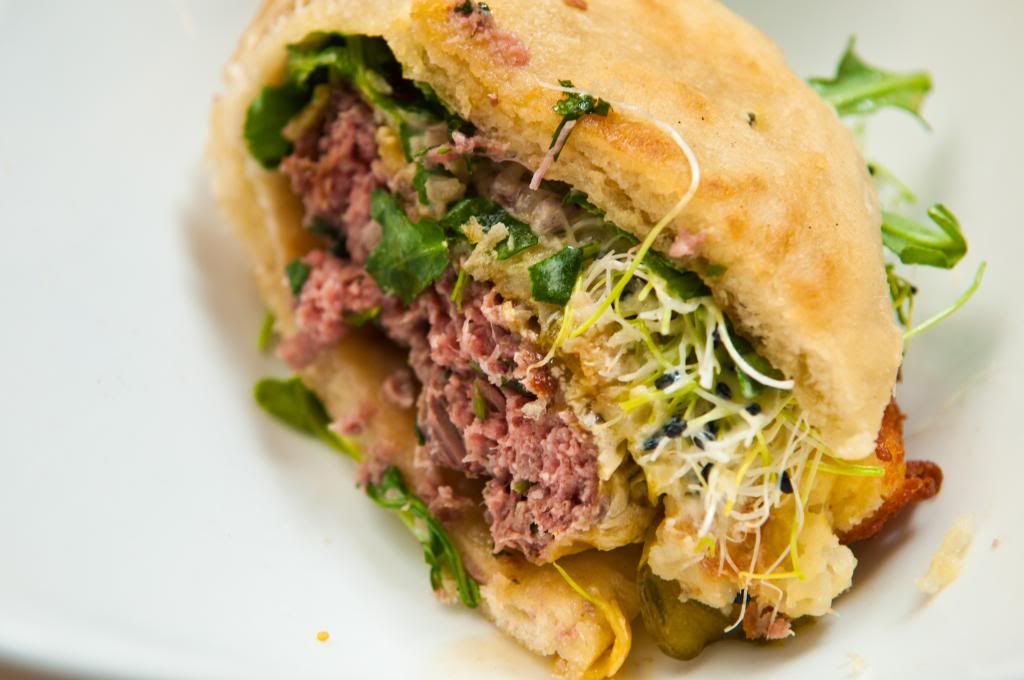 Look at that bad boy.. seriously.. All these fast food sandwich spots need to step up their game.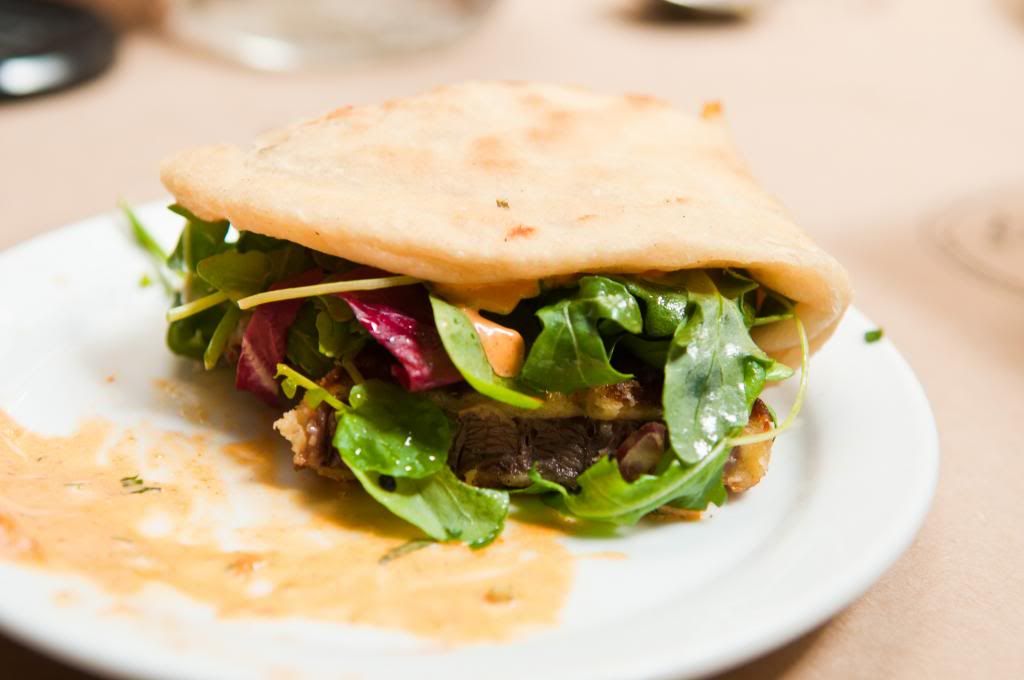 Schinitzel? Is that Schnitzel!? Why yes, that's actually a Beef Tongue Schnitzel with Harissa, Smoked Aioli, and Pickle. Again, the sandwich is very rich, but the beef tongue is somewhat downplayed. In my opinion, the weaker of the three, but superb nonetheless. But if you're asking me, I probably wouldn't order it again - only because the other two were much better.
Baco Mercat Scores:
Food: 8/10 - Innovative and well executed sandwiches. Let's not forget that they also offer a full dinner menu.
Restaurant Environment: 9/10 - You know what? Despite being a small restaurant, I felt as though there was ample room. The restaurant does get a splash of DTLA's art scene.
Service: 8/10 - Servers were there when you needed, and water was always filled. What more can I ask?
Value: 10/10 - Dishes at lunch are all roughly $10. A complete steal in my mind.
Overall: 8.5/10
Michael Voltaggio, the quintessential James Dean of the culinary world. Is it wrong to say that girls want him and guys want to be like him? Winner of Top Chef Season 6. What kind of bad ass would leave his Michelin Star restaurant to create something he truly loves. Respect.
Ink is the manifestation of Voltaggio's ingenious creativity. To be honest, I've been waiting ages to eat here, since the day the rumor of the opening first came out. My recommendation: Skip the tasting, be adventurous and order your meal a la carte. You'll be able to sample more offerings and surprisingly, save more money.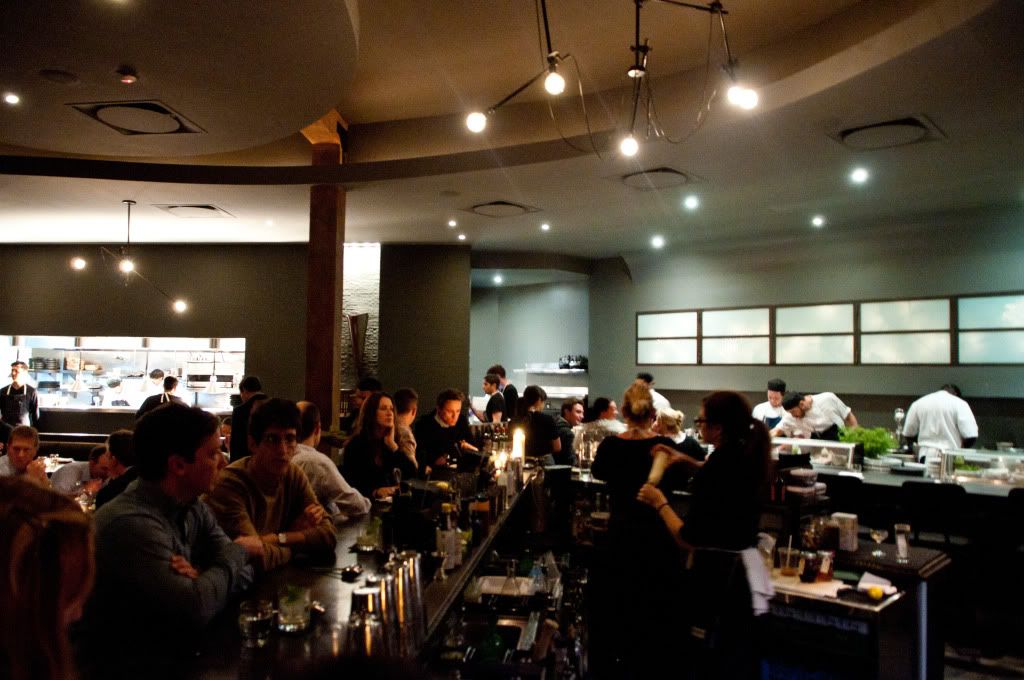 The restaurant is beautifully constructed with an open bar and seafood prep. Unfortunately for us, MV was not in house this evening.
Slow down, catch your breath, and take a drink.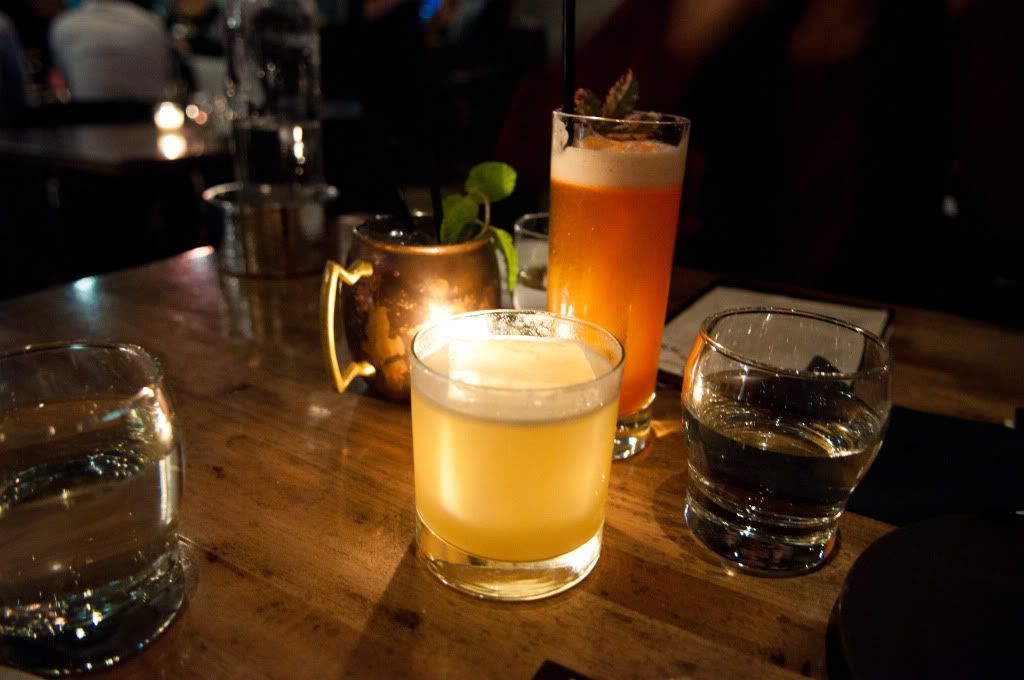 If you're yearning for a more adult libation, you can enjoy ink's cocktail offerings which include Moscow Mules and ones mixed with Japanese Whiskey.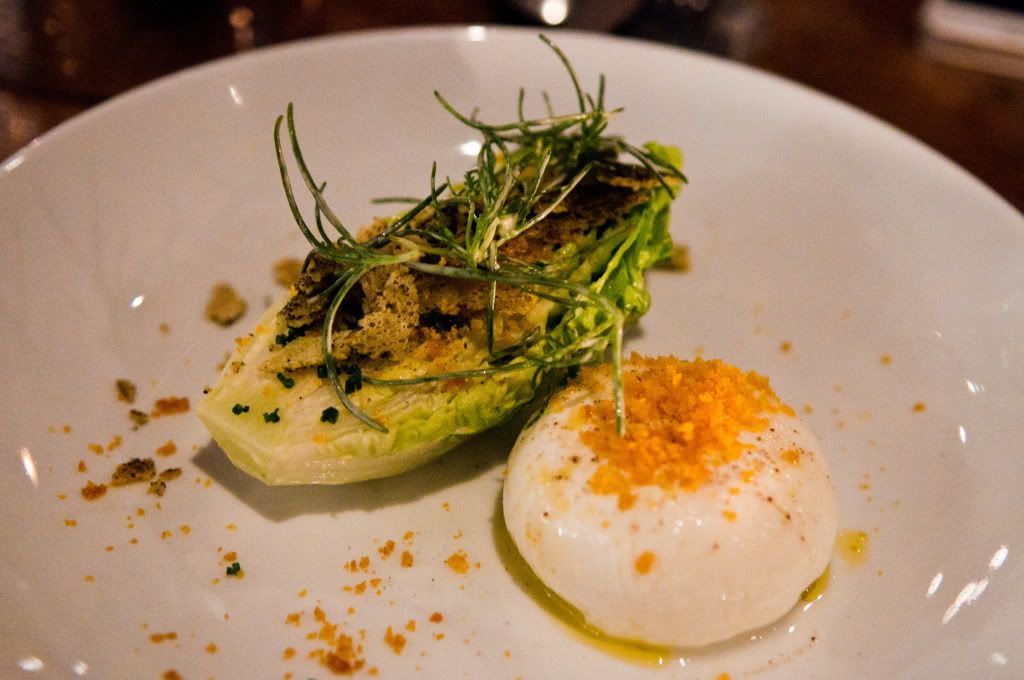 Burrata with Bottarga, Little Gems and Lemon Dressing. A perfect light start to our soon to be hearty meal. It's just something you can never go wrong with.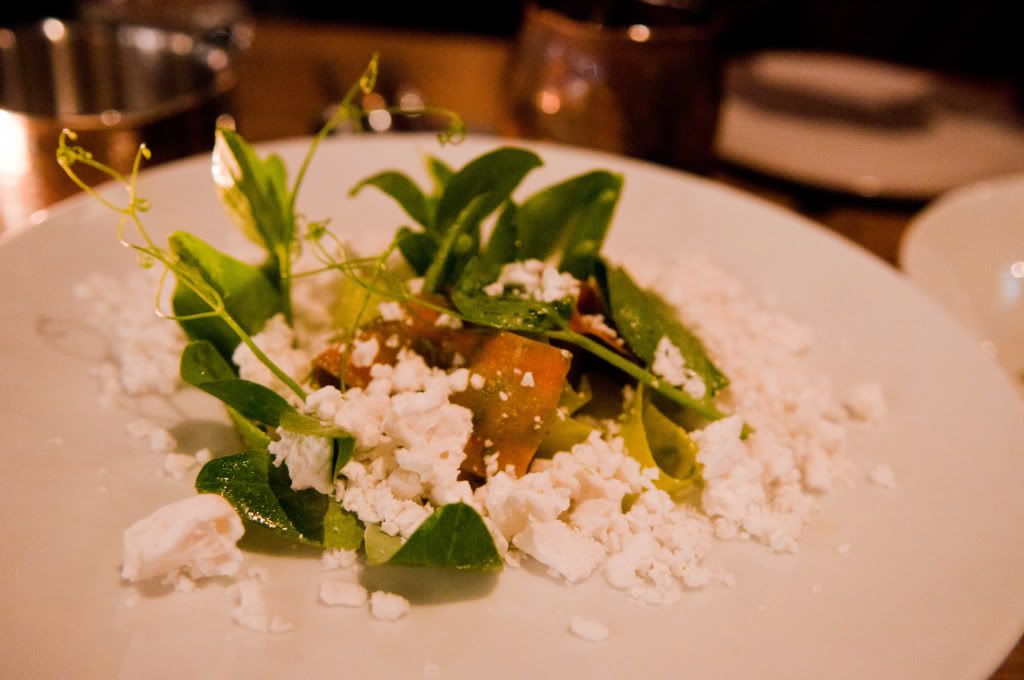 Carrots with Pea Tendril Mojo and Coconut. OMG! MOLECULAR GASTRONOMY!!!! Carrots are shaved into thin planes and are served frozen. Served with the curd-like coconut, amazing! A must try at only $11, what a steal!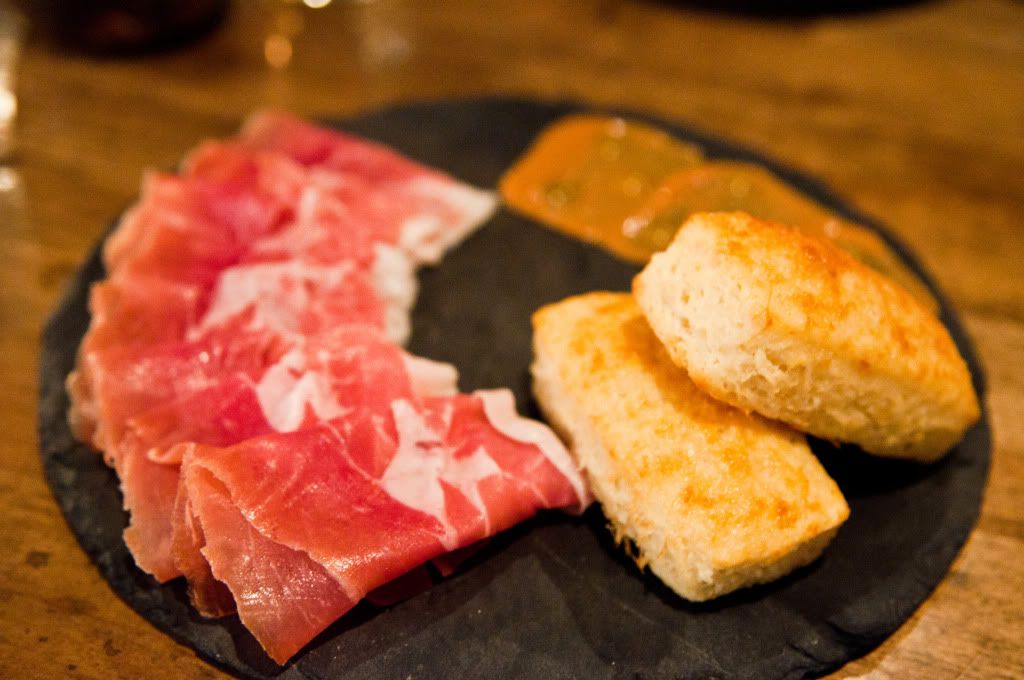 La Quercia Berkshire Ham with Manchego Biscuit and Marcona Almond Butter. One of the best dishes of the night. A perfectly baked fluffy biscuit, spread with the smooth almond butter and the savory, salty ham.. enough said..
Shishito Peppers with Almond-Bonito Sand and Tofu Mustard. Oh shishito peppers, I think I've already gone over how much I love you in previous posts. Ink does them right, especially with the integration of the Tofu Mustard and Sand.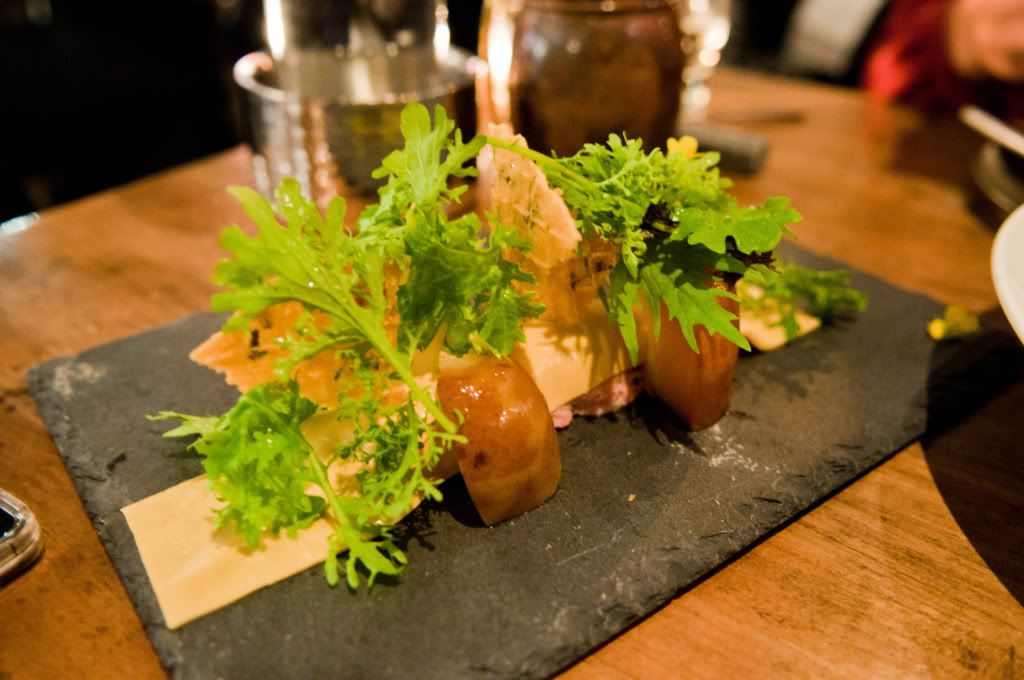 Duck Rillette with Waffle, Mustard, Griddled Pear, and Banyuls Vinegar. The duck rillette is hidden under the sheet. The dish, or should I say slab of slate, was extremely delicate and a bit underwhelming for my taste. On to the next one..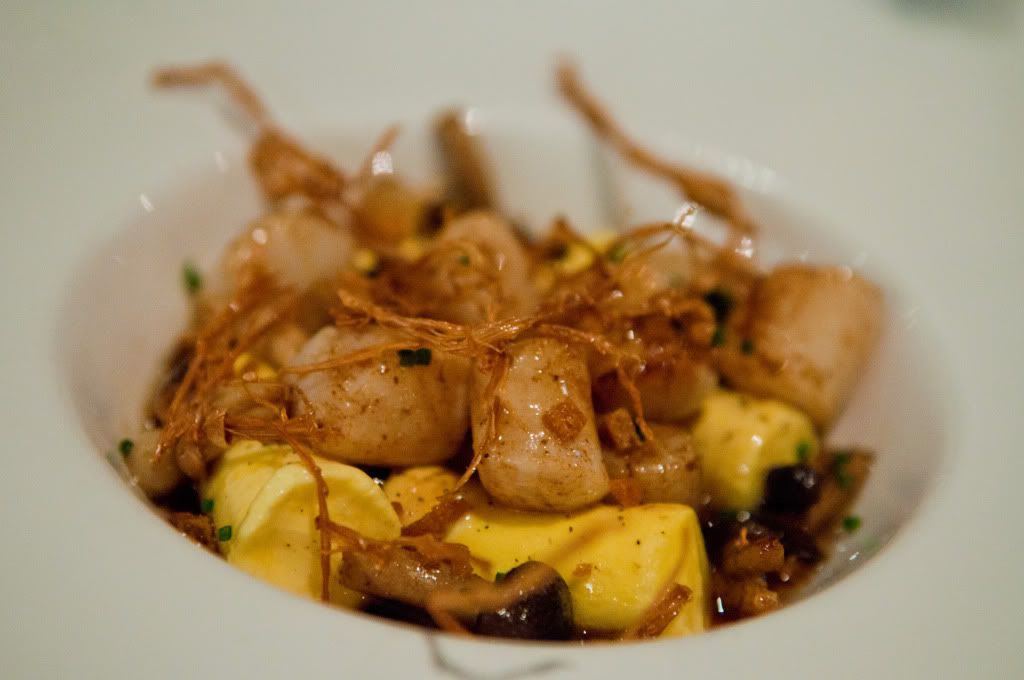 Baja Scallops with Egg Yolk Gnocchi and Mushroom Hay. Umami Attack!! All of those mushrooms, especially with the mushroom hay simply overpower the dish and the beautifully tiny baja scallops.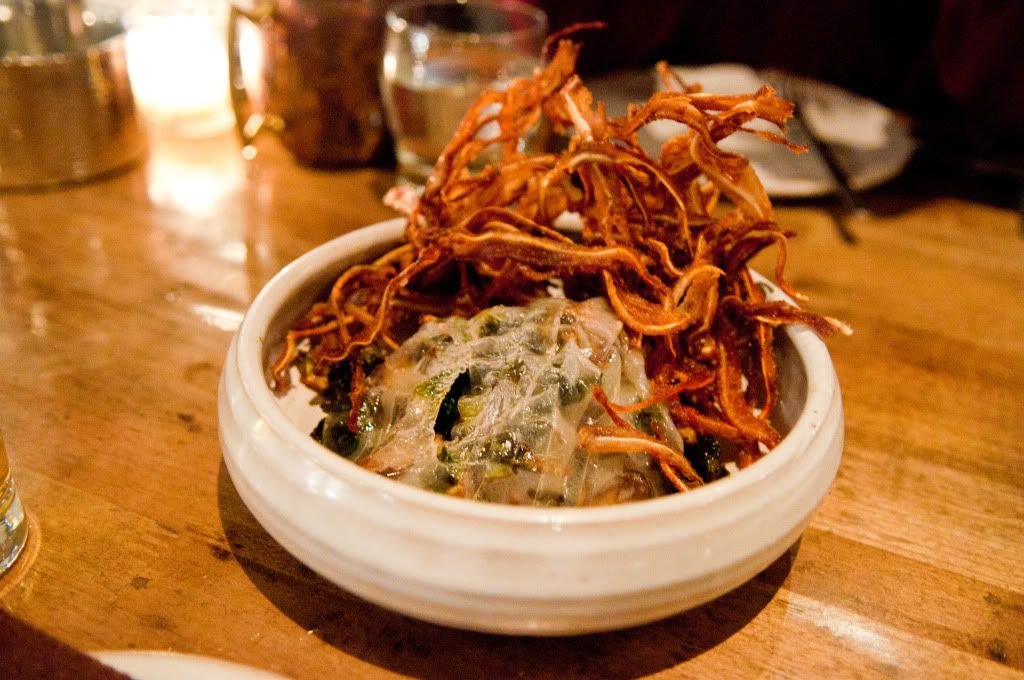 Brussels Sprouts with Pig Ears, Lardo and Apple. I love how the sprouts were cooked in vinegar. It definitely provided a new cooking method for myself to try. The sheet of lardo just provided that unctuous punch. Let me say this though, Chinese still prepare better Pig Ears.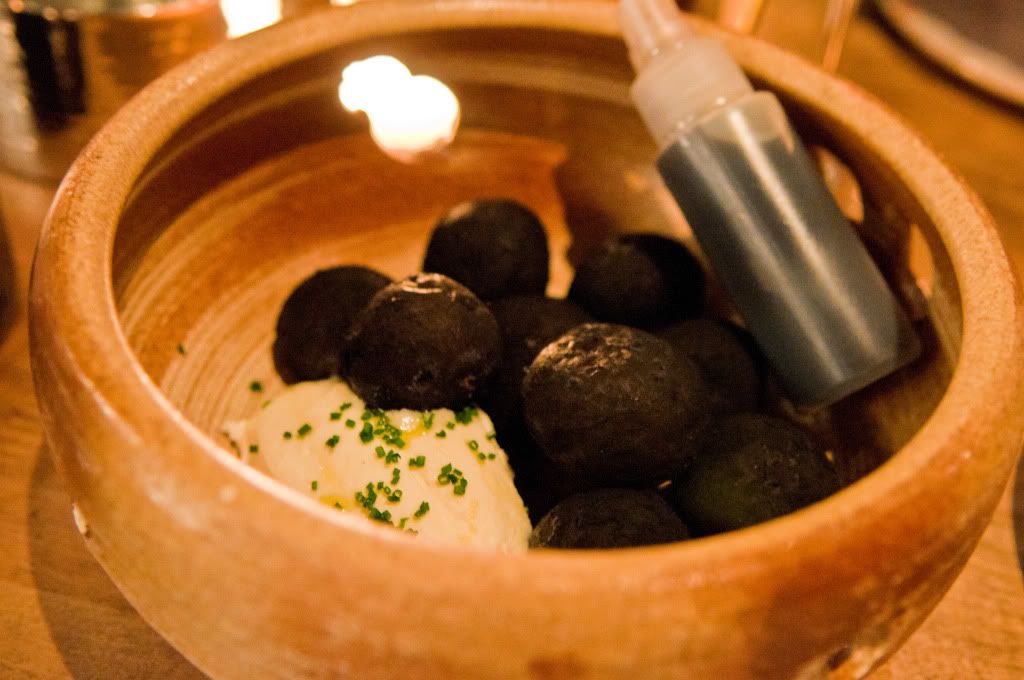 Potato Charcoal with Housemade Sour Cream and Black Vinegar. An ink staple. Blackened potatoes are paired with sour cream and a spritz of black vinegar. Simple, yet delicious. It's a fun dish that you should definitely experience.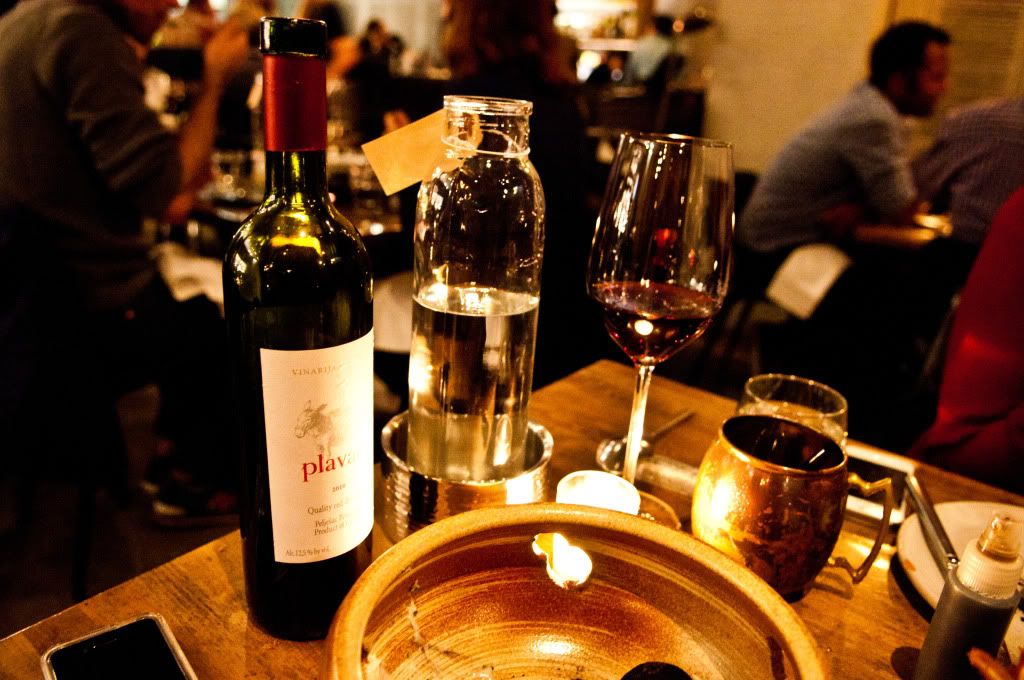 When you're having a great time, just throw another bottle of wine into the mix.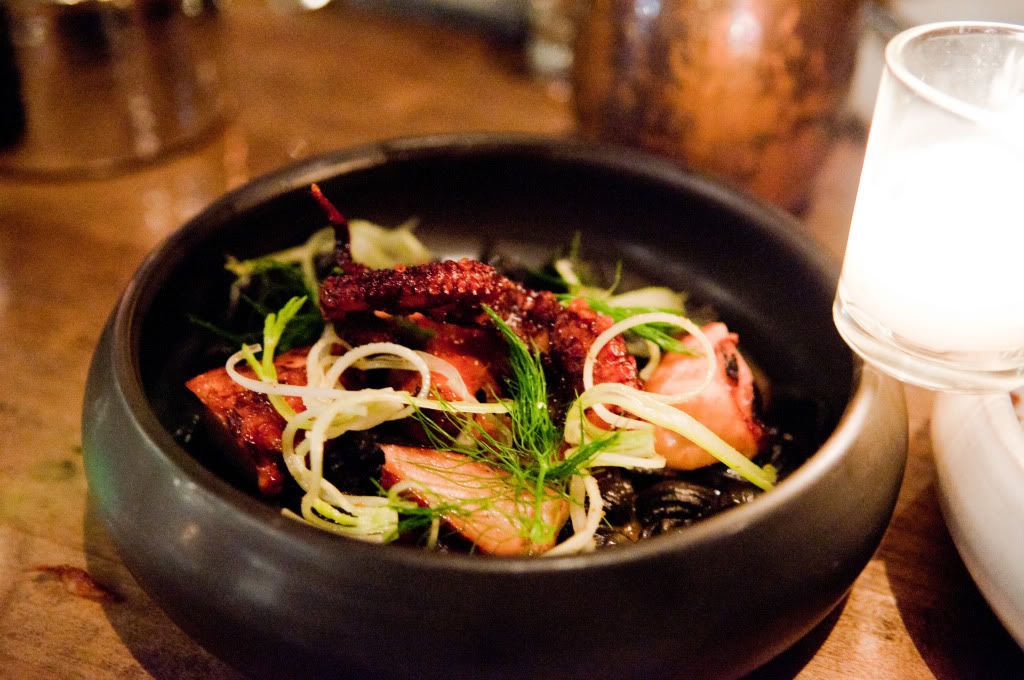 Octopus with Ink Shells, Young Fennel and Pimenton. It may be because we've already had a ton of dishes, but I wasn't a huge fan. The ink shells were a bit bland.
Poutine with Chickpea Fries, Yogurt Curds and Lamb Neck Gravy. A great example of gastronomy gone bad. I love poutine. It should be a comfort dish, but ink's rendition just made things confusing. Be sure that your friends love the gamey lamb flavor, as the gravy is a bit overpowering.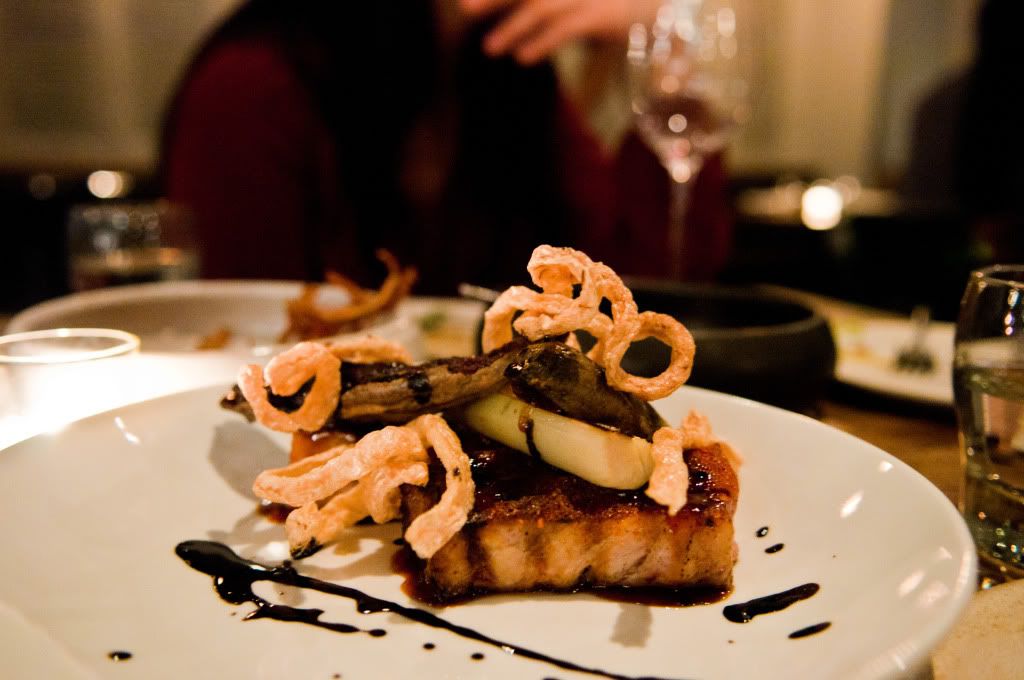 Pork Belly with Charcoal Oil, BBQ Flavor and Petrified Yams. Perhaps the best entree out of the lot came in the eleventh hour. Oh Pork Belly, get in my belly. Wait what? The liquid charcoal jogs your BBQ memory. A few bites in and before you know it, the chunk of porcine is gone.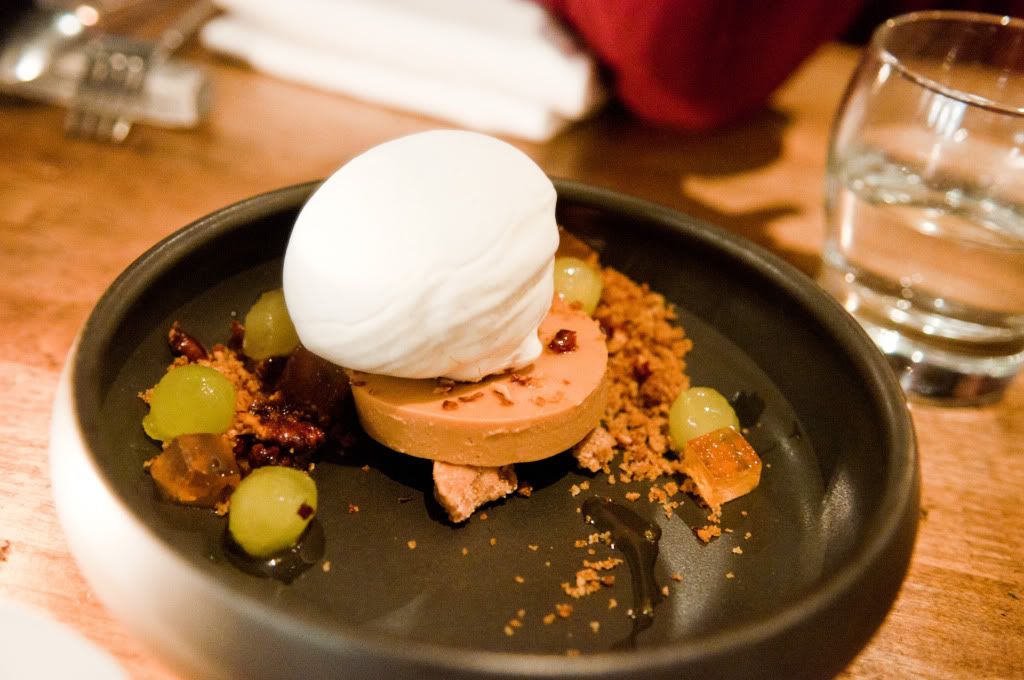 Apple with Caramel, Walnut, and Burnt Wood Ice Cream. During the meal, my friend (whom commented on my check-in) recommended that I order the Burnt Wood Ice Cream. And boy was she right. The small plate is filled with goodies to complete a wonderful dessert experience.
An interesting way to receive the bill..
ink Scores:
Food: 7.5/10 - Although there were a few misses (perhaps my high expectations), overall everything was extremely creative and fun to try.
Restaurant Environment: 8.5/10 - A bit cramped, but the edgy design is what you'd expect from Voltaggio.
Service: 8/10 - I love how when I asked for a copy of the menu, the server just ripped it straight out.
Value: 8/10 - With all items under $20, an unexpected affordable meal.
Overall: 8/10
Let's continue on this Michelin Star highway and take an exit off Greenwich Village, New York to Blue Hill.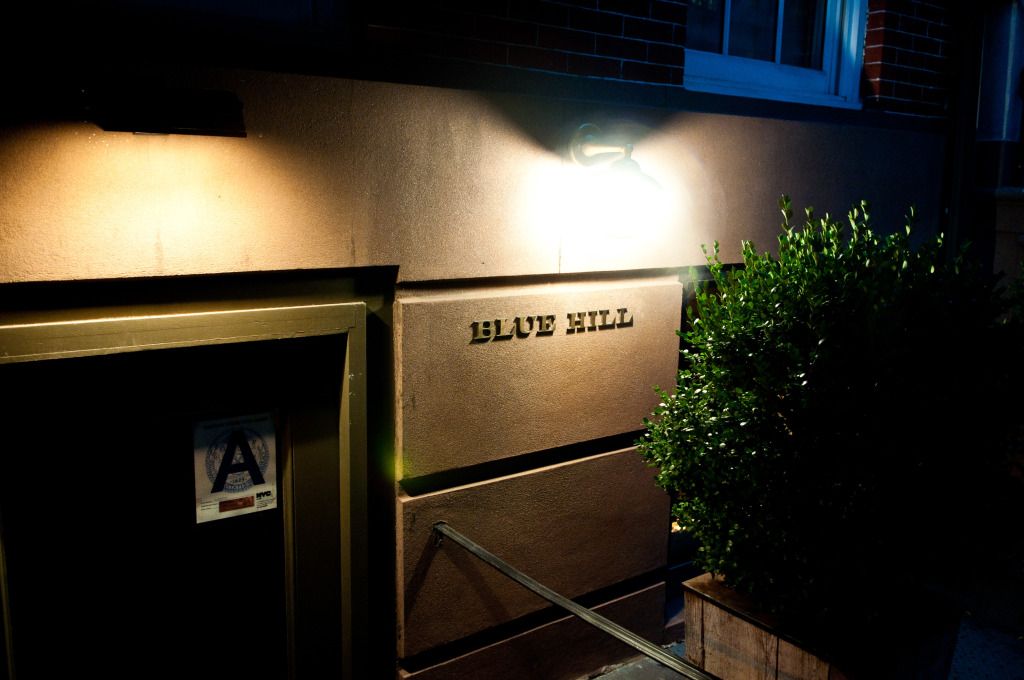 The restaurant is completely inconspicuous, hiding itself in a small section of a dimly lit street. If this is your first time here, you'll definitely be question yourself whether you're in the right location or not.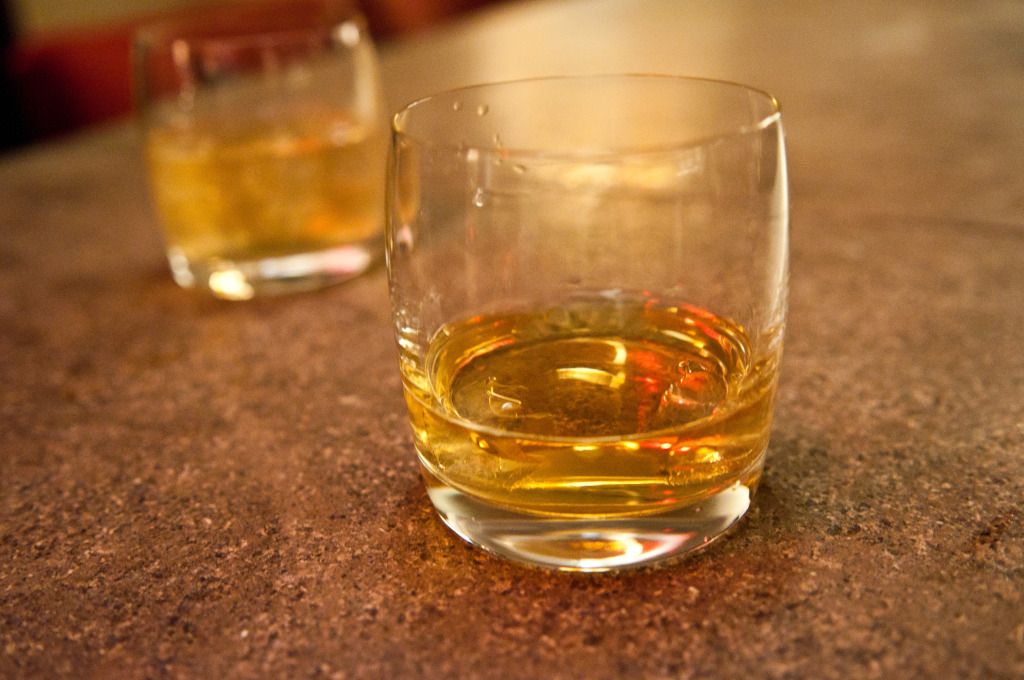 My friend and I were actually around an hour late to our reservation. But the nice people at Blue Hill stil managed to score us a seat. While they were prepping our table, we plopped down at the bar. Nothing better to kill the time like a glass of scotch.
After navigating past the main seating area, past the kitchen and through a corridor, we arrived in the back Patio Garden Room. I actually enjoyed sitting back here as it felt less pretentious and provided a more comfortable atmosphere. On a down note, there was hardly any lighting - thus the poor quality pictures..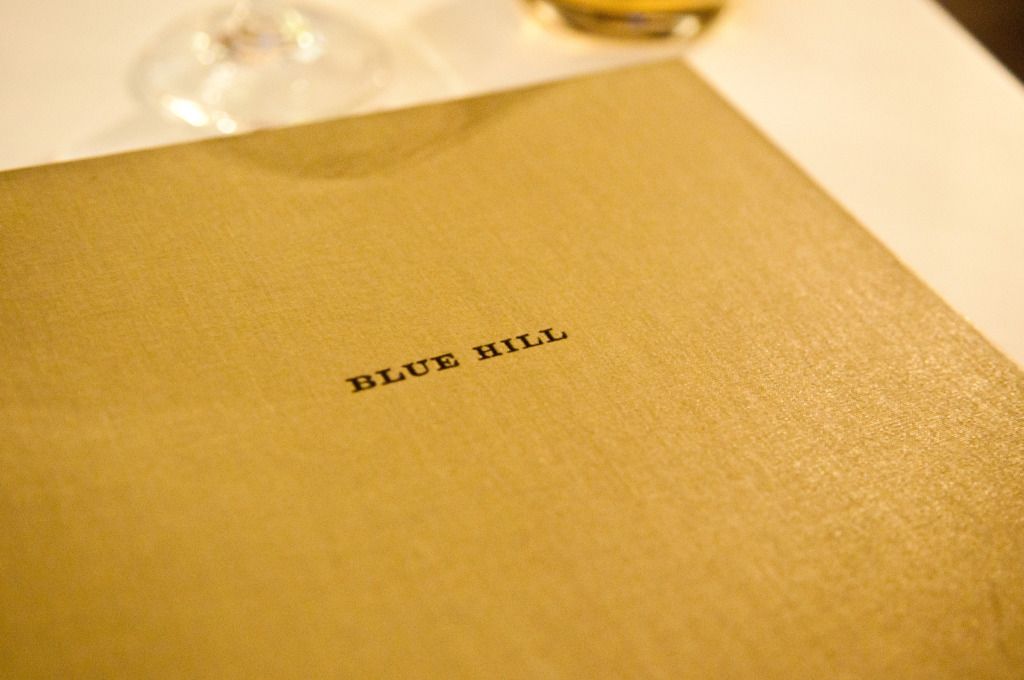 Blue Hill is New York's best Farm-to-Table restaurant. Offering the freshest ingredients straight from their farm located hours away in Massachusetts. Rumor is, the restaurant in upstate New York is even better than the one in the city. Their cyclical daily menu offers recurring staples yet prides itself with dishes made from the purist seasonal fare.
The meal starts off with an Amuse Bouche of Mini Zucchini Burgers with Almond Flour Brioche Buns and Ricotta Cheese. Hands down the healthiest burgers ever. The zucchini was a nice way to cleanse the palate.
Again, pardon the pictures, but here we have what Blue HIll calls Farm Snacks. Small tapas like starters - Corned Pig's Belly with Green Beans. Screw those multicolored spiral ones -  lollipops should now come in the form of unctuous sweet pig fat. But hey, it's ok.. there's a green bean on there, so I'm getting my vegetables. My mom would be proud. 
Blue Hill's signature snack - Vegetables on a Fence. After you get past the fact that you just paid $8 for a glorified and well plated garden salad, you're reminded of why you came to Blue Hill in the first place. Freshness. The tomatoes are like healthy Gushers that burst with sweet flavors. The world would be a healthier place if vegetables were displayed and prepared like this all of the time.
Bread in the dark….yum..
Our first appetizer was the Purple Potato and Ricotta Gnocchi with Berkshire Pig's Belly, Zucchini and Shiitake Mushrooms. Everything about this dish had a soft subtle approach, the way a starter pasta should be. The zucchini were nice interjections to the full flavored pork. 
Another one of Blue Hill's signature dishes - This Morning's Egg with Stone Barn's Spinach, Yellow Foot Chanterelles and Speck. Holy smokes, I would love to wake up and have this every single morning. If I did, there wouldn't be a single day which I didn't leave my house with a giant smile on my face. The Chanterelles carried a superb umami flavor and married the dish together.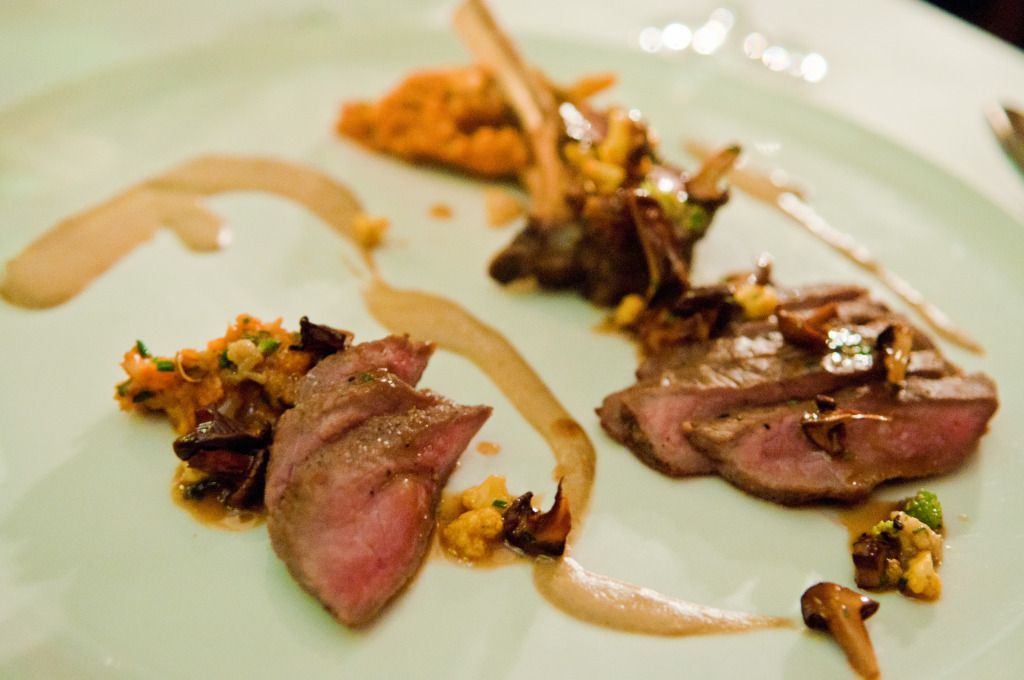 Blue Hill Farm Veal with Roasted Cauliflower, Chanterelle Mushrooms and Hazelnuts. Wow.. just wow.. The veal came 3 different ways. Each way cooked to perfection and incredibly tender. An amazing showcase of the different preparations.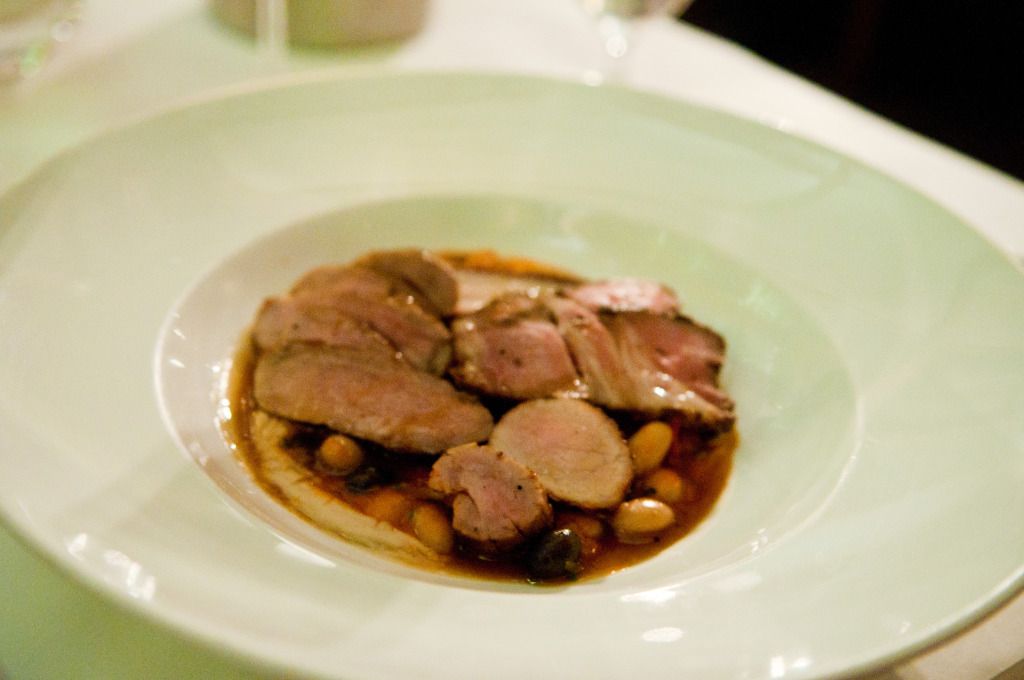 Stone Barns Berkshire Pig with Tomatoes, Shelling Beans and Titan Parsley. The plate consisted of 3 different pig preparations (tenderloin, loin and pork belly). I think most of us easily forget how many different cuts of meat are on an animal. By giving you the opportunity to sample everything side by side, truly marvelous. The tenderloins were tiny nuggets in which you only had a few bites to enjoy.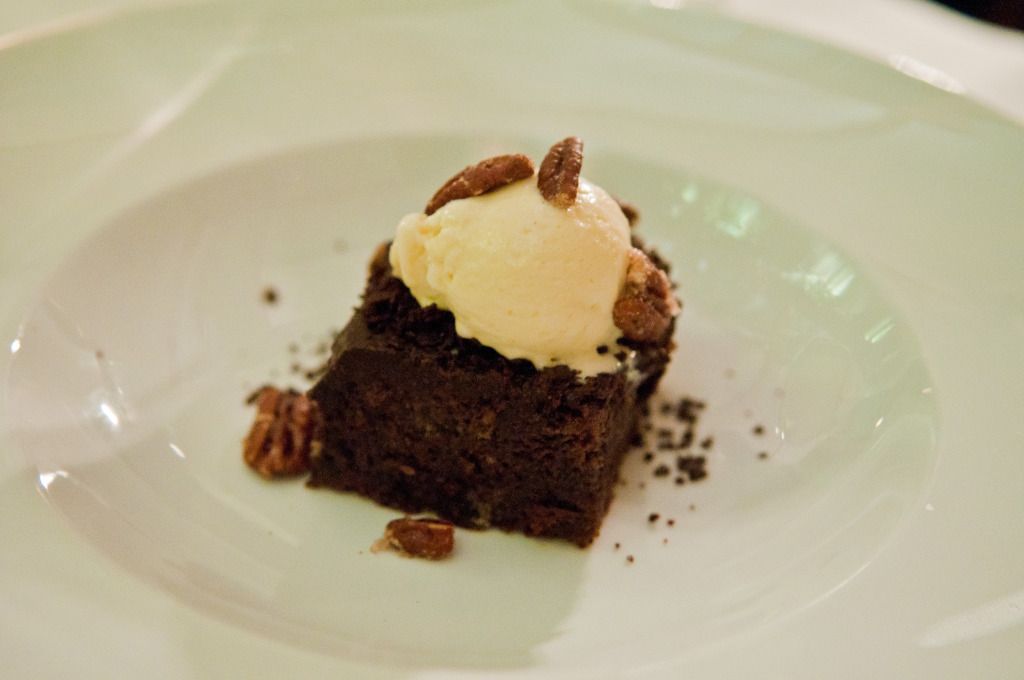 Dessert time! Chocolate Bread Pudding with Salted Caramel, Pecans and Bourbon Ice Cream. Seriously, how can you fail with a dish with those ingredients? Blue Hill certainly didn't. Forget Prozac, doctors should be prescribing warm chocolate pudding with deliciously cold ice cream - it's guaranteed to boost anybody's day.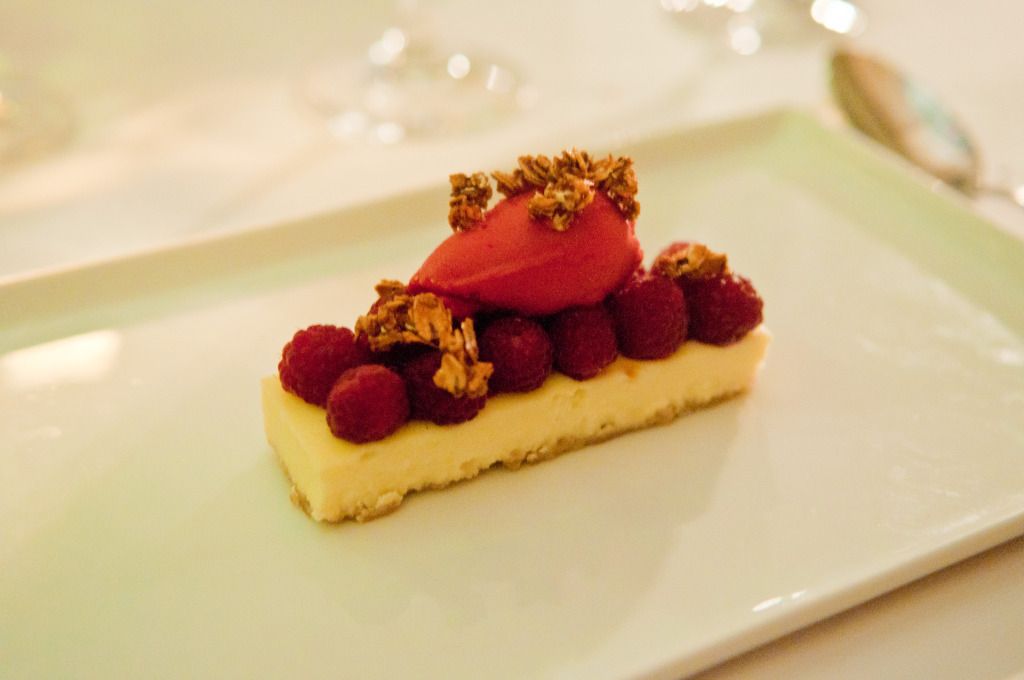 If chocolate isn't your cup of tea, then here you go: Raspberries - Goat's Milk Cheesecake and Caramelized Oats. Cheesecake and sorbet? Are you mad?! What a terrific compliment to the chocolate bread pudding. Oh hey.. some chocolate.. hey.. some raspberries.
Finish the night with a petit fours of Peanut Butter and Jelly Gelee with Maldon Sea Salt. These are dangerous! I absolutely love the combination.
Blue Hill Scores:
Food: 10/10 - Every dish was masterfully prepared by Chef Dan Barber. Working with the freshest of ingredients doesn't hurt either.
Restaurant Environment: 10/10 - Sitting in the patio room definitely made things more comfortable and enjoyable, but a little light for my camera wouldn't hurt either.
Service: 10/10 - Phenomenal service from start to finish. Including missing my reservations to our servers knowledge of every dish and creating an inviting atmosphere.
Value: 10/10 - If you opt for the a la carte option like we did, Snacks at $8, Appetizers at $16 and Entrees roughly $30. It's a classy dinner for anybody's budget.
Overall: 10/10 - I would consider Blue Hill as one of the best meals I've had. Our server was warm and friendly and an absolute food lover. When she saw me taking pictures of all of the food, she was legitimately interested in my blog and food adventures. Although she forgot to bring one of my dishes, I had a magnificent night.